Many kids see the piano as a fascinating instrument because it can make a lot of different sounds and is fun to explore. As a result, they are drawn to it at a young age. If you want your child to become good with the instrument, you may wonder about the right age to expose them to piano lessons that could place them on the right track for success in piano playing.
On Superprof, hundreds of expert piano teachers can quickly help you determine when your child is ready emotionally and mentally for well-structured piano lessons. Besides that, many factors determine when a child should commence piano lessons for beginners.
In this guide, you will learn about these factors, why you should consider enrolling your child on piano lessons early and why most kids do not grasp the basics until their teenage years. Enjoy reading!
The best Piano tutors available
1st lesson is free!
1st lesson is free!
1st lesson is free!
1st lesson is free!
1st lesson is free!
1st lesson is free!
1st lesson is free!
1st lesson is free!
1st lesson is free!
1st lesson is free!
1st lesson is free!
1st lesson is free!
1st lesson is free!
1st lesson is free!
1st lesson is free!
1st lesson is free!
Is There a Perfect Age for Beginner Piano Lessons?
There is no perfect age to start learning the piano. A specific age range may work for a group of kids and may not work for some other groups. History has revealed famous Canadian pianists who started learning about the piano at three years old. But that is very rare.
Nowadays, it's common to find kids to develop an interest in the piano between the ages of 4 and 9. Most students begin learning the piano earlier, while others do not enroll on beginner piano classes until they turn 12.
Generally, the best age to learn the piano depends on the student. You cannot force a child to learn what they aren't interested in learning. Instead, allow them to demonstrate a passion for learning the instrument before introducing them to their first piano lesson.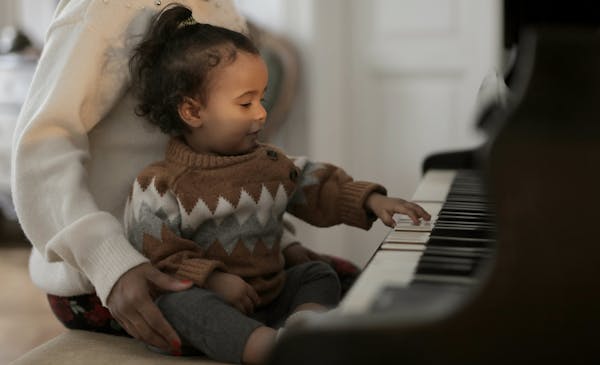 Is it ever too early to take piano lessons?
On YouTube, it's popular to find videos of 3 years old kids playing Mozart. But this is not the strongest indication that they are ready to begin their first piano lessons. A three-year-old child may likely see the piano as anything other than an instrument that makes noise. And they may not respond well when subjected to structured piano lessons.
Kids at this stage of development are usually curious and may be interested in anything that looks fascinating.
So, what should you do if your three-year-old or toddler wants to play the piano? First, you shouldn't discourage them. On the contrary, this is the best time to nurture their interest and help them develop a passion for learning the piano as they grow.
See what your child needs to play the piano like an expert.
And when they eventually grow old enough (maybe at the age of 5), you could introduce them to their first piano class and watch them learn the rudiments of piano playing. Studies have shown that most kids that leant piano basics using this approach went all the way to choose music or piano as a major in college.
What Are the Benefits of Learning the Piano at a Young Age?
Kids who use the right approach to learning the piano at a young age usually benefit more than those who reach adulthood before learning piano basics. There are three main ways your child could benefit when they learn piano before their teenage years.
Cognitive Benefits
It's no longer news that learning the piano at a young age could help improve your child's mathematical and analytical skills. While learning to place their hands on the keyboard, they subconsciously learn hand-eye coordination that automatically improves their cognitive skills.
Physical Benefits
Do you know that piano skills could easily help children develop strength in their hands? As they learn the right keys and identify some features on the keyboard, they sharpen their sight and learn numbers and the correct body posture.
Social Benefits
When a child takes online piano lessons from a teacher, they would likely be asked some questions about what they are learning, and the teacher may even ask them to play before a group of people or the class.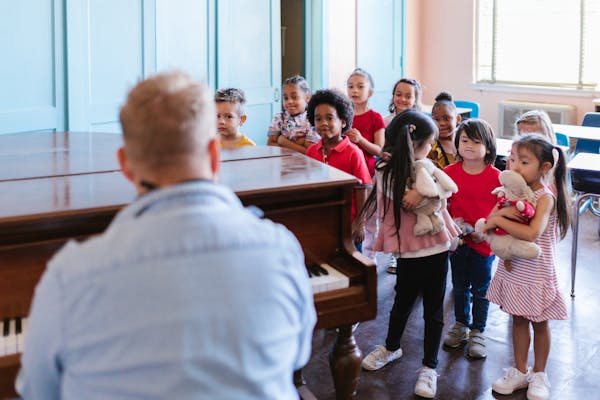 This approach to learning could help the student overcome speech problems, boost their self-confidence and allow them to speak up before their peers. Eventually, they can easily deal with the adversity and trials life throws at them when they become adults.
Does your child need to go to school to learn the piano? Find out!
How Can I Learn the Piano Easily?
The piano is one of the few instruments suitable for absolute beginners. Learning to produce single notes takes weeks or even months on most other instruments, but making sound on the piano is surprisingly intuitive.
We can simplify piano learning by doing a few of these activities to the learning curriculum:
First things first! Learning the basics of the piano and its music theory is essential before moving on to more advanced concepts and techniques. Many people who want to learn how to play an instrument wish to start playing their favorite songs initially, but these can be somewhat complex if they don't have theoretical and practical bases. The most important is to start slowly but surely; you will get there!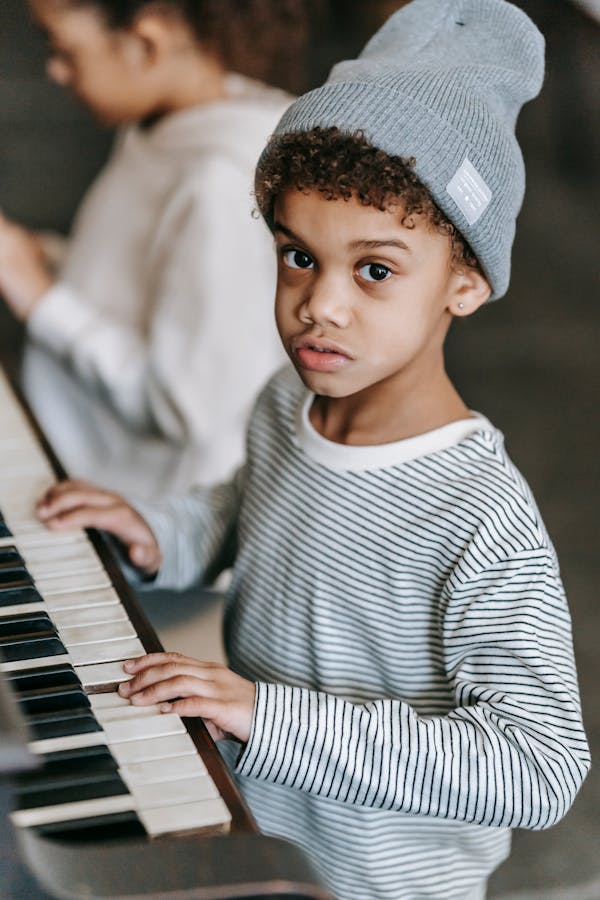 Learn proper hand movements
The piano is a hand instrument; to excel at playing it, you have to understand how to move your hands properly. As simple as this may appear, some people do not know how to do other things while moving their hands. For example, combine singing and playing the piano. As you learn about musical scales and chords, you must also know how to move your hands through the black and white keys to produce quality sounds that align with the song, but no worries, you will gain all of this with constant practice.
Proper fingering is an essential part of a good piano approach. It may be challenging at first to play the piano with the correct finger movements, but with practice, you'll find it easy and enjoyable.
Various patterns of chord structures in composition are prevalent in piano music. These numerous progressions give the melody of the piece a harmonic framework and are employed as you play the piano. Once you understand the primary ones, you can move through them quickly. And again, no worries because everything is about practice.
The structure of the piano lesson
The piano lessons must be well-structured to suit your learning needs based on your level. If you're a beginner, it should be such that you don't have to learn the complex terms an expert will be learning. The best piano lessons are those that move from simple to complex. You will get there with patience, one hand, and one measure at a time! Regardless of what you might have heard about the piano, you can master it with the right tutor.
Learning the Piano for Beginners: How Long Does it Take?
Suppose you or your child are interested in taking online piano lessons. You may want to know how long it may take to become a professional pianist assuming they kickstart their journey today.
Here is a breakdown (based on the experience of many piano players) of the time it might take you to learn the piano professionally in Canada.
Learning piano for beginners
As with every great thing in life, you are learning the piano takes time and effort. From beginner to advanced stages, you must remain dedicated to seeing the kind of results you envisioned.
In your online piano class for beginners, your teacher may recommend you start training your fingers until you can eventually use both fingers to play the instrument. This stage won't take you a year to practice.
If you practice each day for 30 minutes, you can master finger placement and learn to play your first sample song in a couple of weeks.
It might take five years to reach the intermediate stage if you continue practicing at that pace. At this level, you should be able to read sheet music and understand piano theory and techniques for playing the instrument.
At this stage, your progress may become less apparent. But what's more important is your knowledge of deeper aspects of playing the piano, such as speed, tone and touch. You will also learn arrangement, harmony and composition.
The advanced stage will prepare you for stage performance in your music career. Most professional pianists make it to the stage and perform at international concerts after 15 years of practice.
One of the most essential skills that will make you excel at this stage of your music career is your ability to perfectly express your emotions through music and use the piano to impact the lives of many that listen.
Final Thought
As you have probably learned, it takes more than a decade to perfect your skills on the piano and become a professional pianist. Also, it would be better if a student starts learning from early childhood. There is no perfect age to learn the piano.
Are you ready to take your online piano class? Then, head to Superprof, and find qualified piano tutors in different regions in Canada.
The platform that connects tutors and students