If you work in a fast-paced organisation, irrespective of where you are currently on the career ladder, there will be a time when you may be asked to assume leadership roles, and everyone will expect you to give it your best shot. Maybe you are aiming for a managerial position in your company, managing a team or aspiring to head a team's project in the future; you will need to master leadership skills because it will make this beautiful journey a lot easier than you expected.
Whatever your circumstances, you probably wonder how to develop core leadership skills that wouldn't fail you when you need them most. Not everyone has the opportunity to be groomed by a mentor. If you don't have anyone who could hold you by the hand and show you how to become a leader step by step, you don't have to worry.
In this detailed guide, Superprof will show you how you can ace up the leadership ladder and shoot your best shot like a pro. Read to the end to see how you can develop top leadership skills on your own.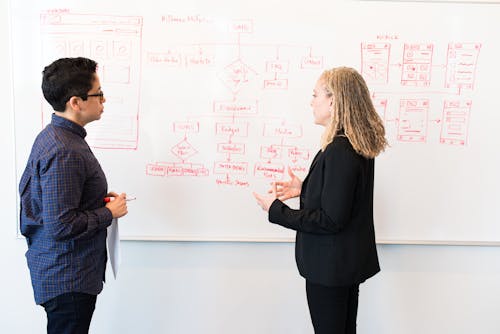 The best Personal development tutors available
1st lesson is free!
1st lesson is free!
1st lesson is free!
1st lesson is free!
1st lesson is free!
1st lesson is free!
1st lesson is free!
1st lesson is free!
1st lesson is free!
1st lesson is free!
1st lesson is free!
1st lesson is free!
1st lesson is free!
1st lesson is free!
1st lesson is free!
1st lesson is free!
Understanding the Concept of Leadership
Leadership entails a lot. Sadly, the skills needed for effective leadership are only taught in managerial courses at the university or college. What is then the fate of those who studied pure art or science courses in school? Does it mean that they wouldn't know anything about leadership? Not at all!
Everyone is born to be a leader. That is why we all have little traits of leadership skills in us. But our various life experiences and mindset shape how we use these traits. Some people go all the way to develop and harness these hidden skills and become influential leaders, while others allow these traits to wither away and die off without given them the privilege to see the light of day.
Whether you studied managerial courses in school or you have undergone leadership training in the past, it doesn't change the fact that you still need to understand the concept of leadership and practice it. Learning about leadership is just like tasting the icing on a cake. You haven't dug deep to see what's inside.
There are different forms of leadership. You could be a tyrant leader or one that shows empathy. But we aren't going to dig deep into bad leadership forms. We are going to focus on the leadership that impacts the lives of others for good.
What Good Leadership Means
Good leadership entails leading a team to meet specific goals easily and on time too. The leader does this while acknowledging the needs of each team member, considers their input, inspire and motivate them to put their best towards achieving a specific goal.
It takes a good leader to inspire staff members to uphold the organisation's interest even outside working hours. Leadership skills could be needed to enable a business to hit a sales target, expand into new regions or reduce managerial costs. A leader who could bring these changes without bringing any loss to the business is termed 'a good leader.'
These kind of leaders possess the best combo skills needed to manage different personalities, head a team, and inspire their members to achieve a common goal. An effective leader provides direction and motivation. They are like captains of a ship, jeering the business towards the right direction, which leads to more profitability and recognition in the end.
There are many skills aspiring leaders must possess. Some of them include the following:
Effective communication

Delegation

Dispute resolution skills

Empathy

Motivation

Emotional intelligence

Innovation

Perseverance

Consistency
These are just some of the skills leaders need to ace in their quest for leadership attributes. You can read more about them here.
How to Build Your Leadership Skills
You don't need to wait for an opportunity to arise before learning how to be an effective leader. On your own, right from the comfort of your bedroom, you can start to learn the skills needed for good leadership right away. Here is what you should do.
You have probably heard this before 'a journal is the best friend of a leader.' Keeping a journal is inexpensive and easy. You can even start today. The journal should be strictly about your career. Generally, it should contain your reflections on your experience, including your awkward moments and those times when you felt great about yourself.
You should also write down things you wish you had done differently and how you would handle such situations if they rear their ugly heads in the future. Record your team's accomplishments, successes, failures and goals.
You could write these down in the journal by hand, or you if feel it could take a chunk of your time, you could opt for online journals. Quick research will reveal a chunk of them you could use easily.
DayOne is a great option for users who plan to document their day to day experiences and plan their future momentarily.
Now you have your journal, and you are still unsure of where to start? You could begin with the top qualities you admire in a leader and suggest ways to emulate them. Don't forget to follow up with your progress after that. 
Take a leadership personality test
To help you develop leadership skills on your own, you need to ask yourself some questions. What leadership style suits you best? How do you behave under tense and stressful situations? Do you always seek an opinion from others or resolve to do it your way?
If you are unsure of your answers, then you should take a quiz. One of the best leadership personality test websites is skillsyouneed.com. The site will help you to easily identify your leadership personality, strengths, and weakness regarding the top leadership skills you ought to master. Then you will be able to figure out how to create the perfect roadmap for learning these skills.
Effective leadership requires that you are passionate about what you do. It is the passion that will keep you standing firm about your resolve even when everyone else thinks you have reached the end of the road. Passion will help you to stay motivated and committed to pursuing your goals.
Is your current job feeling like a little more than a paycheck, and you barely get the drive to prepare for work each day? You should take a passion test to discover what you love to do. Websites such as Pymetrics could help you analyse your personality traits, including social, cognitive, and emotional traits. After playing a few short games, you will be able to know what you genuinely care about.
When you know what motivates and drives you, you will know how to be more engaged with your work and inspire others to follow you.
Learn team-building skills
How good are you with team building? It is a vital skill leader must have to achieve success. You need to know how to put the right people together to form a team and inspire them to join you in the pursuit of a common goal or purpose.
To start with, take some time to observe your co-workers strength and weakness. Then you will be able to identify the right person that befits a specific role within the organisation. Understanding human behavior and personality dynamics will identify potentials in people and build a solid team over time.
Learn effective communication skills
Who is a leader without communication skills? Without these skills, you would probably hit the ceiling in no time and damage your efforts. Communication is the active ingredient necessary for cooking up effective leadership.
It entails sending and receiving messages in a manner that doesn't mean information overload, over-communicating, distortion of information, or incomplete information. Studies have shown that misinformation is the primary cause of conflicts among staff members within an organisation.
See the resources mostly used for developing leadership skills.
So, how practical are your communication skills? Is it contributing to your team-building process or shattering team members, making them seek help or support from outside sources?
Do you care to listen to others, or you always want your voice to be heard all the time? Effective communication involves a great deal of empathy and emotional intelligence. When you care for the feelings of others, you will always seek ways to promote understanding rather than merely speaking and getting responses from others.
Take a leadership building course online
There are many courses you could enroll for online to help you build your professional skills. For instance, On Superprof, you will find many business experts and professionals who will provide you with resources and advice to help you become the professional leader you envisioned.
More so, you will be able to practice these recommendations on your own and watch the changes they bring to your career life.
Becoming a leader is a beautiful thing. But are you ready to take the steps for becoming one? Don't let anything stop you now. Go for it and rock your career life like a pro!
See how critical thinking skill connects to leadership.
The platform that connects tutors and students