You may have wondered, do I need public speaking skills? Even though you haven't stood before a crowd to address them before or haven't given a public speech, that doesn't mean developing this skill isn't helpful.
All over the world, public speakers are admired for their courage, boldness and their skill of persuasiveness using the right choice of words.
As expected, people who are great at public speaking did not just develop such traits overnight. They went through series of training which transformed their thought, mindset and self-esteem.
If you make an effort to develop public speaking skills, you will discover the tremendous changes it will bring to your life. Above all, you will be able to overcome any speech-related anxiety that you may have presently.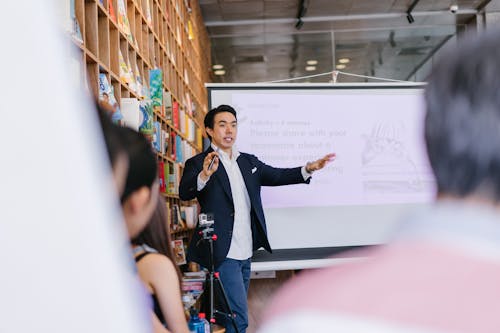 In this guide, Superprof will unveil all you should know about the concept of public speaking, why you should develop public speaking skills and how to overcome any challenges you may face as you try to become a confident speaker.
The best Personal development tutors available
1st lesson is free!
1st lesson is free!
1st lesson is free!
1st lesson is free!
1st lesson is free!
1st lesson is free!
1st lesson is free!
1st lesson is free!
1st lesson is free!
1st lesson is free!
1st lesson is free!
1st lesson is free!
1st lesson is free!
1st lesson is free!
1st lesson is free!
1st lesson is free!
What is Public Speaking?
Public speaking describes the process of giving an oral presentation before an audience. However, over the years, time and technology have transformed it, and it is now modernly viewed as either formal or informal speech or communication between an audience and a speaker. Such forms of speaking could take place face to face or online.
Why You Should Develop Public Speaking Skills Right Away
Many people shy away from the thought of public speaking, and some go as far as saying they don't like standing before a group of people to address them. This is the case with the majority of introverts. If this describes you or you are afraid to address a crowd because of fear, you may miss out on the potential benefits you could be enjoying from your public speaking skills.
Below are some essential reasons why we think you should have public speaking skills.
To improve your confidence level
Have you ever seen a public speaker address an audience? They are bold and confident. They don't turn their heads away or become shy when your eyes come in contact with theirs. The lesson here is simple! If you want to be confident, especially while addressing people, you should hone your public speaking skills.
To develop excellent conversational skills
Have you ever found yourself in a situation where you can't just express yourself? It can happen to anyone. If you struggle with starting or keeping conversations, it may just be a sign that you need to learn public speaking skills.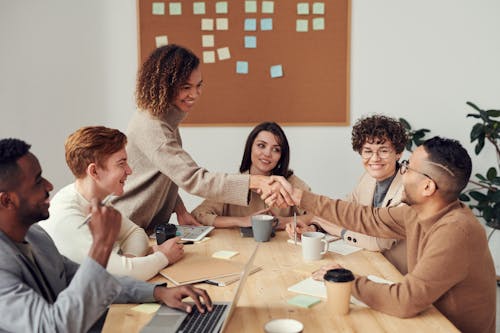 One thing is sure! Learning these skills will help you feel comfortable each time you speak before anyone that is not a member of your family.
To attract business growth
We can't stress this enough! Suppose you are a business owner or you work in an organization where you are saddled with marketing responsibilities. In that case, you will realize that public speaking is necessary for businesses to market their products or attract a substantial online presence to their services.
To deliver your message in front of your target audience, you must be a great public speaker. This will enable you to know the right words to grab their attention and retain it forever.
Now that you know why we recommend you learn how to speak publicly let's dig deeper and explore more!
Find out more about how to become a great public speaker.
How to Develop Public Speaking Skills
If you want to address an audience face to face, without shaking or having wet hands, you should grab a pen and a paper as we unveil the secrets of becoming a great public speaker from anywhere.
Overcome the fear of speaking publicly
This is the first and the most crucial step. The fear of addressing people in public could hold you back and even prevent you from saying the right words or withdrawing them because you don't know how your audience may feel.
With such fear, your presentation will be less effective, and you could communicate the wrong impression to your audience. An excellent way to overcome such fear is to practice incessantly. That way, you will be very confident and even surpass your audience's expectations.
Write an excellent speech
The next step in becoming a great public speaker is doing your research and writing a good speech. Ensure the speech is well detailed, organized and highly engaging for your audience. This is to say that it ought to have all the necessary rudiments that will make your audience look forward to your next speech.
A good material together with a great voice and charisma may be all you need to ace your public speaking skills and make your audience sit at the edge of their seats whenever you address them.
Practice your speech regularly
Whether you are afraid to utter a word in public or not, practicing your speech could tremendously improve your public speaking skills. Skipping practicing could help you save more time, but there are no more rewards for skipping other than the above.
If you could practice your speech, you could identify areas where your speech may likely shutter or become slow; then, you try to work on it during practice.
Learn how to use presentation slide designs
Technology is evolving by the second. By now, you should know that public speaking has gone beyond speaking to a group of people physically and getting feedback. Today, your presence doesn't matter for you to give a public speech.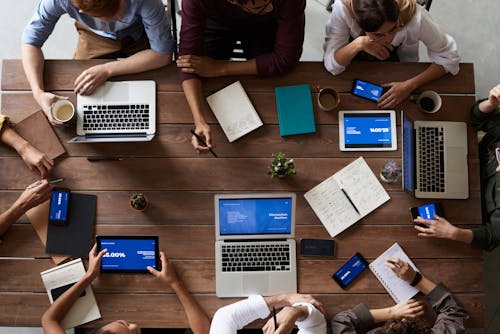 It's now common to find people use PowerPoint and Google slides for public speaking. Therefore, you must master how to use the right template for your speech, as this could make a massive difference in your effort to become a great public speaker.
You have written a good speech; you have practiced. Now, you should be confident about speaking publicly before your audience. Before giving your speech, ensure the sound system used good enough for your audience to hear you. If you have any other concerns, make sure you address them before giving your speech and not when your speech delivery has commenced.
Don't dwell on the opinion of others
As you commence with your speech delivery, you may be tempted to wonder what is going on in the minds of people watching or listening to you. Are they taking important notes from your speech? Do they think your speech is awful, or they think you have just wasted their time?
Many amateur public speakers make this mistake. If you continue to wonder what others think about you, it will become easy for you to lose focus, drift away and even make mistakes in your speech.
Effective use of body language
Charisma is essential in speech delivery, just as your vocal strength too. Ensure you use your body language to communicate when necessary. This may include using hand gestures, waving the hands, shaking the head and grinning the face to get your message across effectively.
Online Resources That Could Help You Develop Public Speaking Skills
Do you know that learning public speaking could be more challenging if not for the internet? With the millions of people surfing the web daily, many are even eager to share their knowledge with others (either free or paid) in the aspect of public speaking.
It's easy to find many books, websites, blogs, podcasts, tutorials and videos on public speaking.
The information on the internet is overwhelming, and you can never get little of it when it comes to tips for developing your public speaking skills.
Many websites reveal the secrets of becoming a public speaker. Irrespective of your location, you could grab a handful of information and utilize it to your advantage. Here are some examples of these online resources.
The Public Speaking Project
This website has more than enough virtual tools to help anyone master public speaking art from scratch. There are many free virtual lessons on speech writing and delivery, what's more! You could also find a free textbook on public speaking. There are also many interactive activities and lessons to help you gain mastery of it.
Dale Carnegie's Downloadable Audio 'The Art of Public Speaking'
Although this book was written more than a century ago, its advice and thought on public speaking is still relevant today. The book was recorded into 19 hours of audio that emphasized using body movements to communicate with your audience.
The Accidental Communicator Blog
Dr Jim Anderson is the owner of the Accidental Communicator Blog. He has spent more than two decades coaching and training public speakers and producing relevant content on his blog that could help amateur speakers learn what it takes to deliver a great speech in public.
Public speaking is diverse and could mean anything from giving a speech during a board meeting to addressing prospective clients in a marketing campaign. There are many approaches to learning this unique skill. But we don't want to get overwhelmed with the many results you will get.
Superprof has explained some of the best tips and tricks for developing the skills needed for public speaking. Go ahead and implement them. Then watch the magic happen.
The platform that connects tutors and students