Alternative education like home and online education are rapidly becoming an increasingly popular choice of education, for children and adults alike. With the rise in school fees, reduction of quality classrooms, the lack of security and the pressure that educational intuitions put on their students. People are looking for alternative solutions to public schooling for their learning and education.
Online Learning and homeschooling, despite their differences, share essential similarities. In that, once the education or learning has taken place that some new knowledge should remain. Students should be able to demonstrate their knowledge, understanding and application of the topic confidently as well as show good values.
These common learning outcomes define a standard requirement for the student despite how they chose to learn their particular topic. Measuring these outcomes gives us the insight into how successfully the education has been retained by the student.
The best tutors available
1st lesson is free!
1st lesson is free!
1st lesson is free!
1st lesson is free!
1st lesson is free!
1st lesson is free!
1st lesson is free!
1st lesson is free!
1st lesson is free!
1st lesson is free!
1st lesson is free!
1st lesson is free!
1st lesson is free!
1st lesson is free!
1st lesson is free!
1st lesson is free!
1st lesson is free!
1st lesson is free!
1st lesson is free!
1st lesson is free!
1st lesson is free!
1st lesson is free!
1st lesson is free!
1st lesson is free!
1st lesson is free!
1st lesson is free!
1st lesson is free!
1st lesson is free!
1st lesson is free!
1st lesson is free!
1st lesson is free!
1st lesson is free!
1st lesson is free!
1st lesson is free!
Are Online Science Classes Worth It?
Today, many colleges have adopted online science classes to curb the spread of Covid-19. However, there are some common misconceptions about online science courses. Some people believe employers don't accept online certificates, while others think online courses are of lower quality when compared to traditional learning. Thankfully, the advanced learning tools and well-structured academic calendars have pushed many students to embracing online tutoring.
Online science classes are also a great way to further your education, especially working full-time. As a full-time worker, you may find online tutoring more appealing as it fits perfectly into your work schedule. People leading busy lives would also benefit from taking online science courses, allowing them to learn at their own pace. So, here are some reasons why online science classes are worth it.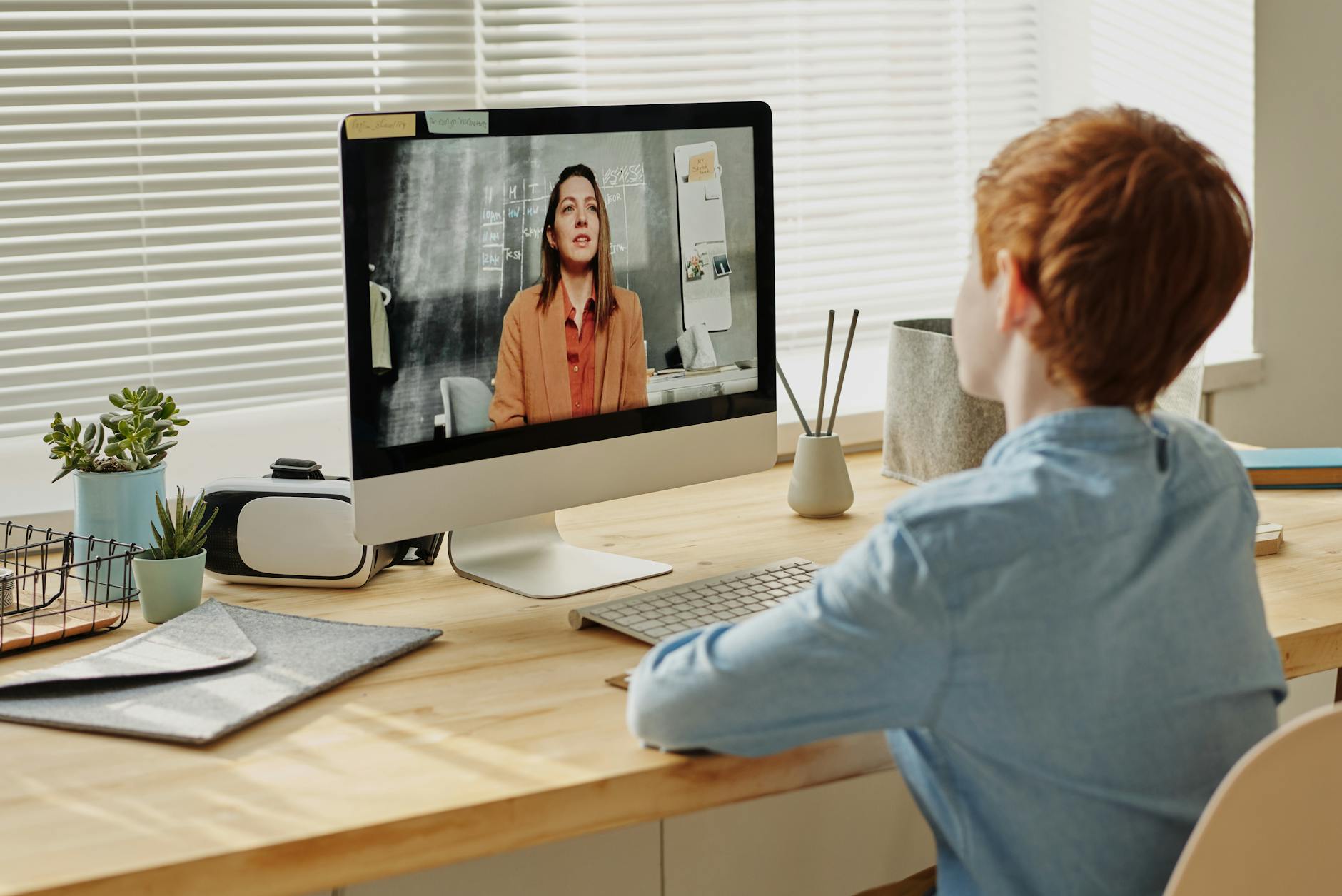 Online classes are flexible
Online science tutoring is usually flexible, helping you to learn in your free time. When you enroll in a private science class, you can learn from the comfort of your home or in your workplace. This is helpful for people combining school work and other commitments without missing out.
Similarly, you can learn when it's most convenient for you. If you love learning at night or in the morning, you will find online science tutoring beneficial for your learning process. When you study during your free time, you will be more relaxed to understand your science courses.
Online classes are cost-effective
Naturally, registering for science lessons costs a considerable amount of money, depending on the science course and length of study. But you can cut learning costs by enrolling with online science tutoring platforms. When taking physical classes, you have to consider accommodation, feeding, and other related expenses.
But when you register for an online private science class, you only have to worry about tuition since you will be learning from home. Also, physical science lessons usually cost more than online science classes due to higher overhead costs in classroom maintenance, rent, and repairs.
Why Should You Take a Private Science Class on Superprof?
Learning as a group helps reduce online tutoring costs. However, you might find a private science class more beneficial, especially when taking extensive science courses. When you register for group online science lessons, your teacher may find it challenging to attend to the needs of every student. Since everybody learns at different paces, your private science class teacher will focus on you, helping you stay motivated and free from distractions.
Consider registering for a private science class on Superprof if you want to get the best from your online science lessons. When you have a private tutor from a reputable platform like Superprof, you can access science help and assistance anytime you need it. Below are some other vital reasons why registering for a private science class on Superprof will help you.
Your tutor personalizes your learning
Your tutor will adapt your preferred learning style to help you learn better. Taking science lessons can be overwhelming, but you can study at your convenience when you have registered for a private science class. Admittedly, students learn at different speeds. While some are fast learners, others may need more explanation or science help. If you learn faster than other learners, your tutor can move more quickly, helping you cover more grounds within a short period. However, if you need more assistance, you will benefit immensely from private online tutoring on Superprof.
Your tutor focuses on you
In a private science class, the teacher's attention is on one student. This helps your tutor track your progress while recommending ways for you to understand complex science courses. However, when the tutor's attention is divided, they won't cater to every learner's needs. This leaves many students struggling to keep up with new topics. When you take one-on-one classes, you will have no problem asking questions and discussing challenges you are facing in the course.
Home Learning Defined
Home education, homeschooling or unschooling as it can also be known, is the practice of being educated away from private or public school education. If you are planning to homeschool your child, you would typically have opted out of the mainstream school system.
Being homeschooled does not mean that you are restricted to staying at home, on the contrary, you may elect a variety of learning styles, and if you choose to you can study in museums, in the local library, or even in the park. In fact anywhere that you that you will be most engaged in the learning activities will be the perfect location to educate the homeschooler.
Get access to online tutoring from professionals here.
Pros Of Home Learning
The flexibility of homeschooling makes it an excellent choice for people who like variety. Students can learn to study at home or in any number of locations.
Although homeschooling often takes place during social hours, there is nothing stopping homeschool being attended during unsocial hours. You are free to study effectively at any time or anywhere.
You don't need any equipment to be homeschooled while books and other homeschooling resources can be beneficial they are not essential to a successful home education program or the learning environment.
You don't need any particular skill to be homeschooled, you just need a healthy interest in learning
You can meet with home school support groups for field trips, socialising and shared interest lessons.
Cons Of Home Learning
Home education can take a lot of preparation time, planning and organisation to create and run smoothly and effectively. Programs should generally be personalised to the student and should take into account the students interests and goals to ensure that they remain dedicated to the curriculum. This can be challenging.
Record keeping and evaluation of your child and the homeschooling resources will also take time but are essential if you hope to provide the best learning experience for your child.
Search for the best tuition here.
Homeschooling Online Defined
Online learning is learning which is wholly based and conducted on the internet. It can also be known as eLearning or cloud-based learning. Online homeschooling takes place on websites or software on the internet and can be lead by a live educator or by an educational program.
Online curriculum can teach you anything from how to read or do mathematics to how to build a business or a house and everything in between. Online educational courses, unlike high school courses, are not restricted in any way. You can even integrate online education into the mainstream classroom, or within a home learning environment.
Pros Of Online Learning
A key benefit of online education is that you can engage in learning as long as you have an internet connection.
Online learning can use all kinds of multimedia resources which can be very engaging for the learner.
Online learning has the benefit to support learners in becoming more confident with using the computer.
Online learning can be used in a blended educational environment and functions very well within mainstream classrooms as well as in homeschooling
A significant benefit of online learning is that it gives you access to the world. You can meet and learn from people in countries around the globe. If you wanted to learn a language from a native speaker, you have that opportunity. With online learning, the world sits at your fingertips
Discover more benefits of home learning...
Cons of Online Learning
The critical drawback of online learning is that you need to have a device that can give you access to the internet. Plus you must have access to high-speed internet especially when you want to use your webcam video or microphone.
If your devices are malfunctioning or broken, it makes the learning experience a less than optimal experience. It can lead to frustration while you try to fix the issue and can also lead to missed classes.
It can be unsuitable for younger children who can not use a computer yet or for children with disabilities that stop them using a computer.


The best tutors available

1st lesson is free!

1st lesson is free!

1st lesson is free!

1st lesson is free!

1st lesson is free!

1st lesson is free!

1st lesson is free!

1st lesson is free!

1st lesson is free!

1st lesson is free!

1st lesson is free!

1st lesson is free!

1st lesson is free!

1st lesson is free!

1st lesson is free!

1st lesson is free!

1st lesson is free!

1st lesson is free!

1st lesson is free!

1st lesson is free!

1st lesson is free!

1st lesson is free!

1st lesson is free!

1st lesson is free!

1st lesson is free!

1st lesson is free!

1st lesson is free!

1st lesson is free!

1st lesson is free!

1st lesson is free!

1st lesson is free!

1st lesson is free!

1st lesson is free!

1st lesson is free!

How Can You Study Online Science Courses Effectively?

After registering for your online science class, the next step is to find the right way to study science courses effectively. Science, as a course, is broad--making it necessary for you to take good approaches for faster learning. Many students who are new to online science tutoring get carried away by the flexible schedule, making many of them put off classes until they have tests or exams.

To effectively study your science lessons, you need to stay motivated throughout your study. Although there are advantages of online learning, numerous students get too comfortable or distracted while studying. You can effectively study your online sciences courses when you follow these tips.

Private lessons could be fun when you are taught by the right tutor. Source: Pexels

Stay dedicated

Dedication is crucial for taking science lessons. There will be days when you are unmotivated to learn, but you have to stay disciplined and dedicated. You can stay on track by joining a learning community, motivating you to study more. You can also make your science courses less tedious by getting involved in your classes. Also, try to ask questions whenever you can. That said, researching on your own is also helpful when taking online tutoring classes.

Structure your schedule and make learning objectives

A great way to study your science courses is by structuring a schedule. This is particularly helpful for working professionals and busy individuals. You have to find a convenient time to take your science tutoring every week to avoid lagging. Before starting your science lessons, you should consider writing down your learning objectives and revisit them after your class. This way, you can pinpoint areas you need help with and ask for science help from your instructors to aid your learning.

Are There Benefits of Online Learning?

Before taking an online science class, you might be skeptical regarding the benefits of online learning. Many benefits come with hiring an instructor for online science tutoring. Since many people need to juggle work with a new learning schedule, online tutoring is more attractive. Besides the flexibility, students have access to tech-based learning tools to streamline the process. It's also worth noting that many online tutoring platforms have pre-recorded videos, allowing you to review later for better understanding.

Other advantages of online learning include proper time management and convenience. When you have other commitments, such as skill acquisition or work, you will understand why managing time is crucial. Instead of commuting to campus for your class, you can learn anywhere you are, saving transportation costs and time. So, here are other benefits of online learning.

Learn at your own pace

If you love taking your time to understand certain concepts, hiring a teacher for online tutoring gives you the freedom to review class materials. This gives you in-depth knowledge of a course, which would help you get better grades in your exams. Similarly, your professional life might not afford you the luxury of attending science lessons during the daytime. Still, you would enjoy online science lessons as they enable you to invest your time in other valuable ventures.

You can access class notes and documents anytime you want

Having access to all class notes and materials is one of the benefits of online learning. This allows you to start reading for better comprehension even before the commencement of the semester. With this, you will flow better when your instructor finally starts their science tutoring. Take advantage of the materials by making your notes from the science lessons. Creating your notes allows you to read and present complex ideas in a way that you can understand.

Where Can You Take Science Lessons?

When taking online science courses, you need the best tutors in the field to guide you through your learning process. Superprof is the world's best platform for online science lessons, having over millions of tutors for both online and face-to-face science tutoring. Instructors at Superprof are approachable, helping you stay motivated while attending classes. With just your webcam and your electronic device, you can start learning. Also, with the wealth of teachers available for online tutoring, you have more options.

Whether you are new to science courses or need to upgrade your resume, taking science lessons is a huge commitment. However, you can mitigate the burden by studying with the best platform to ensure you get the most out of your study. Below are some advantages of online learning with Superprof.

Wealth of instructors

Superprof has a lot of qualified instructors ready to help you learn at your pace. That said, you can register for a private science class for one-on-one learning for a personalized experience. Not many learning platforms allow students to register for private online tutoring, but you can rest assured that Superprof enables you to pick any learning pattern most convenient for you. Since there are different science courses available, you have the luxury of choosing the subject matter you want to focus on.

Save money

Before enrolling for physical science lessons, you have to consider many factors, such as the cost of commuting to campus and accommodation. Still, you don't need to worry about that with an online class. Also, science courses on the platform are affordable, allowing you to study your favorite courses without breaking the bank. So, no matter how difficult your course of study is, you can always count on Superprof instructors to deliver quality lectures.
The Main Differences Between Home School And Online Tutorials
Homeschooling and online education have many similarities the main one being that they aim to enlighten the student and introduce new knowledge and experiences into their lives. Their main outcomes are aligned, but lets now take a look at the fundamental differences between homeschooling and online learning.
| | Homeschool | Online learning |
| --- | --- | --- |
| Location | Learning can take place anywhere. | Only where there is an internet connection. |
| Skill | No Skills are required to attend lessons. | Ability to use the PC and interact with software if required. |
| Equipment | No equipment is required to attend lessons, although homeschool resources can optionally support learning. | Internet-ready device with correct specifications for the kind of course, such as a microphone and webcam. |
| Internet connection | No internet connection is required to attend lessons. | Having an internet connection is essential. |
| Live Human Interaction | Teachers, parents, guardians or tutors are required to guide the lesson. | No live human interaction is required as lessons can be studied via software, video or courseware that the student can independently work through. |
| Time | The study will be based more commonly around a set schedule and within restricted hours such as 9am to 3pm. | Online programs can be studied at any time, Day or night, Although there may be a restriction on live learning. But for the most part, Online learning is very flexible regarding schedule and study times. |
Location: While homeschooling has the flexibility and the benefit to take place in any location. Including but not limited to a museum, a park, a supermarket or even the playground. Online learning is restricted to wholly being taught via a computer or device that can connect to the internet such as a phone or tablet. While the student may be in any location that has Wi-Fi the learning is within the device as opposed to outside of it.
Skill: While the homeschooled classroom has the benefit of hands-on guidance to support students through their lessons, on the whole, it requires no technical expertise. Online learning, however, does need the students to know how to use a PC to the necessary level and they should be able to understand how to interact with any software that is part of that online learning environment.
Equipment: Homeschooling can take place anywhere as we have gathered, but it also requires no necessary equipment, resources or anything additional to run successfully, save the attendance of the student and tutor. Of course, you can use textbooks, educational resources, or subject appropriate learning materials, but this is optional. Online learning, however, needs a device to connect to the internet, be it a computer, tablet or mobile phone. Without a device, you will be unable to attend your lesson. Further, that device must but in good working order and meet the minimum requirements of the lesson to allow learning to take place without technical problems. Such as sound not working or the webcam video failing, both of which would affect the online classroom negatively.
A stable Internet connection: One significant difference between the homeschool which we have determined needs almost no equipment at all and the online school. Is the online school would not function if you didn't have access to the internet. Additionally, if you plan to have a class free of issues, you should have a fast connection with an equally compatible device.
Live human Interaction: Homeschooling in all forms requires contact with a teacher, the educator could be a parent, guardian or tutor, very often during the homeschool year the student will work with someone to gain insight on the topic of study. But online education can be conducted entirely without access or contact with a teacher. While some online courses do teach using a person to person approach. There are many courses which are prepared using only software, games, activities and slides.
Schedule: While homeschooling tends to revolve around a set schedule which most likely works within social hours. Online learning can take place anytime as long as you have an internet connection. You can study in the middle of the night or early in the morning. Live online lessons may have a bit more of a structured timetable depending on the instructor and which time zone they are located in. But for the most part, online learning gives you the flexibility to learn at you own pace and schedule.
With the key outcomes of home or online education being that you are able to learn your chosen skill by the end of the training. It is up to you to decide whether you prefer to learn at home or whether online learning has peaked your interest.
It is clear that students' successful homeschool learning experiences result from more flexibility as it requires no equipment or resources to teach a student successfully. The only requirement is that the teacher and student are willing to work together to increase the knowledge of the student.
Online learning, however, has a lot of requirements, you need equipment a stable internet connection access to Wi-Fi compatible devices, and in some cases, you may require a working webcam and microphone. Although the requirements for online learning are higher than that of homeschooling. Its main benefit is that you can reach across the world and find real experts to teach the knowledge that you require.
So which one do you prefer, Homeschooling or online learning?
I would offer that online learning and homeschooling do not need to be exclusive, but can work together seamlessly to create a productive and enjoyable educational environment. Leading you to success and confidence in your chosen subject. Whatever your learning style and however you have decided to study, it is the act of studying itself that is the achievement.
Are you interested in homeschooling your children? Find out how to get started as a homeschooler with this handy guide...
Happy Learning!
The platform that connects tutors and students