When was the last time you enrolled for a course or took a certification exam after completing a program? I'm sure you knew what you were in for, and you gauged your assimilation level during each process.
Learning is not a hard nut to crack. It's pretty simple. You watch a video on YouTube or follow instructions online, then, implement whatever you learnt. As you learn, you try to keep records of your findings and find better ways to improve upon them.
But this is not the case with learning leadership skills. It is all about managing people. And as you already know, human behavior is changing a lot, and most times, it is unpredictable.
That is why you see most people failing at leadership despite the decades of experience they probably have leading others. The fact is that irrespective of your present knowledge about leadership and the number of skills you have, you still need to continue learning (even if it is slower). The moment you seize, you will lose a grasp of the dynamism that engulfs leadership.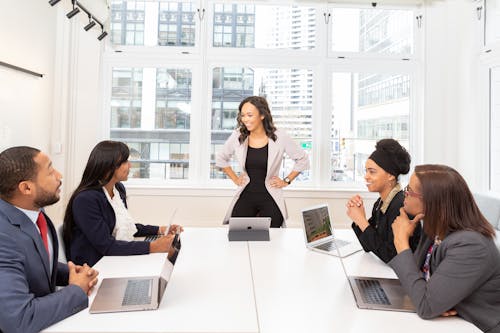 Let's look at this issue critically. Is it everyone that has the time to enroll for leadership courses in schools? No! Most people can only spare a few hours each day to learn something new if they ever want to. And during this time, going to a school environment to sit before a chalkboard in the name of learning leadership skills is the last thing they would ever want to do.
See the top leadership skills you need.
Thanks to online learning. Right in the comfort of your home, you can develop whatever leadership skills you want and even build upon the skills you already possess. But you can't just do it hazily. You need to employ a refined approach for you to attain your goals quickly.
That said, we recommend you find resources online that would make things easier for you. With these useful online resources at your disposal, you will be able to learn the skills necessary for effective leadership at your convenience and even at your own pace. More so, with online tools and resources, you can access premium content and learn vital skills for less.
Superprof, an online platform that is bent on making learning easier for all, has provided some useful online resources and tools aspiring leaders can use to develop the different leadership skills they want to learn.
Want to be a leader in no time? Read to the end to know where to go for these resources.
The best Personal development tutors available
1st lesson is free!
1st lesson is free!
1st lesson is free!
1st lesson is free!
1st lesson is free!
1st lesson is free!
1st lesson is free!
1st lesson is free!
1st lesson is free!
1st lesson is free!
1st lesson is free!
1st lesson is free!
1st lesson is free!
1st lesson is free!
1st lesson is free!
1st lesson is free!
Coursera
Coursera provides different graduate and undergraduate programs online through their partnership with different colleges and universities. The best part is that these courses are under $100, and they could span from a few weeks to several months.
On this website, you will find courses for building leadership and managerial skills. To be specific, the one that will help you build leadership skills from scratch (assuming you don't know how to go about it) is called 'building your leadership skills.'
This course has more than 2000 ratings and 500 reviews online. This course aims to enable you to grow your awareness and self-confidence, which is needed for effective leadership. The course teaches how to create a leadership style that befits your role in the organization.
More so, you will discover the tactics for leading with specialization. This is part of a more extensive course named 'inspirational leadership.' The course is 100% online. This means you can learn remotely from anywhere and at your schedule as well.
Coursera issues a certificate upon completion of the program, which is downloadable and shareable via different means. And in case you aren't fluent in English, you need not worry. The course is available in different languages, including French and Arabic.
Lynda
Lynda offers leadership training courses that could help business managers become better leaders. It is an online platform created by LinkedIn for business and career-driven individuals to help them ace their career goals and make an impact in the lives of others.
Most businesses use the platform to train their new employees and nurture them into the ideal employee they envision. Other than that, it is an excellent platform for learning a variety of business management skills, including leadership.
Accessing courses on the platform is easy, and most of the courses span between several minutes to hours. So you could easily complete one within a few days if you have a very tight schedule. Also worthy of mention is that the platform is free for the first 30 days, after which you pay $19.99 per month.
The best Personal development tutors available
1st lesson is free!
1st lesson is free!
1st lesson is free!
1st lesson is free!
1st lesson is free!
1st lesson is free!
1st lesson is free!
1st lesson is free!
1st lesson is free!
1st lesson is free!
1st lesson is free!
1st lesson is free!
1st lesson is free!
1st lesson is free!
1st lesson is free!
1st lesson is free!
Edx
Edx is a free platform for learning various business management skills, including management skills. These courses are created by experts in the professional and business terrain. The platform offers three online courses that teach you how to become a successful leader irrespective of your current position on the ladder.
The courses focus on developing communication, managerial and business skills. In the end, you will be better positioned to building practical leadership skills that could make you stand out from the crowd.
The courses focus on digital and business leadership skills that are practiced nowadays. Also, you will learn what it takes to manage people of different beliefs, perception, and opinions.
Learn how to become a leader without a mentor.
Kutztown University of Pennsylvania
The school offers different management and leadership courses online to help you ace your career to another level. These courses are on-demand, and you could take them at your own pace. The courses are generated from various talented business professionals and business organizations. Then they are divided into modules and sections for easy learning.
According to the website, students could achieve a Minor in Leadership after completing 18 hours studying leadership skills and related courses. The school offers students a flexible learning approach by allowing them to use various study contexts, disciplines, and processes to learn the skills necessary for leadership.
Students are expected to have completed previous courses related to leadership, either in business management or in the social sciences, to enroll in these courses.
Udemy
Udemy is one of the best places to find on-demand courses provided by industry experts from various countries. Udemy offer courses in business management and leadership. The costs range from $9.99 to $199.99. The courses could be introductory or more advance. Typically, advanced courses usually cost more due to the various core skills taught in them.
On Udemy, you will find different courses that teach the skills needed for effective leadership at various levels. These courses are well-detailed and properly sectioned into any short videos that make learning easier. That way, you could quickly complete a section in one sitting and take a quiz to test your level of comprehension.
The excellent news about Udemy, which is probably why millions flock to the platform to buy online courses for leadership, offer flash sales and discount periodically. During such times, you could find a course that initially worth $88 for as low as $11.99. Before I forget, another exciting fact about Udemy is that you don't need prior experience to take or benefit from its online courses. All you need is your credit card, a mobile device or PC with internet access.
Do you know that critical thinking skill could help you become an effective leader? Find out how!
Skillshare
Skillshare is a robust platform where experts can upload videos and training courses on learning a variety of skills online. Then, users could access these training courses for $8.25 per month. There is good news for news users. You can access complete courses for free in your first month of using the platform, then, pay for subsequent months if you still want to continue accessing more courses.
There are different courses you could take on Skillshare to help you develop fundamental business and leadership skills. These courses will teach you how to leverage communication skills and storytelling to build your conversations skills. They also include real-life cases and scenarios that you could relate to develop your team and manage them effectively.
How to Choose the Best Online Course For Learning Leadership Skills
There are no hard and fast rules about this. However, you should know what you want before you enroll for any online that teaches leadership skills. You should, first of all, determine whether you are looking for free or paid courses concerning leadership.
If you want to access free courses, you could opt for free platforms such as Edx. But if you seek premium content online, you would be better off with platforms such as Udemy. In the end, the most important thing is to find a platform that provides you with the best resources necessary for mastering leadership skills.
Anyone can be a leader because leadership skills can be taught. Fortunately, many industry experts are not selfish with their knowledge. They willingly share their knowledge for free or via premium platforms.
So whether you are an aspiring leader or already holding positions of leadership in your organisation, you could beef up your leadership skills by enrolling for leadership courses online and taking advantage of the resources they provide.
The platform that connects tutors and students