Unless you've dwelt on a remote island for the last ten years or so, you could hardly miss the global influence of English language entertainment in all forms.
Movies, music, and books now have the freedom to travel globally, more or less without restrictions, thanks to the World Wide Web. Even classic literature such as Lord of the Rings and Wuthering Heights are devoured and discussed by students of English everywhere!
Even though some great music comes out of African nations, the Caribbean and Asia, overwhelmingly, the singers' names on people's lips the world over are either American or British: Taylor Swift and Adele being examples of such.
How does this abundance of entertainment help you learn English? Let's find out!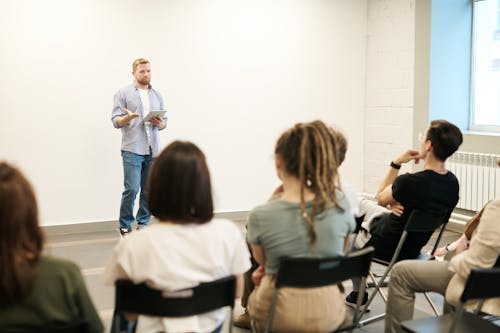 The best ESL tutors available
1st lesson is free!
1st lesson is free!
1st lesson is free!
1st lesson is free!
1st lesson is free!
1st lesson is free!
1st lesson is free!
1st lesson is free!
1st lesson is free!
1st lesson is free!
1st lesson is free!
1st lesson is free!
1st lesson is free!
1st lesson is free!
1st lesson is free!
1st lesson is free!
English learning through literature
"Language is the road map of a culture. It tells you where its people come from and where they are going." ‒ Rita Mae Brown
Nowhere can you get a better picture of cultural development through the ages than by reading classic literature, and English authors abound!
As you learn English grammar and vocabulary, why not try some of the Brontë sisters' works?

Emily, Sara and Jane all wrote sweeping epics as well as shorter poems – giving you classic English literature in small bites.

You could indulge in a dose of futurama by studying the works of George Orwell.

His works reflect not only a glimpse of the future but a hefty dose of social commentary from the time he wrote each book.

Do you like love stories? Are you of a mind to appreciate early science? Mary Shelley's Frankenstein is arguably the first science fiction novel, blending alchemy with romantic overtones.

This story was allegedly written as a result of a bet between herself, her husband and his best friend. She won, of course!
Beware, as you read these classics, that the writing includes some English words and expressions that are obsolete - no longer used.
Reading these books and others to improve your English, you should keep an Oxford English dictionary handy. Highlight words and phrases you are not familiar with and look them up as you read.
As your fluency in English grows, you can build a list of new words from these stories to look up later.
A great site to download classic literature is Gutenberg. There you will find many titles that will help you understand not just the English language but also the culture that drove its evolution.
You can improve your literacy as well as listening skills by downloading audiobooks from Librivox. Neither site costs any money.
Jane Austin, the renegade writer of her time, is currently enjoying a resurgence of popularity. Her novels have seldom been out of print, even though most of her work was published more than two hundred years ago. She only wrote six books, but they have often been turned into movies, sometimes with modern themes.
How to learn English by watching films?
Movies give you a triple exposure to the English language and its culture: listening, reading (if you have subtitles turned on) and seeing how the actors are speaking.
Native English speakers make exaggerated mouth movements to teach their children how to form words properly. Actors copy that technique in order to enunciate – speak each word clearly.
You can benefit from actors' diligence by imitating the way their mouths move, as well as their tone and inflection.
Arguably the best movie of all time is Citizen Kane. This film is notable for, among other things, extended monologues – one person talking at length.
Movies, especially new releases, are a great way to pick up on slang and idioms. Pause the movie to write them down for later study!
Be sure to use them in conversation once you have mastered them, preferably with native speakers of English.
Sites such as Primewire permit you to watch movies for free online, but they do not include subtitles. Still, watching them can help you improve your English comprehension as well as sharpen your listening skills.
You might be surprised to know that many Esl teachers recommend watching movies in English. Some teachers even show films in class!
One film you might watch if you are taking English courses is The King's Speech, the true story of George VI, who was expected to address the British public via radio. However, his spoken English was marred by a terrible stammer!
He employed a speech tutor to improve his speaking skills. After several lessons, he became proficient in English conversation, speaking with a fluency that belied his speaking problem. Naturally, his first broadcast was a hit.
You can copy the king's determination to achieve fluent speech by using some of the techniques shown in that movie.
Looking for an English tutor? Check out our ESL courses online.
Listen to the radio to improve English comprehension
Generally, when one thinks about listening to the radio, music is the main idea.
You can improve your English vocabulary and increase your speaking ability by singing along with your favorite songs. Of course, you have to know the lyrics – the words to those songs.
There are many great sites to find song lyrics. All you need to know is the name of the song and/or the singer. A quick Internet search and you're ready!
However, the humble radio has so much more to offer people who are learning English.
The British Council broadcasts on several radio channels. Music, of course, occupies one band; the others are programmed to help you learn and improve your English.
If you are preparing for IELTS or you wish to develop your Business English skills, you can visit their site to get helpful study hints, take quizzes and register to learn Business English online.
Learn about how English can benefit your career in business here.
Popular culture, featuring English
To date, Dr. Who has been broadcast in fifty countries around the world – from Algeria to Zambia, a country for just about every letter of the alphabet.
The Mysterious Doctor, as he is known in China, has such a loyal, global fan base that the show has endured for more than fifty years.
He is the crown jewel of English television!
Strange as it sounds, the appeal of this face-changing alien lies in his being so down to earth. He even helps non native speakers learn English!
Beware, though: not everything The Doctor says is general English. Tardis is an acronym describing his flying machine, and nouns such as Dalek and Cybermen do not describe real creatures.
The Doctor uses a lot of slang, and the idiom features heavily in his speech, as do similes.
Find good IELTS teacher here on Superprof.
Learn how to make English learning easy with our guide to simplifying ESOL Courses.
The best ESL tutors available
1st lesson is free!
1st lesson is free!
1st lesson is free!
1st lesson is free!
1st lesson is free!
1st lesson is free!
1st lesson is free!
1st lesson is free!
1st lesson is free!
1st lesson is free!
1st lesson is free!
1st lesson is free!
1st lesson is free!
1st lesson is free!
1st lesson is free!
1st lesson is free!
How to learn English quickly?
While learning the English language, you need to study techniques on how to learn English quickly. As you take your time studying English, you could build a solid foundation for language comprehension by infusing different English learning styles and approaches.
When learning a new language, beginners often get overwhelmed by the rigors of reading and writing without incorporating methods to mitigate the learning process. That said, a standard method language learners use regarding how to learn English is reading English literature.
If you love reading and writing, you could learn the language quickly by "consuming" beautifully written, high-quality English literature. Books written in a simple and straightforward manner can speed up your knowledge. With this, you also become familiar with the works of famous English authors. Asides from learning through literature, there are other approaches as discussed below.
Find a practice partner
One of the fastest ways on how to learn a new language is by speaking it with another person. When taking your English lessons or attending your English class, you could ask one of your coursemates to be your practice partner.
This way, both of you can converse in English and gradually become better speakers. While practicing, don't take studying English as a burden, but think of it as a fun activity with many benefits attached. You will speak it regularly when you have a positive outlook towards the language, aiding your fluency.
Listen to podcasts or audiobooks in English
To know the correct pronunciations of words, you need to listen to natives when they speak the language. During your next English class, take note of how your online English teacher pronounces words. Listening to words or sentences is a simple way to commit them into memory.
You could also download podcasts or audiobooks for English learning. Nowadays, English literature has audio versions; you can download an audiobook and mimic the narrator's word construction and intonation.
Find English speaking lessons here on Superprof.
Why studying English is important?
English is, unarguably, the most spoken language in the world. With the strong influence English-speaking countries, the UK, US and Canada, have over the rest of the world, it's not surprising that many other countries have English as an official language. Before commencing your English learning, it's understandable to ask yourself the point of enrolling for an English class.
Studying English is essential for numerous reasons. While some people want to learn the English language to build a career, others need it to broaden their horizons. Additionally, you will find it helpful when traveling overseas. Here are some reasons why studying English is crucial.
Access to more books and resources
Notably, some of the most consumed books, academic materials, and movies were initially published in English. Similarly, people in all parts of the world purchase and read English literature. If you hire an online English teacher, you would learn the language and access valuable resources for your education and pleasure.
With this in mind, you would have more sources to peruse for your academic work and research. Also, many firms require employees to do a lot of research. When you take on English learning, you expand your reach and bridge your access to resources from other locations.
English is the language of tourism
If you plan to travel to another country, it would be best to read how to learn a new language. Learning a new language makes expressing your thoughts to foreigners easier.
Before making travel plans, you should search for an online English teacher, attend English lessons and read English literature for exposure to word construction, grammar, and vocabulary. After that, you could also improve your vocabulary by noting difficult words and searching for their meanings in a dictionary.
Find good IELTS training Toronto here on Superprof.
Learn English online via podcasts
Nothing is more fashionable than boarding the tube or bus with earbuds in. You might listen to music, but more and more these days, people are downloading and listening to podcasts to learn English online.
Podcasts are short monologues or discussions that you can download from the Internet and listen to as often as you'd like. You can subscribe to a podcast (usually for free) and receive new segments as soon as they are available.
Here again the British Council serves its non native community, through their Learn English podcasts.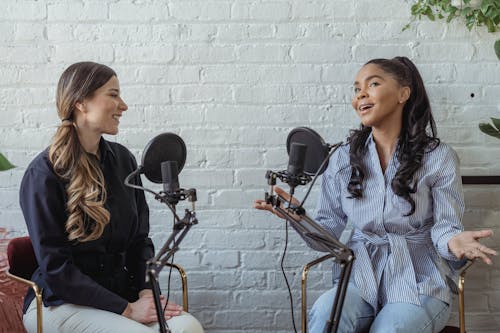 Rather than broadcast on random topics, such as the significance of prepositional phrases and the proper use of pronouns, each segment is a continuation of the previous lesson involving the same native speakers, who are engaged in ordinary, everyday activities.
Subscribing to these podcasts can help you:
Understand verbs and their tenses, and conjugate properly.

Learn the difference between an adjective and an adverb.

Realize the importance of proper punctuation.

Improve your vocabulary.

Understand and use comparatives and superlatives.

Study tricky grammar rules.
The English speaking on these recordings is standard Oxford English, spoken clearly and relatively slowly, so that you can follow along – the perfect way to improve your English pronunciation.
Besides recordings, there are transcripts of the podcast conversations for you to print out and follow along. Doing so will greatly increase your reading proficiency.
Copying the podcast text is a great way to improve your writing skills!
Find good IELTS preparation course Montreal here on Superprof.
Tips on how to learn a new language
Learning a new language is an exciting way to equip yourself with valuable skills. With more organizations receiving numerous applications for a single position, you could stand out by including your knowledge of a second language.
It goes without saying that learning a new language is beneficial. The process of gaining mastery, however, will take lots of practice and also determination. How to learn a new language is relatively simple; you have to take some crucial steps in pivoting your learning process. Here are some carefully selected tips on how to learn English or any other language in a fun and creative manner.
Join a community
One of the first steps you need to take to learn English or any language at all is joining a language community. The community could be online or offline, whichever is convenient for you and would help you learn quickly. While learning the language, you have to engage community members by asking questions to improve your knowledge.
Becoming proficient in a language does not happen overnight, so you have to be patient when things become tedious. With the help of your English tutor, you can cultivate the habit of writing or speaking the language.
Visiting the country
Another foolproof way on how to learn a new language is by visiting the country where natives of the language live. With this, you learn directly from the creators of the language, taking note of the intonation and sentence structure. If you want to speed up the process, you should make friends and speak the language with them. At first, it might not be easy, especially if they talk fast. However, it will be easier with more practice.
What you learn in an English class?
Before attending an English class, you need to prepare ahead of the course. This preparation makes English learning more accessible, especially with the right mindset. Like most languages, an English class essentially teaches you how to learn English. Your online English teacher will use practical methods to ensure you have all the resources needed to begin your English learning process.
Find good IELTS preparation course Vancouver here on Superprof.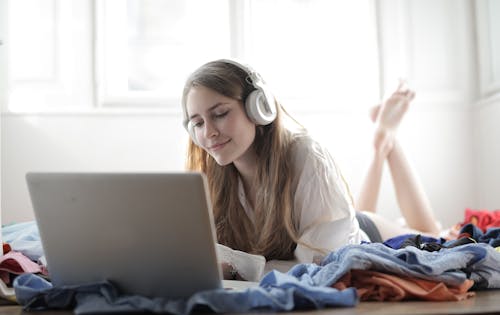 When taking English lessons, it's preferable to write notes, stimulating not only your visual senses but also improving your memory. Knowing how to write in the English language is as crucial as knowing how to speak, especially if you plan on using your skills for formal purposes. You might need to write an email or create a proposal, which requires excellent writing skills for effective communication. Here are some things you would learn when taking an English class.
Reading
Reading and recognizing words is usually one of the first few steps. Here, your online English teacher might recommend beginners' English literature to make the process straightforward. When you read these books, your brain will associate words with their meanings. With this, you will be able to recognize words effortlessly. Some instructors also read English comprehension textbooks in class, helping you know the correct pronunciation.
Writing
In your English class, your online English teacher will introduce you to the alphabet. When learning the letters, you can memorize them by writing them continuously. This helps you remember them easily. After that, your instructor may require you to create simple sentences.
You will be exposed to English grammar, word construction, punctuation use, and other fundamental aspects of English learning during this process. As you progress with your English lessons, studying English becomes easier. In your spare time, it would help to construct sentences, building your confidence when you take on a more advanced level of English, such as English composition.
Should you read English literature?
Deciding to read English literature is a choice you have to make as an individual. But when studying English and taking English lessons, it becomes a fundamental part of learning. Oftentimes, an online English teacher drafts course outlines, mandating learners to read English literature at one point or the other.
Most materials on how to learn English also suggest learners cultivate the habit of perusing literature works. If you don't enjoy reading, you can opt for shorter books to simplify the exercise. If you love exploring new books, English literature covers a wealth of genres. You can search for English literature with your preferred genre and start your reading. Here are some reasons why you need to read English literature.
Builds your vocabulary
A significant reason why instructors recommend reading English literature is that it broadens your vocabulary. As a learner, you need a stronger vocabulary to assist you in expressing yourself clearly. When you continuously read English books, you will be exposed to language usage, syntax, and other crucial parts necessary for gaining mastery.
Improves grammar
Grammar is essential when speaking or writing in English. Some native speakers even struggle to use correct grammar. When you read excellent English literature, you are reading a work that has passed through numerous editing processes. This helps you recognize appropriate word usage.
That said, grammar is the set of rules and principles guiding the speaking or writing of a language. Following these rules makes your work clearer and easier to understand. When your online English teacher teaches English lessons, take cognizance of their grammar usage and structure to aid your understanding.
Books, movies, music and television: a treasure trove of materials that you, who are learning English as a second language can use in your English learning adventure and make English learning fun.
Get access to online educational materials and university education with the English language.
Curious about being back at school in 2020? Check out the article Back to School in 2020 to learn more.
The platform that connects tutors and students