Do you know that over 400 million are said to speak different variations of Spanish globally? That's not just a startling figure, but one that comes with a lot of opportunities. It doesn't matter where you live in Canada; the decision to learn Spanish as a second language is a great one to make.
Perhaps, you want to learn the language because you dream of spending your life in Spain someday or just for the fun that comes with it. It is also possible that you're considering taking up a job opportunity available in Spanish countries. Your reasons for learning Spanish are valid, but it's important to know the best way to go about it. 
Let's get things straight; several ways exist for you to learn Spanish. The internet is a rich place to find valuable audio and video materials that can aid your learning. If you can find the right learning source online, you can learn from the comfort of your room via your device. There is also the option of watching Spanish movies using subtitles. From movies, you will learn how different words are used in specific contexts and improve your vocabulary.
However, what happens to those who are not good at surfing the internet or are not interested in it? What happens to those who don't seem to be enthusiastic about movies? There is no cause for alarm as there is a means that works well for a vast majority, reading books.R
Books are not only a great way to learn Math, English, Physics, or Chemistry, but they can also come in handy for learning specific languages. Whether it is Spanish, Portuguese, or French you want to learn as a second language; you can subscribe to books.
Want to kick-start an adventure in Spanish learning? Read this guide!
In this article, Superprof examines eight great books that can help learners at any level master Spanish. If you're a beginner, intermediate, or expert, you will find a book that suits you on this list.
If you go by the name, you may not want to get this book because you are not a dummy. But that isn't what it means, as dummies here refer to beginners who have little or no idea about Spanish. So, if you're new to learning the language, you have to look beyond the book's title and consider getting it, as it will help you immensely.
The good side to getting this book is that it simplifies the jargon to understandable bits for you to understand. It is divided into different sections, all covering verbs, prepositions, grammar, and pronunciation. Exercises are also included at the end of each section to test your learning speed and help you improve better. Spanish for dummies is one of the most affordable books that can be purchased in shops and online.
Madrigal's Magic Key to Spanish
As a beginner to any language, it is almost impossible to speak it fluently without paying attention to the theoretical aspect of language. Madrigal's Magic Key to Spanish is rated as one of the best books for beginners learning Spanish from scratch. It offers a creative and proven approach to learning Spanish that may not require the help of a third party.
Aside from being a tested and trusted book, this book comes at an affordable price, making it the perfect start to an impressive learning journey. If you pay attention to the exercises provided in this book, your language learning will improve like magic.
Barron's 501 Spanish Verbs
If you're good with grammar or have a grasp of prepositions, then you might be looking at something else - verb conjugation. Several Spanish books are written on verb conjugation, but Barron's 501 Spanish Verbs book stands out from them all. Here, you will find different verbs presented in alphabetical order, all totaling 501. All of these verbs have examples of how they are used in sentences.
Kids who cannot read properly can learn Spanish with help and support.
The most outstanding feature of this verb book is the English translation that it offers for every verb. As a Canadian who speaks English as your first language, this translation will help you better understand Spanish verbs.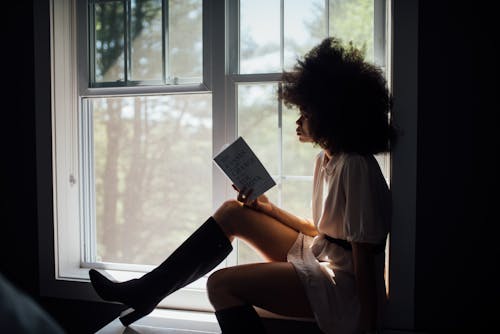 Practice Makes Perfect Spanish Series
If you're at an intermediate level and already have a foundational knowledge of Spanish, then you need a book that can help you build on what you already know. It would be best to have a book that allows you to practice what you have learned from your previous Spanish classes or private lessons.
Fortunately, you have one here, and that is the Practice Makes Perfect Spanish Series. This book comes in a series that addresses different areas of Spanish, from grammar, verb tenses, pronouns and prepositions, to how you can have meaningful conversations with others.
As a student, you will enjoy this book because you learn words from it; you also come across several examples of how they are used in sentences and contexts. You can also follow through on the phonetic expressions to learn how the words are pronounced.
Multimedia learning appears to be the most suitable in this digital generation. It fosters interest and faster learning. The Living Language Spanish book is undoubtedly the most recommended multimedia course book for learning Spanish. The language program comes as a complete package which includes this course book, other audio learning materials, and review exercises.
From this book, students can learn essential Spanish words and phrases used in different contexts. The audio materials that accompany this book help you to understand how words are pronounced as well.
Easy Spanish Step-by-Step
The best way to learn any language is to pick specific areas and focus on them. That way, you are learning the language holistically. As a student trying to focus on grammar alone, the Easy Spanish Step-by-Step book is the best for grammar. You get to enjoy reading this book because of the many practical illustrations it contains. It appears that there is no boring aspect in this book as learning is presented in a fun and appealing manner.
Following the step-by-step layout, there are exercises at the end of each step to test your knowledge.
Getting Started with Spanish
Do you know that you can learn independently, just as Spanish is taught in a Canadian school or by a tutor? Yes, with the right book, you can self-learn any language. One of the most recommended books by language experts for students who want to learn Spanish is Getting Started with Spanish. The primary aim is to help those who want to learn at home get the hang of the language better and faster. Though a book, it comes with mp3 audio files that help you grasp how words in the book are pronounced.
Native Spanish speakers recorded the audio files that accompany this book. As such, you can be sure you are learning from those who speak Spanish as their first language. Simplicity and clarity are two significant features of this book that make it the perfect fit for you.
Lonely Planet Spanish Phrasebook and Dictionary
While watching a Spanish movie or traveling to a country where the language is spoken, you will hear words you're not familiar with and can't seem to understand. Instead of acting all lost in the moment, you can find out what these words mean from the Lonely Planet Spanish Phrasebook and Dictionary.
This book comes as a pocket-friendly learning material recommended for travelers. While on your journey, you can take out this book from your pocket and glance through a few words. From this book, you learn the meaning of words and how they are used in examples. Interestingly, this book comes in different Spanish variations meaning you can choose the one that suits your present need.
Why Learn Spanish from Books?
There is no way you can speak a language fluently without first paying attention to the theoretical aspect of the language. Books give you a basic understanding of words, phrases, clauses, and the many other things you learn from an English class. Also, books are easier to move around with than movies and tutors.
Then, it is said that books allow us to journey into the lives and experiences of authors we may never get to meet. By reading books, you can understand why certain words are used in a particular way.
No doubt, the best way to learn Spanish is by practicing. However, before you start practicing the language, you have to have foundational knowledge, which you get from books.
Learning different languages is an advantage, and it positions you to interact with people from different walks of life. It will also come in handy if you plan on studying abroad or relocating to any Spanish-speaking country.
There are no hard and fast rules for learning Spanish. You can even watch movies! or download these language apps.
Do you need more information about the best books to read to learn Spanish? Then, you can contact any of our Superprof tutors near you in Canada to discuss more. These tutors can also help you gain more insight from any Spanish book you decide to read.
Are you on a tight budget? You can learn Spanish for free or learn independently.
The platform that connects tutors and students