Candidates with strong public speaking skills are an asset anywhere. Many organisations now seek candidates that can boldly speak in a group and have good persuasive skills. People with these skills are an asset and highly valued by employers anywhere. This is because they could use their skills to promote the interest of the business and help it reach its goals faster.
Have you ever seen a team leader passionate about moving his team to greater heights? Chances are they possess excellent public speaking skills. Although it's unlikely that you may find an employer who requests explicitly for public speakers, candidates with these skills will have the edge over others as they use them to their advantage.
Generally, any job that involves teaching, directing and communicating usually involves a high level of interaction with people. Therefore, you will do better if you had public speaking skills.
Public speaking has been hyped over the years. Yet, many do not know what it's all about. In this guide, Superprof will reveal everything you should know about the art of public speaking. Ride on with us as we take you through the cracks.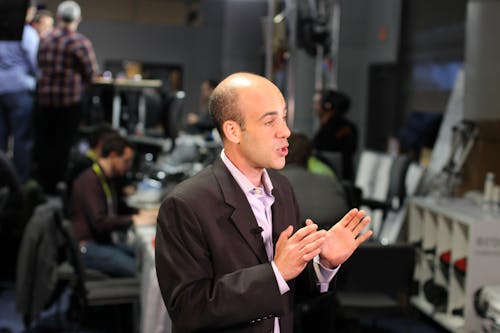 The best Personal development tutors available
1st lesson is free!
1st lesson is free!
1st lesson is free!
1st lesson is free!
1st lesson is free!
1st lesson is free!
1st lesson is free!
1st lesson is free!
1st lesson is free!
1st lesson is free!
1st lesson is free!
1st lesson is free!
1st lesson is free!
1st lesson is free!
1st lesson is free!
1st lesson is free!
What is Public Speaking?
Public speaking is a core skill that enables you to communicate, relate and engage with an audience. Public speakers usually address an audience verbally using presentations, slides, and other visual illustrations.
Whether your job involves communicating with an audience directly or not, public speaking is not something that we can evade. At some point in our lives, we will subconsciously get involved with public speaking.
The truth is that you can never know how good you are in public speaking unless someone evaluates your prowess and tells you about it—little wonder why the concept of public speaking illicit so much anxiety and worry.
Find out more about how to become a great public speaker.
Why Public Speaking Is So Important Nowadays
You don't necessarily have to make presentations before a group to utilize your public speaking skills. As long as you have them, there will always be situations or circumstances where these skills could help you advance your career, meet better opportunities or even secure a contract.
At work, you may have to speak with board members during a meeting or address a committee. Public speaking also extends to online presentations, virtual meetings and webinars.
Let's take a break from formal settings. Public speaking is also essential in other aspects of life. You could be asked to give a 'thank you' speech during an event, give a eulogy about someone you know or welcome guests to a party. Your public speaking prowess could help you leave footprints in the hearts of many who listened to your speech.
Public Speaking: A Valuable Tool in the Workplace
Professional roles in many organisations require an average amount of public speaking skills, such as presentations, virtual meetings, training staff members, etc.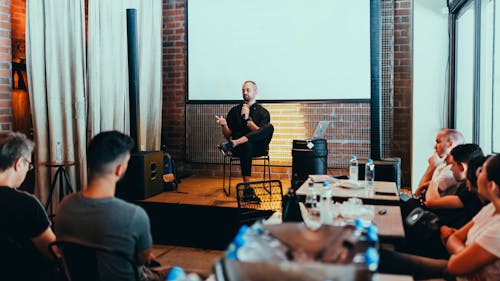 Ever wondered why many big firms spend thousands of dollars to hire motivational speakers during staff training sessions or end of year parties? It is because the person could motivate the employees to do more and promote the organization's interest.
If you own a small business, you may not be able to hire motivational speakers with excellent public speaking skills regularly. But you will do well if you possess these skills yourself. That way, you could easily inspire others to meet the goals you have set for your business.
If you know how to prepare different kinds of messages for different audience types, you are already an asset to your business. As you learn about your audience and their needs, you will understand how to treat each prospective customer differently. You will also learn to think on your feet and seek the input of your audience in decision making using the various social media channels. All these skills start from public speaking.
It requires that you can communicate complex information clearly and concisely. This is necessary to promote the business interests and meet marketing goals every year. Needless to say that you need these skills if you must succeed in team management and leadership. This brings us to the next phase of analyzing public speaking and its usefulness in different aspects of our lives.
Public Speaking: A Valuable Tool for Leaders
Public speaking is an inevitable skill for leaders. If not, how do you plan to manage people and lead them successfully? Irrespective of your level in leadership, you could be the head of a civic group, online team, and organisational committees or hold other positions within the sphere of administration.
The most crucial aspect of all is that you must communicate with intent. It could be to persuade, inform or get feedback. While doing this, you should tactfully represent your position in an issue, communicate the organization's needs and objective, relate with your audience perspective and build consensus.
If you can't motivate others using your speech and communicate clearly as a leader, then there is probably no reason to be a leader in the first instance.
Top Public Speaking Skills You Should Know
Explaining the concept of public speaking wouldn't be complete without an insight into the core public speaking skills you must have. There are different approaches to public speaking. Which one are you good at?
Can you provide specific examples of such skills when the need arises? This calls for personal appraisal and evaluation. However, you could find it easier if you analyze the top public speaking skills we have outlined below. That way, you could quickly identify the ones you are good at and the ones you need to develop with time.
Engaging presentation style
When speaking to your audience, what presentation style do you use? Do you employ body language, vocal tone, and facial expressions that align with your message's intent? Most people easily downplay the significance of presentation style. Still, it could make the difference and even transform a boring speech into an engaging one that keeps your audience at the edge of their seats.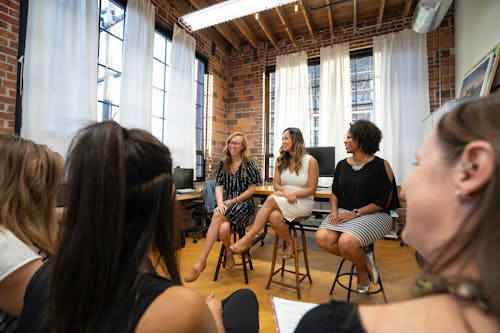 As a public speaker, you should be able to speak well concisely that your audience understands. These include speaking loudly enough and using gesture if possible. Proper grammar is also essential and must be devoid of grammar mistakes and slangs that distort the real meaning of your message.
Understand the needs of your audience
This is essential for audience engagement and retention. You must know what your audience enjoys listening to concerning the topic you want to discuss. What could make them burst out in laughter or shy away, thinking you have wasted their time.
Also, you should know that there are jokes that work like magic with some crowd, and there are others that may likely be seen as offensive. Therefore, it calls for tactfulness.
Composure is a critical element of effective speech delivery. Having public speaking skills entail that you can construct talks that are coherent, rational and persuasive. Knowing how to mix storytelling and humor is another valuable skill that could help you become a better public speaker.
This is one of the best software for creating slides. Public speakers primarily use slides to give presentations, analyze charts and historical data. It is not compulsory that you must understand the technical aspects of using PowerPoint. Still, the ability to know how to use it to create appealing and easy to understand slides is one of the core skills of public speaking.
Using humor to give life to a talk
Have you ever addressed an audience, and their responses, as well as their facial expressions, weren't encouraging? If there was any message you were getting from them, it could be to drop the microphone and say goodbye. But your courage kept you there, and when you infused some humor into your speech, you watched the countenance of your audience bounce back to life.
Find out the resources that can help you become better in public speaking.
Therefore, a good sense of humor is an advantage if you want to develop your public skills professionally.
One good way to control performance anxiety is to maintain close eye contact with your audience. This will help you build trust, gain confidence and deliver your message according to the expectations of your audience.
Public speaking is a skill in itself, even though it comprises of different sub-skills. But the reality is that your public speaking journey is not complete until you master a variety of these skills.
Public speaking may be difficult to learn, especially for introverts. Research has shown that extroverts feel more at ease learning the skills of public speaking than introverts. This is because they can easily relate with others, strike conversation and keep it going without looking timid or shy.
Whether you are an introvert or extrovert, there is no barrier to learn public speaking skills that you cannot surmount. It will become even more interesting if you have someone to guide you as you master it and learn the best ways to apply it in your daily activities. Superprof tutors will be more than happy to teach you what it takes to be a public speaking.
The platform that connects tutors and students