Congratulations! You have decided to dive into the world of piano. Not just that, you have also discovered the significance of learning from a qualified tutor. One thing is sure for success, determination and you need to take it one step at a time to see the results you seek. 
However, the earlier you realize you need firm support (other than from friends and family) in your musical journey, the faster your success will be noticeable. Learning how to play the piano from a professional instructor is one of the most vital support you can get. 
An ideal piano teacher should be a friend, teacher, and motivator. Each time you look at them, you should find many reasons to continue learning and reaching for the end goal. Moreover, learning a musical instrument such as the piano is a journey that you can't embark on alone. 
If you still need to be convinced if piano lessons are for you, see the many reasons to learn the piano.
Getting a piano instructor isn't a problem, but how can you ensure you have the right one? In this article, we will reveal what it takes to be a professional piano teacher, how to find the perfect teacher, and get the most from your lessons.
The best Piano tutors available
1st lesson is free!
1st lesson is free!
1st lesson is free!
1st lesson is free!
1st lesson is free!
1st lesson is free!
1st lesson is free!
1st lesson is free!
1st lesson is free!
1st lesson is free!
1st lesson is free!
1st lesson is free!
1st lesson is free!
1st lesson is free!
1st lesson is free!
1st lesson is free!
How to Know a Perfect Piano Teacher
There are different approaches to learning the piano. Therefore, there is no "one size fits all" method that all teachers must adopt. This also means that each teacher has a method that works for them. Piano teachers vary with experience, style, qualification and approach. Learn more about piano lessons in Canada.
So your ideal piano teacher will depend on your skill level, personality, and your purpose of learning the piano. Still confused why you should learn piano skills? See why many choose to learn it than other instruments.
A particular piano teacher may fit your criteria while it may defy the learning purpose of another. This doesn't mean that they are not competent. Instead, it is how they feel about the tutor. That is why the idea of choosing a perfect piano teacher is strictly based on subjective judgment.
That said, here are some of the criteria for choosing a piano teacher.
Should you hire a male or female piano teacher?
This depends on you entirely. But the fact is that you will likely be more comfortable learning the piano (especially for face-to-face piano lessons) if the instructor is someone of the opposite sex. Again, your needs matter!
If your tutor is someone of the opposite sex, it will be quicker to develop a great rapport and build a teacher-student relationship. Over time, the relationship could become more robust and deeper. 
If the student is a little child trying to learn the piano, there is every tendency that they would feel more at ease with a woman as a tutor. This is because women represent a gentle authority and demonstrate somewhat motherly care while teaching kids, unlike men.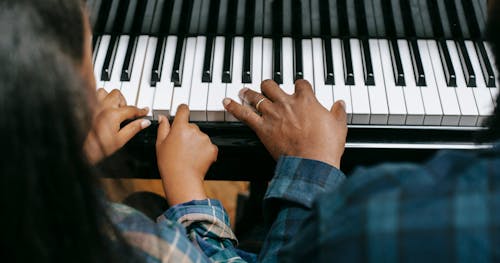 Aside from all these, you may also have your reasons or preferences for a tutor. As much as you can, don't ignore your needs. Are you worried about piano learning costs? See how much you should pay a piano teacher per hour lesson.
Experience or degree: Which should you choose?
When it comes to the world of piano, experience counts more than a degree or qualification. Any degree can go, and it may not necessarily be related to the piano as long as it is in the music niche.
However, experience alone could make one qualify as a good piano teacher. This is because piano learning is more of hands-on training than theory. That is to say that you learn mostly by practicing and pressing the keys on the piano. 
If you consider getting a job as a piano teacher, few people will give thought to your credentials. They are mostly going to be concerned about what you are bringing to the table than anything else. And how do you bring knowledge to the table if not by leveraging on experience?
It is an ideal way to choose a piano teacher by experience and qualification to balance these two facets. Therefore, a piano teacher with a bit of formal education and enough experience to see you through your journey learning the piano is not out of place.
Does age matter?
You might have wondered if t is ideal to go for someone who is your age mate or a tutor that is older than you. Again, this depends on your preferences and personality. Most students feel awkward when their age mates take them piano lessons for beginners. On the other hand, some feel learning from their peers will give them the freedom to express themselves and even ace their learning speed.
Most students need an older teacher to declare an authoritative presence and a sense of accountability. This is primarily the case for kids and younger adults who may respect a tutor who is older than someone close to their age group.
Top Skills to Watch Out For in a Piano Teacher
Just because a piano teacher isn't a class teacher does not mean you wouldn't learn anything other than how to play the piano from them. On the contrary, they bring many things to the table and help you master various skills that may become very useful to you later in life.
Below are some of the things a piano teacher brings to the table.
Help the student to become accountable
This is very important because many students (whether they take piano lessons or not) lack this skill. Therefore, a piano teacher needs to help the student become more accountable and take each lesson seriously.
To do this, the student must see the piano teacher as an authority capable of dishing out instructions that must be followed. Also, the student must be hardworking and understand that piano is an art that can be learned no matter the flaws exhibited. See where to find a teacher for piano lessons in Canada.
Learning the piano is a process that requires discipline to scale through. The teacher must instill a sense of discipline in the student by helping them organise their time and make the most of it.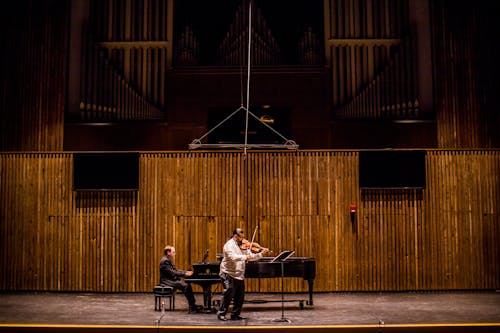 There are specific steps you must take to become a pro pianist. Each step requires a logical process and may be impossible to attain without proper organisational skills. A trained piano teacher knows the best approach to take to make you learn faster and improve your speed.
They also know which songs to use for teaching that you can resonate with and quickly grasp its relevance without struggling.
Finally, if you are pressed for time, your teacher will help you find the best way to prioritize your activities to find time to learn the piano at your convenience.
Do you know that learning the piano could help you achieve a variety of goals? Find out how this can help you to learn better.
While playing the piano, your hands and eyes need to corporate to help you achieve a great sound. In the same vein, you need to maintain that coordination each time you play or miss it. 
But everyone is not born with coordination skills. Most people can't seem to get their hands or eyes fixed on the keyboard while playing. This is where a trained pianist comes in.
A piano teacher will help you develop coordination skills necessary for effective learning. Therefore, if you struggle with it, you need not worry; hire a trained piano teacher and leave the rest for the professional to handle.
Piano Teachers Are Mentors
If there is anything nice we must say about piano teachers, it is the fact that they are great mentors you could rely on in your journey to learning this unique musical instrument.
A student should expect a high level of flexibility from the piano teacher. This is not to say that the teacher should bend to every twist and turn of the student. But the teacher should be sensitive enough to recognize the student's needs and develop an approach that befits such needs to help the students achieve their learning purposes in no time.
When the teacher's distinctive qualities match the students' needs, the learning phases will be easier fun, and the student will look forward to every piano class with the teacher with anticipation and excitement.
On the other hand, when the student listens to the teacher's suggestions and prepares for every lesson ahead of its time, the teaching experience will be less stressful for the tutor. Moreover, they will feel a sense of accomplishment heading to their advice and implementing their suggestions. 
A perfect student-teacher relationship is formed on such grounds and will wax stronger until the end of the learning phases. 
Choosing a perfect piano teacher isn't easy. But if you follow the suggestions in this article, you will find it easier and logical. So go ahead and find the piano teacher of your dreams and allow yourself to be coached into becoming the perfect pianist you envisioned. 
Find various piano lessons online here on Superprof
The platform that connects tutors and students