So you want to become more flexible and move every part of your body quickly? The fact is that flexibility is a goal set mainly by many people, but very few attain it in the end. So if you are finding it difficult to do the splits or stretch your legs within a second, it is time to consider increasing your flexibility.
Unlike most other types of exercises that could be achieved in a minute, exercising for flexibility requires patience and time depending on your body time and current state of mind. So if you aren't getting the results you envisioned in a week, relax. There is no cause for alarm. You will get there with regular practice and determination.
Below is our beginner's guide on how to become more flexible over time.
The best Dance tutors available
1st lesson is free!
1st lesson is free!
1st lesson is free!
1st lesson is free!
1st lesson is free!
1st lesson is free!
1st lesson is free!
1st lesson is free!
1st lesson is free!
1st lesson is free!
1st lesson is free!
1st lesson is free!
1st lesson is free!
1st lesson is free!
1st lesson is free!
1st lesson is free!
What is Flexibility?
Touching your toes quickly when you bend down, twisting your hands without feeling pain in your spine and doing the splits efficiently, we all know these require high flexibility. But is that the best way to describe flexibility? Not at all!
Here is how medical experts described it.
Bryant Walrod, MD, a sports and medicine physician at Ohio state university Medical Center in Columbus, described flexibility as " the degree of stretch that a muscle allows."
While many others have opined that flexibility is the ability of the body's muscles to stretch temporarily, irrespective of how you see it, a critical evaluation may make you think that flexibility is more of a state of mind than physical activity.
Remember that the body and mind work together, and the brain coordinates with the body to stimulate specific body movements. That said, your state of mind could affect the extent to which your body is flexible.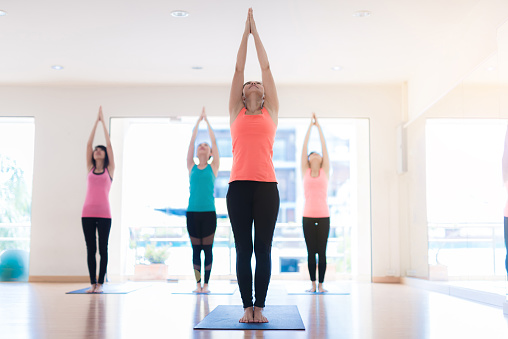 A study revealed that depressed people might not be as flexible as they used to be when they are happy and in a good state of mind. In addition, flexibility is synonymous with healthy living, even though most people do not see its significance.
Why So Much Noise About Flexibility?
People who do not understand why their bodies should be flexible may wonder why the media and fitness experts can't stop talking about it. The reason is evident because flexibility is life.
Body pain, inflammation, strain and stress are often due to the inability of the body to stretch adequately. For example, when a muscle in the body cannot stretch and relax appropriately, it may cause muscle injury, pain and inflammation.
As a result, one's mobility will be limited because the muscles are too tight and stiff. This may affect the person's ability to perform certain exercises such as the splits. In severe cases, it may even affect a person's ability to do some daily chores. (but this usually happen to the sick or the elderly).
Flexibility – beneficial for dance
Flexibility is beneficial to anyone, even the elderly. Although most people still choose to ignore it and live with its absence all their lives. Professional dancers do not have a choice. They have to ensure that their body is as flexible as it ought to be to enable them to ace their dance career.
A highly flexible dancer can perform specific movements to the admiration of spectators. But you don't have to be a professional dancer to take flexibility seriously. As long as you dance for any reason, even for fun, your body needs to be flexible to enable you to twist and turn at will.
Now is the right time to learn flexibility tips for beginners if your desire more fluid positions and better movements.
Flexibility – beneficial for healthy living
This is the primary reason why everyone should be flexible, even those who don't dance at all. If you have a 9-5 job and sit in your office all that time, you may notice that your spine may begin to ache and your shoulders feeling heavy because sitting for long hours each day is not ideal for your health.
Stretching your muscles will help you feel better and reduce the pain you feel each time you bend down. Flexibility reduces the risks of muscle soreness and injury. It also improves muscle coordination and posture.
If you can increase your flexibility over time, you will experience increased posture, balance, a positive state of mind and greater strength. As a result, you may find it easier to stand or sit in certain ways you could not do before.
Many people who can do the splits can attest that flexibility is the only thing they needed to attain that posture and retain it for a few seconds. If you can train your body to become flexible, you will discover how easy it will be to do what was initially tagged as "impossible."
The best Dance tutors available
1st lesson is free!
1st lesson is free!
1st lesson is free!
1st lesson is free!
1st lesson is free!
1st lesson is free!
1st lesson is free!
1st lesson is free!
1st lesson is free!
1st lesson is free!
1st lesson is free!
1st lesson is free!
1st lesson is free!
1st lesson is free!
1st lesson is free!
1st lesson is free!
How to Improve Your Flexibility
To train your body to become flexible, you must take it one step at a time. However, it would help if you did it regularly no matter your age because consistency is key to achieving great things and exercise is not excluded.
Will any exercise do? No! it has to be an exercise that stretches your muscles and increases mobility. To make it effective, you need to practice stretching up to 5 times a week. There are different types of stretches you can experiment with to train your muscles and make them stretch easily. Here are some of them.
This is an important type of stretching that could make your hip bone more flexible. It involves stretching your joint range and holding the position for up to 30 seconds before relaxing.
A perfect example is stretching your hamstrings to touch your toe while sitting or standing with your legs stretched. In addition, you can stretch your chest muscles by holding both sides of a door frame and lean forward.
It is pertinent to know that static stretching is only ideal when your muscles are already warmed up from other forms of exercise. Therefore, it is not recommended before workouts because it can make the muscles too flexible without stability, which is needed for control.
It involves any exercise that moves the body's joint through a specific range of motion. It's great for flexibility because it increases blood flow to the connective tissues and heart.
Examples of dynamic stretching are leg swings, hip circles, walking lunges and arm circles. They are ideal before workouts because they warm the body's tissues and prepare the muscles for stretching activities.
Myofascial release refers to exercises that apply pressure on the connective tissues to enable them to relax properly. Unless you have special skills, you may not know how to do this exercise effectively.
However, massage therapists are trained to administer myofascial release like professionals helping you reap its immense benefits.
Most massage therapists use their expert knowledge to dig into your knots and activate the muscle relaxation process on any part of your body. When the muscles are relaxed, they can stretch beyond normal.
There are plenty of other types of stretching that can improve your flexibility drastically. However, remember that exercising for flexibility requires repetition. When you are committed, you will most certainly see the results you seek in no time.
Where to Work on to Improve Flexibility
Aspiring professional dancers who aim for high body flexibility need to focus on their legs first and practice several leg stretching exercises to increase the flexibility of the muscles in the legs.
With flexible legs, you can make impressive moves in different dance styles and demonstrate different dance steps. Different types of stretches help improve flexibility in the leg; you can also attempt front or side splits for effective results.
It would be best if you mastered specific stretch techniques to improve flexibility in the upper part of the body. This will allow you to move your shoulders and arm quickly without feeling stiff muscles, tension or pain.
Dancers must have supportive yet muscular back to give them great flexibility as they twist other parts of their bodies. Exercises for back stretching are not cumbersome like other parts of the body. For the most part, you only need to practice back relaxation techniques regularly to aid flexibility.
How Yoga Can Help You Become More Flexible
Practicing yoga often is an excellent way to make your body more flexible. Aside from its immense health benefits, it gives a sense of well being to anyone who practices it.
It is not advised to do yoga for beginners on your own because you may practice moves that may hurt you or cause muscle injury. Therefore, it is best to find a trained yoga instructor and register for yoga lessons.
With Superprof, you can learn yoga for beginners and practice on the go. On Superprof, hundreds of qualified yoga instructors deliver well-thought-out lessons that can help you increase your flexibility with regular yoga practice.
You don't have to do strenuous exercises to increase your flexibility. Instead, there are simple exercises you can practice right away that will keep you on the path of flexibility all time.
Learn more about flexibility exercises for dance.
Need a Dance teacher?