Each day, we engage in many activities that may be considered mild exercises such as walking, sitting, jumping, climbing the stairs and flexing the muscles. But these activities are not enough to exercise the muscle groups that you need to train as a professional dancer.
For anyone to become successful at dance, it is vital to train the muscles. There is no better way to do this than to learn how to make your body more flexible. That way, you can easily command your body to do particular twists and turns, and it will humbly obey.
Professional dancers can do a myriad of activities almost at the same time. For example, they can do the splits (an exercise that requires intensive stretching of the muscles in the legs and hip). You can learn how to do the splits in this comprehensive guide.
To exercise your muscles effectively, you need to learn different stretching techniques.
Stretching is a very effective way for your muscles to adapt to new forms and positions quickly. However, it is not only for dancers alone.
Stretching also has immense health benefits and could make your body more flexible. Whether you want to learn how to stretch to improve your dance steps or live a healthier lifestyle, it is essential to know the various techniques for stretching to increase flexibility. Read on as we take you through the terrain and expose all the tricks you probably didn't know.
The best Dance tutors available
1st lesson is free!
1st lesson is free!
1st lesson is free!
1st lesson is free!
1st lesson is free!
1st lesson is free!
1st lesson is free!
1st lesson is free!
1st lesson is free!
1st lesson is free!
1st lesson is free!
1st lesson is free!
1st lesson is free!
1st lesson is free!
1st lesson is free!
1st lesson is free!
The Importance of Stretching For Dancers
Before now, you might not have linked stretching to dance techniques. But they have a lot to do with each other, and it's impossible to become a professional dancer without knowing the various stretching techniques.
Flexibility is the extent to which the muscles in your body can stretch beyond the usual. Flexibility is key to improving yourself as a dancer. There are different ways to increase your flexibility over time. One of them is through regular stretching exercises.
That is why it is important to always warm up your body by stretching out your muscles and doing different simple dance steps to get your muscles prepared for the dance. It also helps to prevent injury too.
As a dancer, stretching helps you to build more powerful techniques over time. As you stretch your muscles beyond their limits, your body gradually adjusts to the new normal. As a result, you will be more confident to take on new and challenging dance styles to ace your career.
If you are currently enrolled in a dance training center, it will be easier to move to the next stages of the training when you understand the techniques involved and perform them efficiently.
Stretching does not just make your body more flexible, and it also improves your awareness of your body. Stretching is a great way to understand your body and get used to how it moves. In addition, when you stretch regularly, you can easily figure out your constraints and their triggers.
When you know your limitations and strengths, you can easily plan your body goals following your needs. For example, when you learn how to stretch effectively, you can easily influence your posture and body alignment.
Improving your stretching techniques for flexibility takes time and dedication. It requires a committed spirit and the desire to reach an outcome for a specific goal. As you practice stretching exercises daily, you subconsciously learn skills needed for self-discipline such as perseverance, self-control, time management and organisational skills.
If you attend dance lessons, your tutor may encourage you to set flexible goals for yourself. This is to encourage you to practice self-discipline and develop the goal-setting mindset necessary to achieve flexibility in the long run.
How to Stretch Properly
Stretching is necessary for all aspects of sports, whether you are swimming or playing volleyball. It helps your muscles to warm up and become more flexible. Do you know that most poor performances and injury during sports are caused by poor stretching? If you practice stretching techniques correctly, you will avoid injury before and after the dance.
There are certain simple rules you must follow to stretch each time correctly. We have outlined the important ones below.
Wear loose clothing
Before engaging in any activity that requires stretching, it is important to choose your outfit carefully. Ensure you wear clothing that allows your body to move freely without pain or restrictions.
For this reason, many dancers opt for yoga pants or leggings that are designed for this purpose. However, remember that not all fabric is suitable to wear for stretching. Most people sweat a lot when they stretch for flexibility (which is necessary because it's an exercise). Therefore, it is best to opt for breathable fabric.
Your clothing should not be the type that retains sweat to enable you to move quickly without feeling wet or uncomfortable.
Females with long hair should tie it up to avoid distraction during stretching. Long hair may make you feel clumsy, and always looking at your back to pick hairs which may affect the effectiveness of your stretching.
Choose a perfect location
You can do stretching exercises anywhere as long as it makes you feel good and allows you to achieve your aim. It could be in your garden, living room, bedroom, or yard. If you think you don't have enough space to practice your stretching, you could work on your environment by removing all distractions to make it more conducive for such exercise.
Remember to spread a mat on the floor always to prevent injuries on your knees or toes.
Stretch your muscles accordingly
During a stretching exercise, you don't just stretch any muscle. It would help if you targeted specific muscles that you want to stretch to achieve your flexibility goals.
Dancers usually use their legs and hip to twist their bodies and demonstrate different dance moves. In other words, you need to train the muscles in your legs and hip mostly. These muscles include the hamstrings, quadriceps, iliopsoas, foot muscles and the triceps oral.
How to Warm Up Before Dance
Warming up effectively is not just to prevent injuries; it is also necessary to achieve your flexibility target, especially if you are training for the splits. Warming up the muscles is a formal way of telling them to "prepare for action."
Unlike what most people think, a warm-up mustn't be done in a hurry. Allow for 15 minutes before a dance and 10 minutes after the dance. This is crucial to prevent injury. An accident can occur as a result of a careless mistake. You may stretch for a few minutes and think that will be enough for warm-up, then you begin to practice the splits, and the worst happens!
Pulling too hard than your body can endure may cause some tissues in your legs and hips to tea, causing pain and, in most cases, severe illness.
During a typical warm-up, when you try to stretch your arms or legs but notice they aren't complying, don't pull too hard. Allow some time for them to adjust. Then pull again gradually until they corporate with you.
On no occasion should you skip a warm-up session. However, if you feel you aren't in the right frame of mind for it, it is better to skip the entire dance practice.
Should You Get Trained to Dance?
Have you ever asked yourself if dance lessons are worth your time and money? If you want to learn how to dance professionally or just for fun, it is not out of place to enroll for dance lessons near me. Depending on your schedule, you will benefit from private dance lessons due to the following reasons.
They are designed based on your needs
Everyone is born with a need for attention, and while learning to dance, the needs to get the attention you seek become obvious. Therefore, private dance lessons are focused on you, giving you the attention you desire to enable you to learn dance steps without distractions.
Enjoy the best learning approach
A dance lessons teacher is trained to identify your needs and help you meet them using various learning approaches. And because you are the only student being taught at a particular time, you can ask any questions regarding the lessons and get immediate solutions.
If you want to learn how to dance fast, hiring a private dance teacher is the right way to go. One-on-one lessons are ideal for anyone that desires faster progress and speed of learning because the teacher will have enough time to teach you what you need to progress to the next stage.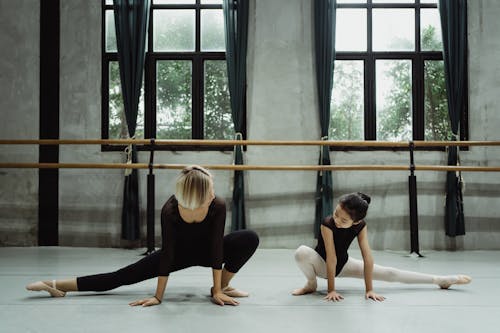 If you want to learn how to dance, it's best to figure out how to go about it. You should understand your needs first and determine whether private lessons will be right for you.
On Superprof, hundreds of private dance tutors near you are available to take your dance lessons at your convenience.
If you have a 9-5 job or are always short of time, you need a dance instructor who can work according to your schedule.
Dance is an essential aspect of exercise, and it's fun too. But you can make the most out of your practice time when you enjoy support from a professional dance teacher.
Learn more about stretching techniques for dance. 
Need a Dance teacher?