"I wasn't originally a bass player. I just found out I was needed, because everyone wants to play guitar." - Tina Weymouth
Paul McCartney, Sting, Gene Simmons, and Roger Waters are the highest-earning bassists in the world. But before you can earn as much as them, you need to learn how to play the bass. You'll also need to get your first bass guitar. But that's not all! You'll also need an amp since you'll probably be playing electric bass. However, there are other accessories that you'll need to make sure you get the most out of your bass guitar. Here's what you should buy when learning to play the bass.
Despite not sharing the massive popularity of the lead guitar, the bass guitar remains vital in a musical performance. Irrespective of the genre, the bass is significant in bringing all the band's instruments together, providing a deep and intimate feel for rhythm and melody.
It creates an undercurrent popularly called baseline that binds all other instruments in one harmony. If you're interested in learning how to play bass in Canada, it won't be long until you can hold steady beats and unlock the tricks of hitting the right baseline.
Of course, to achieve this, getting the right bass guitar accessories are essential. They help you learn the instrument and gradually increase your playing performance. But make no mistake, mastering the bass guitar takes just as much work as any other instrument. That's why it is very necessary to have a qualified tutor in Canada to guide you along the journey of this bass-end spectrum.
In this guide, we'll take you through some basic bass accessories – how to play the guitar, choose the right bass accessory, and where to get the right tutor for your learning needs.
The best Guitar tutors available
1st lesson is free!
1st lesson is free!
1st lesson is free!
1st lesson is free!
1st lesson is free!
1st lesson is free!
1st lesson is free!
1st lesson is free!
1st lesson is free!
1st lesson is free!
1st lesson is free!
1st lesson is free!
1st lesson is free!
1st lesson is free!
1st lesson is free!
1st lesson is free!
What Are Guitar Accessories Needed When Learning How to Play the Guitar?
Roger Waters, Sting, and Gene Simmons are some of the highest-earning bassists worldwide. But what do they have in common? They all know how to pick the right bass accessories. However, before you can earn as much as them, you need to know the right accessories to use and how to play the bass guitar.
To learn how to play bass on your own or by taking guitar lessons in Canada, you will need some basic things. For starters, you need to get yourself a bass guitar, and for that, you would have to know some pointers on how to choose the right one. You would also need some basic guitar accessories, which we'll discuss below;
After getting the right bass guitar, you might also need an amplifier to better practice or take live guitar lessons. You don't need to splash all your cash for your first amp. An amp for about $200 will do the job, and it can reveal your picking errors by giving you cleaner, clearer sounds.
However, you would have to work to sound good because you are using a cheaper amplifier. This can be an advantage because you would have mastered creating good sounds on a bass guitar when you get the best amps.
Sure, your guitar came with its strings, but how long do you expect to play without breaking one, especially as a newbie? The simple answer is: not long at all. However, if you never break your strings, you should change them from time to time. This helps keep your bass guitar in good condition.
As a newbie taking guitar lessons, investing in a decent case is smart. They not only make it easier to carry your bass guitar around but also help protect your instrument from scratches, wears, and dings.
When learning other guitar accessories, you might need to include a guitar stand, an instruction manual, instrument cable, cleaners and polishes, and a small guitar toolkit.
Bass Equipment: Bass Guitar Amp
To learn how to play bass with a tutor or on your own, you'll need to have a bass on hand. You'll also need an amp if you want to practise or play live.
You don't need to spend a grand on your first amp. An amp for around £200 will do the trick and will stop you from picking up bad habits because it won't hide your mistakes with a great sound. It's harder to make a bass sound good with a cheaper amp so it'll force you to work harder.
The best beginner guitar lesson instructors say it is best to practice while sitting down. But that doesn't mean you won't ever need a guitar strap. Sometimes, you may need to stand and learn some guitar for beginners hacks during your practice, so do well to get one.
An amp between 15 and 40W should be enough for practicing in your home. You can change to a better one later on. Here are a couple of amps that should do the trick:
Warwick BC10 - £90
Fender Rumble 15 - £80
If you're just playing for yourself, you can also get headphone amps. These are amps the size of a box of Tic Tacs and you can plug your bass directly into it and then plug some headphones into it. Vox makes some for very cheap. This is great if you're going to be playing the same bass lines over and over again while you practise and you don't want your flatmate to barge in and throw your new electric bass guitar straight out the window!
Bass Guitar Accessories: Plectrums
You don't necessarily need one to get started. You can play bass with your fingers for your entire life.
However, a plectrum (or pick) is a way to change how you play, get different sounds out of your instrument, and is easier on the fingers on your right hand. Bass strings aren't very soft and if you play a lot, you'll inevitably have sore fingers. There are plenty of different types of plectrums and they come in different sizes, shapes, materials, etc. When it comes to the bass, you need to choose differently from how you would for an electric guitar or acoustic guitar.
Generally, it's recommended that a bassist pick up a large plectrum, although a regular one will do just fine if you're playing blues or rock. Plectrums are usually made of firm plastic, but you can get ones made of wood, horn, metal, or stone. The picks that aren't made of plastic are usually the harder ones but they're also more expensive. Look up "guitar lessons near me" on Google As a bassist, you'll need to think carefully about the thickness of your plectrum.
Choose quite a thick plectrum since the strings of a bass guitar are much thicker than those on a guitar. You probably want something around 0.85mm (heavy). Some bassists play with 3mm picks (extra heavy) and others prefer a .5mm pick like a guitarist. You'll need to try out a few different ones. You should also pay attention to the end of the plectrum as this will be the point of making contact with the strings.
If the end is pointed, you'll get a brighter sound and be able to play more quickly. If the end is rounded, it's easier to play but you'll get a softer sound. On the other hand, it'll be harder to play quickly. If you don't want to lose your plectrums, consider getting a holder for your bass, keyring, or microphone stand.
Do You Really  Need the Plectrum in Guitar Playing?
The best beginner guitar guides will tell you that you don't need one to get started. You can play the bass guitar with your fingers for a while or even your entire life. However, a pick or spectrum helps you play easier and learn to change your playing styles. It will also help you get better sounds and protect your fingers from wearing down.
There are many types of plectrums, and they come in various materials, shapes, and sizes. When it comes to the bass guitar, you need to be more decisive on your plectrum choice than you would other guitars because of its strings.
Typically, it's suggested that a beginner bassist use a big plectrum, although a medium-sized one can be just fine if you're playing some blues or rock. Picks are normally made of plastic, but you can get ones made of wood, metal, or stone. The plectrums that aren't made of plastic are usually harder but also quite expensive.
Bass Equipment: Tuner
The strings of a bass guitar are tuned exactly the same as the first four strings on a guitar: E, A, D, G. Even though some basses have five or six strings, you should probably just get started with four strings.
You'll need to tune your bass regularly, especially if you take your bass to music lessons, rehearsals, or concerts. A change in humidity or temperature can detune your bass.
If your bass is out by a semitone, it'll sound awful and you won't be able to play in tune with the other musicians in a band. Make sure you tune your bass to the right frequency: 440Hz. You should also consider learning about music theory. As an inexperienced musician, you should probably use a tuner rather than your ear to tune your instrument. 
You can also split the cost if you play with a guitarist as a lot of guitar tuners also work for basses. Find the best "guitar teachers near me". There are different types of tuners: chromatic, pedals, or clip-on. Very few tuners are dedicated just to bassists but if you must choose one, you might want the Korg Headtune HTG1 bass tuner.
This is a clip-on tuner that you can get for very little and it'll allow you to tune your bass by clipping it onto your bass. Guitar tuners can also be used for basses. If you want a tuner pedal, you could get the Mooer Baby Tuner for less than £50. If you want a chromatic tuner, the Korg Sledgehammer can help you tune guitars and basses and can tell if a string is going to break. You can get one for around £50, too.
A chromatic tuner is more versatile but it's not as easy to use. If you don't want to invest in a tuner, there are also sites and apps you can get started with. Find out how often you should be practicing.
A good tuner is right up there on the list of accessories you need to invest in as a guitar newbie. It might not seem like it matters much when you play your very first notes, but it's smart to make sure your bass guitar is in tune every time you pick it up.
The best Guitar tutors available
1st lesson is free!
1st lesson is free!
1st lesson is free!
1st lesson is free!
1st lesson is free!
1st lesson is free!
1st lesson is free!
1st lesson is free!
1st lesson is free!
1st lesson is free!
1st lesson is free!
1st lesson is free!
1st lesson is free!
1st lesson is free!
1st lesson is free!
1st lesson is free!
Cables for Bassists
You'll need to connect your bass to an amp with a cable. This is much like when you plug your headphones or speakers into your computer. You can get both straight and coiled cables.
You can get both mono and stereo cables, too. A mono cable doesn't differentiate between sound coming from left or right channels. A stereo cable can distinguish. While this is useful for headphones, your bass only outputs in mono. You'll need to think about your budget and various other aspects of the cable:
Coated cables, which are less susceptible to interference.
Coiled cables, which take up less space.
Golden cables transmit extreme frequencies better. This is an important investment for those wanting to record.
A length of 4 metres is usually enough for playing at home or rehearsing.
If you're getting started, you can spend around £10-£20 on a decent cable. A really good cable can cost nearer £50. Monster Cable, Planet Waves, and Cordial cables are amongst the most popular. Fender cables are also quite popular. Find out why you should play bass.
Other Accessories for Electric and Acoustic Bass Players
To get the most out of your bass, here are some other useful accessories you should consider getting:
Metronome: while the guitar focuses on the melody, the bass is an important part of the rhythm section.
A strap: for playing while standing up.
A flight case or gig bag: for transporting your bass to lessons, rehearsals, or gigs.
A stand: to store your bass when you're not playing it or if you don't want to get it out of its case every 5 minutes.
A stool: since you mightn't always want to play standing up. Don't forget to stand up from time to time, though. At a concert, you'll play standing up.
A music stand: for reading sheet music or tablature while you play.
Make sure you check out the different music shops both online and off. Of course, you might want to go to your first beginner bass guitar lesson before you start thinking about getting your bass guitar. Your tutor might be able to help you choose the right bass depending on the type of bass guitar player you are.
The style of music you like might go better with something like a beautiful sunburst Fender Jazz Bass rather than an ebony black Ibanez for example (though you'll probably want to look at something cheaper or copies). Additionally, beginners don't need all the best equipment.
Do You Need a Bass Guitar for Guitar Lessons in Canada?
To get the full learning experience, you need to have your guitar. However, you can receive guitar lessons around Canada in music outlets with their guitars. The problem with this is not every place you go to learn will have enough spare guitars for everyone. You may end up sharing and having insufficient guitar practice time.
Also, if you don't get a guitar, you can't practice in your own spare time and develop like most other students. You may see yourself lagging or missing some basic guitar responses. It is best to get your bass guitar for guitar lessons in Canada in hindsight.
Guitar for Beginners: Why Do You Need to Get the Right Accessories?
Although the most important thing is the instrument you need to play, you probably won't learn a lot on your own. Even with a new guitar, it can take just a few hours of playing to get it out of tune or before a string snaps.
There are a few guitar accessories you may know about as a potential player, but do you know exactly why you need them and how important they are? The accessories that are essential to your guitar learning journey will depend on a few factors like;
The type of guitar

Your level of experience with instruments in general,

Your budget 

The genre of music you play

And whether you plan to play in a band or record songs.
The best guitar for beginners usually comes with several accessories to enhance and support the learning process. A beginner might also not appreciate the value of an accessory until they become more accustomed to playing. Hence, it is normal when learning how to play the guitar that not all the accessories may suit your needs.
Remember not to get too wrapped up in buying accessories instead of just playing. While some are essential, overdoing it can become a distraction, like learning the notes to a song when you don't even know how to play them yet.
Moreover, no amount of accessories will ever substitute hard work and creativity. Hence it is key to know the importance of every accessory and recognize when you don't have to use one.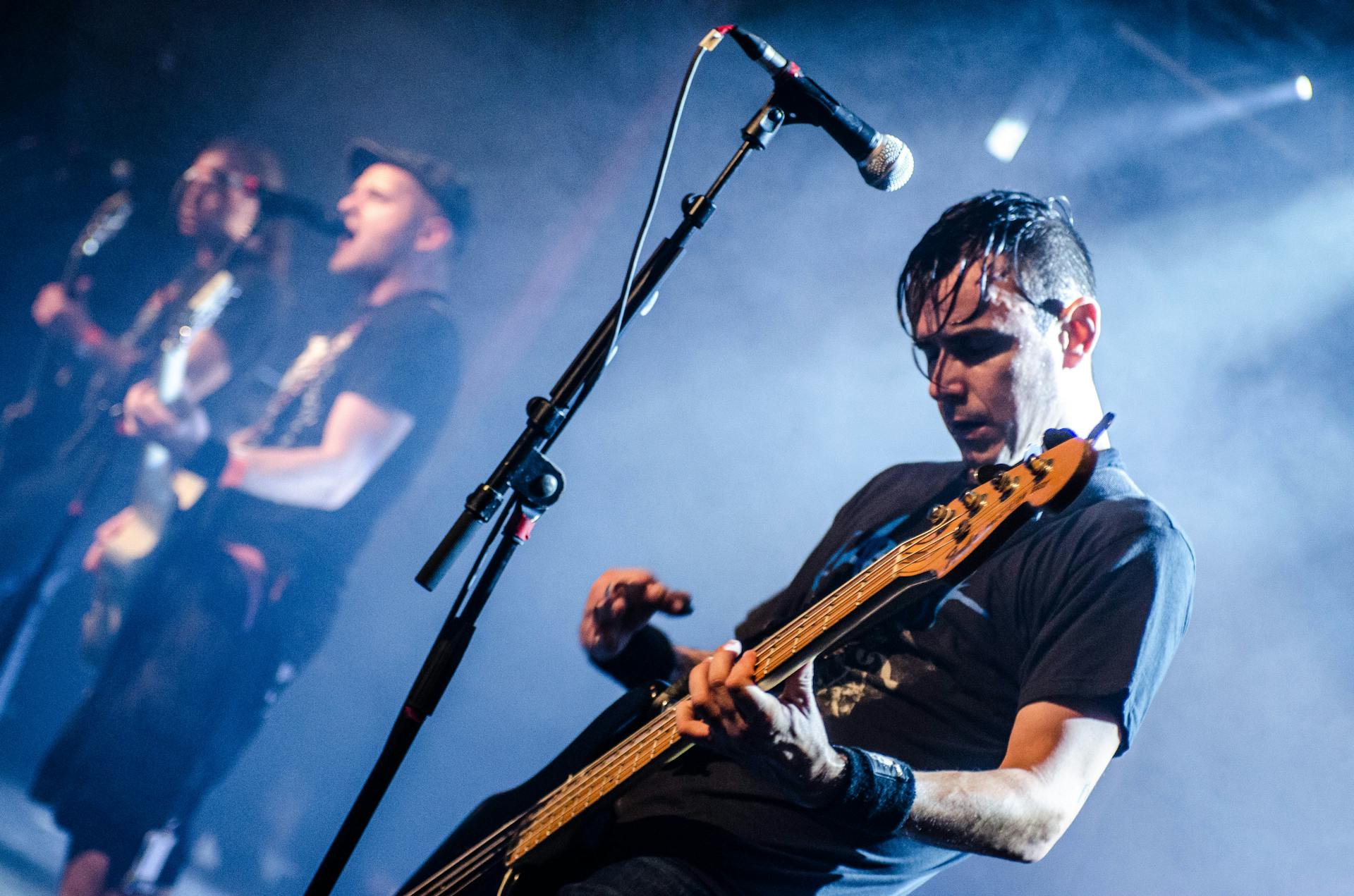 How Can I Hire a Superprof Tutor for Guitar Lessons Near Me in Canada?
Now that you've gotten your guitar and all its basic accessories, you need to decide how to embark on your learning journey. 
Where can I find guitar lessons near me? First, do you want to learn the bass guitar on your own? Or do you need to go for some guitar lessons to increase your skill? If private tutoring is more of your thing, look no further than Superprof to give you the best guitar lessons in Canada.
There are tons of guitar classes offered across Canada in places like Ontario, Quebec, and Ottawa. Ontario, one of the largest provinces in Canada, periodically hosts festivals that enjoy a wide variety of music. Several music classes in Ontario come with guitar lessons and lessons on many other musical instruments. Some schools like Canada Music Academy offer guitar lessons in Toronto and are certified by experienced teachers who give classes on a different genre of music.
How can I hire a Superprof tutor for guitar lessons near me in Canada? If you've asked yourself this question, all you have to do is visit the Superprof website to find a guitarist near you in Canada.
We provide several guitarists' profiles with their basic information like name, instrument experience, teaching methods, reviews, rates, and many more. You will be automatically given a preview of all Superprof tutors that offer private guitar lessons near you. Select a tutor profile to get contact information and communicate with your would-be tutor. Once you've made a decision, you can get the first hour of your private lesson free!
These lessons can help you in a method that can keep track of your progress. Our experienced tutors will establish the entire curriculum focusing on your progress as a student. So don't hesitate, to find a Superprof guitar tutor near you in Canada today!
The bass guitar is an excellent instrument to learn at first glance, even if it is not as flashy as the acoustic and lead guitars. Once you've decided to take guitar lessons, get your instrument, find some of its accessories and take the learning format of your choice. One of the best ways to find the best private tutors around Canada is through Superprof. The website allows you to scan through a list of profiles and see brief descriptions of tutors.
With these easy descriptions, you're more likely to find a tutor that will meet your needs and suit your learning preferences.
When you're learning how to play the bass, and expensive Epiphone with a rosewood fingerboard will still sound terrible if you're getting the hang of things. There are some very cheap entry-level models (such as the Squier Affinity series) that are great for beginners to get the hang of. You probably want to start at the low end, which is what bassists do anyway!
The platform that connects tutors and students