It's summer again, and you're probably fascinated by the outdoor fun. And seeing others do fascinating things with their roller skating skills.
You don't always have to feel left out when it comes to having fun, especially with roller skating. Learning how to roller skate is a lot easier than you might imagine. As long as you have your rollerblades and smooth space, you can practice all however you want; you're well on your way to becoming more than a beginner roller skater.
This article explains how and where to learn to roller skate in Vancouver. 
The best Rollerskating tutors available
1st lesson is free!
1st lesson is free!
1st lesson is free!
1st lesson is free!
1st lesson is free!
1st lesson is free!
1st lesson is free!
1st lesson is free!
1st lesson is free!
1st lesson is free!
1st lesson is free!
1st lesson is free!
1st lesson is free!
1st lesson is free!
1st lesson is free!
1st lesson is free!
Roller Skating Vs Inline Skating: Which One Should I Learn? 
Roller skating is not very different from inline skating. Both activities involve gliding on a four-wheeled boot. The main difference, however, is in the boot's design. Learn more!
The four wheels on each boot are separated into two pairs for roller skates. The first pair of wheels are fastened to the wheel plate and located just below the toes, with one on each side. The second pair of wheels are fastened to the wheel plate and located right below the heel, with one on each side. These four wheels provide a steady balance for each boot and the skater. 
With inline skates or roller blades, the four wheels are lined up medially from the toes to the heel. Although this wheel positioning does not necessarily provide a steady balance as with roller skates, most beginner skaters prefer to use them because of the comfort it provides during learning and skating. 
When it comes to choosing between roller skates and inline skates, as a beginner, it is best to try out both boots and pick the most convenient one. This is because individual preferences may differ.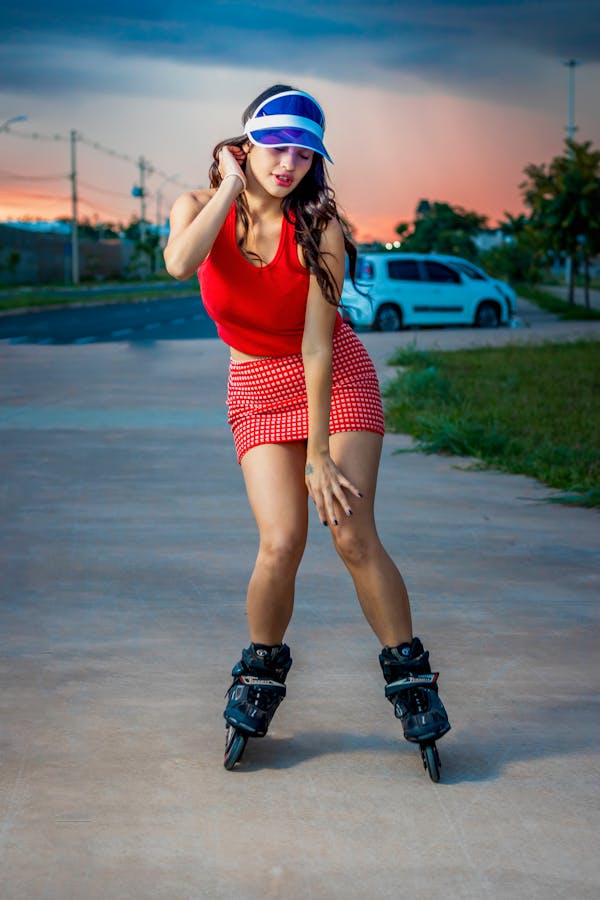 With roller skates, however, you might be required to consciously keep your legs separated because the lateral positioning of the roller skate wheels can cause you to trip over when they rub against each other.
In general, both skating boots share the same function and techniques as well, so choosing between inline skates and roller skates should not be a big deal.
Learn how to do roller skating for beginners in Montreal.
Can I Make Money from Roller Skating? 
Roller skating is a fun activity that can serve as a hobby, a form of exercise, a sport, and even a profession. Most roller skaters enjoy this activity as a hobby or a form of exercise, but quite several roller skaters perform this activity competitively or as a profession. 
Below are a few roller skating competitions and professional careers where roller skaters can utilize their expertise:
Artistic Roller Skating
This is an inclusive name for roller skating as a sport that features several events where competitors typically use roller skates. However, inline skates are also allowed for some events. The competitive events that are featured in artistic roller skating include:
Figures:

This type of

skating activity

is usually done in circles that are imprinted on the skating platform or surface. 

Dance:

This is a popular form of roller skating performance where participants engage in rhythmic body movements that are enhanced with the roller skates. Skaters in this category dance to set patterns and judge how well they perform based on set parameters.

Dances with roller skates

are of two types, namely:
Solo Dance

Team Dance 
Freestyle Dance:

Freestyle dance is a special form involving rhythmic body movements enhanced by roller skates. However, this dance form does not involve a

set pattern of movement.

Precision Teams:

Precision teams typically include groups of four skaters per team that perform with different elements, syncing with music. For these types of performances, choreography and teamwork are important factors that judges use to determine winners. 

Singles and Pairs:

In these types of events, an individual can either be teamed up with another to form a pair or not. Either way, a performance that features creativity and skating prowess is exhibited with routines to music. 
Speed Skating
Speed skating is a popular competitive event that was first organized in 1938 and has since gone on to become a nationally recognized competition. Like regular racing events, speed skating requires skaters to compete across various race tournaments, including relays. Speed skating has since evolved into various racing events, including track, road, and indoor racing. 
Roller Hockey
 This type of competition refers to the different types of hockey sporting events that use inline or roller skates. They include inline hockey, roller hockey, and inline skates hockey. 
Roller Derby
Roller derby is a competitive sport that originated from speed skating. For this sport, skaters compete on an oval track with roller skates.
Roller Skating Instructor
With many interested in learning roller skating or belonging to a community or club of professional roller skaters, the demand for a roller skating instructor is increasing. Skating clubs, communities, and even schools often hire professional roller skaters to train beginners and teach various types of roller skating, such as dance, speed skating, etc., as well as skating techniques.
Where Can I Learn Roller Skating in Vancouver?
Rolla Skate Club:

Rolla Skate Club is a community of skaters that are united and focused on encouraging skating as a fun activity and an avenue every individual can stand out in their unique ways. Open to anyone interested in skating,

Rolla Skate Club offers physical and virtual roller skating classes

and youth programs that are aimed at personal development.
Superprof:

Superprof is an online platform for roller skating and rollerblading lessons. The tutors are dedicated to providing rollerblading lessons to interested individuals. Classes offered by Superprof tutors range from

beginner rollerblading classes

to advanced rollerblading classes. 
Inline Skating Vancouver:

This is another

inline skating training center

that provides high-end skating lessons through practical lessons at over 40 locations in Vancouver. Inline Skating Vancouver also organizes

Inline Skate Tour Clinics

for rollerblading enthusiasts. 
RollerGirl.ca:

RollerGirl is a professional store that deals in skating equipment and essential skating supplies. RollerGirl also provides tutorials for beginner skaters on helpful skating techniques, maintenance, and maintenance of roller skating. 
Helpful Techniques When Roller skating 
Skaters in Canada use several manoeuvres while skating for either braking, switching directions, or for showy performances. A few of these techniques which can be helpful in your rollerskating journey include: 
Crossovers: Crossovers are used in roller skating when skaters want to switch directions while in motion. This technique is effective because it helps in changing directions without altering speed. 
Using this method while skating is only recommended after adequate practice has been done involving balancing and foot switch. The crossover technique entails stepping over one foot while moving in the direction you might want to switch. After stepping over, glide the other foot out and replace it in its original position while facing the new direction. 
While this may sound easy to try out, single-foot balance plays a key role in a successful crossover. 
T-stops: T-stops are a  popular braking technique used by skaters worldwide. This technique is mostly used by competitive roller skaters whose skating boots do not have brakes. To perform a T-stop, position your dominant foot in a position perpendicular to the other foot, which is going in your intended direction.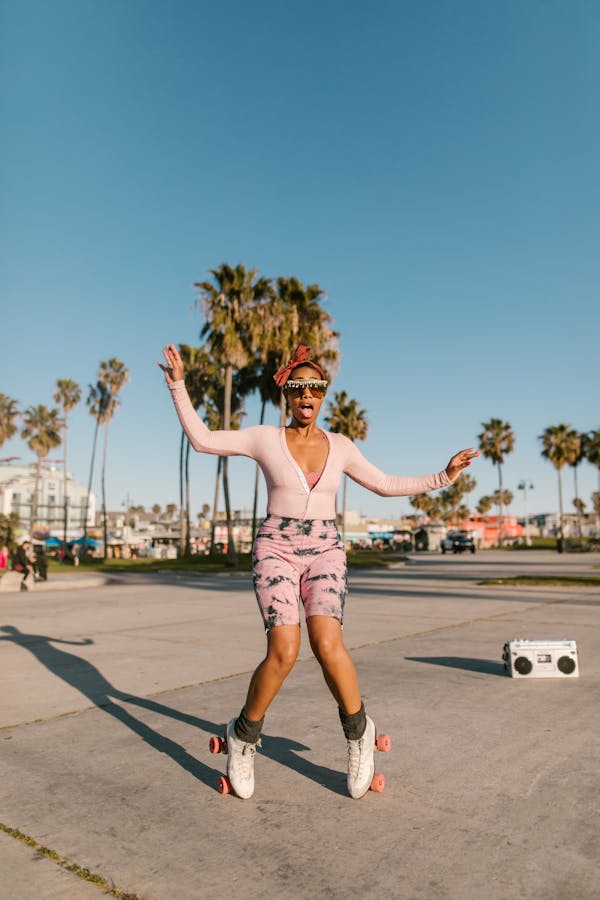 The angle formed by your should be around 90 degrees for the T-stop to be effective. Once your dominant foot is positioned behind your other foot, slowly apply pressure or shift your weight gradually onto your dominant foot. This should slow you down, depending on the pressure you apply. 
It is important to shift your weight gradually as sudden pressure on your dominant foot can cause you to fall or damage the skate wheels. 
Hockey Stops: A hockey stop is another braking technique used to end motion while skating. Via this technique, the skater quickly switches their direction in a manner that engages not only the legs but the entire body as well. The hockey stop technique is culled from the maneuver used when playing hockey to bring the skater to a quick stop. Like every other rollerskating technique, a perfect hockey stop maneuver results from constant practice. 
Plow Stops: Plow stops are another easy braking technique that roller skaters use frequently. This technique entails separating both feet, at least wider than shoulder-width, However, not too wide. 
Once separated, the skater would then have to angle both feet inwardly. This angle should form an apex point near a distance, at which point both feet will slightly collide together and generate enough friction to bring the skater to a complete stop. When performing the plow stop technique, it is important to slightly bend your knees —this is ideal for almost all roller skating maneuvers. Slightly bent knees engage your core and keep you agile and in the best position to anticipate any mishaps from the maneuver.
Other roller skating maneuvers include:
Waltz jumps

Bunny Hops

One-foot turn

Two-foot spins

Power Slides
In essence, you may be wasting a lot of potential if you fail to harness your roller skating skills. Whether you want to pursue a professional career in rollerskating, it is certainly fun to grab a pair of roller skating boots and just skate away! 
The platform that connects tutors and students