You can play the guitar pretty well or very well, and you want to make a living out of it?
Quickly find ideas of tailor-made trades for good level guitar players!
The best Guitar tutors available
1st lesson is free!
1st lesson is free!
1st lesson is free!
1st lesson is free!
1st lesson is free!
1st lesson is free!
1st lesson is free!
1st lesson is free!
1st lesson is free!
1st lesson is free!
1st lesson is free!
1st lesson is free!
1st lesson is free!
1st lesson is free!
1st lesson is free!
1st lesson is free!
Play in a Group and Perform in Small Venues: Interpret and Compose
If you can strum some chords into a nice riff (more than just a G chord and an A chord, though) and that you're good at it, it's probably because you like music – maybe you already give guitar lessons. Many musicians play the songs of others, like these youngsters who play in their garage with friends on weekends (does that speak to you?). And if you play another musical instrument, let it be known. Maybe you can add a violin, mandolin, banjo, percussion or ukelele solo during a song.
After some time, performers decide to compose their melodies and songs, the opportunity to let the deepest emotions express themselves through the guitar by rippling riffs or tearful solos. So, if you know how to play the guitar, you can become a composer! Why not be the lead guitarist of a band? So, tune your guitar and go for it!
You know you can check for more information about guitar lessons calgary here.
Thanks to the Internet, almost anyone can make their Album. Start by building a crowdfunding campaign (Ulule or My Major Company, for example). Then, your Album will become a communication tool that you can listen to while pub-crawling when you propose to play in the evening! With this tool, you can also get to know the producers and, who knows, maybe sign a label! Finally, consider the viral potential of a good sound. If the web likes you, it can propel you into the spotlight in a few weeks.
This is the story that the three friends of LEJ (Lucie, Elise and Juliette) are currently experiencing, enjoying covering successful songs. On Youtube, they account for nearly 560,000 fans! They signed with the former producer of Diam's, Tefa, many concerts scheduled and an album underway. The American dream is just inside your computer!
But first, you have to get rid of these misconceptions and preconceived notions about playing the guitar...
Good Guitarist Earn Money
The average salary of a good guitarist in Canada is close to $50,000 per annum or $25.55 per hour. Entry-level guitarists in Canada earn $40,950 per year, while the most experienced earn about $68,000 per year. 
We started with the numbers to understand that choosing to learn to play the guitar in Canada is a good idea. Besides, even if you choose not to professionalize your guitar-playing skills, being a guitarist in Canada comes with many mouth-watering benefits.
The best point of learning guitar is taking guitar lessons for beginners. You will be taken through the fundamentals of playing the guitar, and, with the right teacher and enough practice, you can become a pro. Learning guitar is fun, but to become a master at playing, you need to use and focus on the correct learning method. 
The best learning method should contain a step-by-step lesson keeping beginners on track and helping them have fun at the same time.
The Most Obvious: Become a Guitar Teacher
To become a guitar teacher, several solutions are available to you:
First, teach in a music school by giving guitar lessons.
Teach at the conservatory.
Teach the guitar on the internet by creating your website and Youtube videos or giving guitar lessons online.
Teach the guitar by giving private guitar lessons (like on Superprof!). At your place or theirs.
After a two-year program (or by validating your diploma by experience), you get a State Diploma. You can follow a course at a university or a training center to do this. In 3 years, you get a higher professional national musician diploma. It's possible to pursue a degree in musicology to obtain a Master's degree or even a doctorate.
You can be a good guitar teacher without the diplomas because the most important elements remain passion and taste for transmission! Many beginners and amateur students are interested in guitar lessons (guitar lessons in New York, guitar lessons in Boston). Maybe start by giving guitar lessons for beginners to see if you have the right attitude.
Check here to discover our guitar lessons in Vancouver.
Diplomas are essential, but the experience is just as much, so don't forget to highlight all the events you have participated in and anything else that can build your profile as a guitarist.
Finally, keep in mind that the right feeling is crucial. If you dislike human contact and lack patience, go to the next paragraph! Guitar lessons must remain a pleasure.
There's a whole world of fingerpicking, harmonics, frets, licks, tabs, strumming, dreadnoughts and pickups that beginner guitarists are eager to learn about.
To say nothing of all of the benefits playing the guitar can bring you.
Be a Guitarist for Village Parties or Cultural Events
It isn't very corny, especially when we know the success of these events! We can think of the férias and the traditional dance of July 4th. If many town halls opt for a DJ (amateur or professional), some municipalities want to play an orchestra to animate the evening.
Otherwise, up to you to go to the next level and enter a Philharmonic orchestra or not bypass the entrance contest!
If you know how to play the guitar with one hand and the electric guitar, you can even get into a more "crazy" metal band.
Earn a Living by Performing for Birthdays and Weddings
When you want to live off your passion, don't count hours of prospecting! If you're going to offer your services as a guitarist for a birthday or a wedding, you'll need a reputation. Word of mouth is a great way to showcase your talents, enjoy every opportunity to play a small piece of guitar and keep business cards around. Don't hesitate to offer your services to the town hall and place advertisements in the city's newspaper. Bring your favorite Gibson, Les Paul, Fender, Mahogany or Ibanez along and show them what you can do!
Find guitar lessons Toronto here on Superprof.
Sometimes, individuals fall under the spell of a guitarist or a music group in the street and offer him to play for a birthday. Try it out! Above all, don't miss the Fête de la Musique, an opportunity to play in front of an audience.
To do this, see the bars and restaurants nearby, they may want to organize a special evening to mark the blow! Of course, don't forget the web. If paper ads can reach a certain audience, many potential customers rush to Google to do their initial searches. Here are three tips for applying to boost your notoriety:
Create your website to introduce yourself and get users to view some services by working on SEO.
Update your Youtube channel to present your directory and to be easily broadcasted on social networks.
Register on music directories types info-groupe.com, my-event.com or animat-weddings.com.
You may even host a series of informative videos about the guitar's origins.
The best Guitar tutors available
1st lesson is free!
1st lesson is free!
1st lesson is free!
1st lesson is free!
1st lesson is free!
1st lesson is free!
1st lesson is free!
1st lesson is free!
1st lesson is free!
1st lesson is free!
1st lesson is free!
1st lesson is free!
1st lesson is free!
1st lesson is free!
1st lesson is free!
1st lesson is free!
Play Guitar in the Metro (in Due Form)
Indeed, the subway isn't a place of dreams, yet, when you think of the thousands of people who could pass before you, playing your finest compositions, think about it twice!
Find beginner guitar lessons here on Superprof.
You can take your guitar bag and a hat and sit around on any platform or favorite corridor with your acoustic guitar. However, you risk getting a truncheon. So subway organizes auditions to recruit its musicians.
Don't hesitate to propose albums for sale. A musical favorite (and more!) is possible. You can also come with a small amplifier for your electric guitar if you have the proper authorization.
Learn to play the guitar for beginners.
Becoming a Professional Musician on Youtube, it Doesn't Only Happen to Others!
The job of a Youtuber isn't reserved for comedians, and we also find Youtube channels on beauty, fashion, love coaches and many others who receive an excellent salary at the end of the months through advertising. So yeah, Youtube has not missed out on the juicy potential of successful videos.
Check out amazing guitar classes in Canada here.
Here is the video of Matt Rach, the most followed Youtube guitarist:
By proposing adds a few seconds before viewing your favorite videos, the most significant editor of videos of the web agrees to give some crumbs to his small foals. Thus, you can offer guitar lessons online without leaving you and without having to put away the space that is outside the camera field (1 dollar per 1000 views). Isn't life beautiful? If your scraper meets success online, don't forget to declare your income under the penalty of having to make a check to the State.
Learn about playing
the different styles of music on the guitar
.
Playing the Guitar on a Television Show
Music shows on TV resist the audiences' struggle, not to mention the exceptional bonuses or musical sessions of some programs.
Do you think you can not make a career as a guitarist on television? But if you remember, Edouard ALGAYON, of Star Academy 3 (TF1) in France, found his place on the television sets to play live music. In addition to his rock band named Chugga-Chugga, he was one of the musicians for many renowned shows.
Today, he accompanies different artists on stages such as Zaz or Gérald de Palmas. In addition, he composes original music for the commercials of Sephora or Nescafé.
Who would have thought that a reality show could get you to have a promising career in music?
Read about some of the most famous guitarists ever.
Guitar Lessons for Beginners in Canada – Where Should You Start From?
If you are taking a guitar lesson for beginners, the first thing you need to do is get a personal guitar. You can practice more and consistently if you have your guitar instead of traveling down to borrow someone else's. Once you have your guitar, you can search for tutors, tutorial videos, and a guitar lesson for beginners in Canada. The studies should involve tips to help you avoid trouble areas most new players experience.
As you start a guitar lesson for beginners, you want to start at the fundamentals: holding the guitar and the basic numbering system. In beginner guitar lessons, you will be intimated with the several ways of holding the guitar, the most common being the causal method. In the causal method, you place the instrument on your right leg if you are right-handed and bring it close to your body. 
Most beginner guitarists tend to let the guitar slide down their legs to see what's going on with the strings. This is a poor posture you want to avoid; sit up straight with the guitar pulled close to your body.
Aside from the posturing and how to hold the guitar, you want to focus on the three guitar-playing numbering systems. These systems in guitar playing that every beginner must learn are the frets, fingers, and strings. The frets are the metal strips going along the guitar's neck; the farthest to the left is the first if you are right-handed. The next one is the second, and so on; understanding this is important for learning scales and chords.
In the fingering system, your index finger is your first, the middle finger your second, the rink finger your third, and your pinky finger is your fourth. Finally, the last numbering system is the guitar strings; the thinnest is the first and the thickest in the sixth. These numbering systems are easy to learn, but you should consider them highly important because you will need them later.
In beginner guitar lessons, you will also learn basic strumming, including how to use a guitar pick and the strumming technique. Look for guitar lessons that cover these aspects in detail because the foundation of guitar learning is gravely necessary.
What Should You Consider When Getting Electric Guitars for Beginners?
As a beginner guitarist, you will have exciting first days as you experience new sounds and gear. More importantly, these days of humble guitar beginnings will give you your first glimpse of a new way to express yourself. However, the guitar you choose has a significant role in this; it can shape your experience for better or worse.
If you're opting for electric guitars for beginners, a good one will make your journey from a newbie to an intermediate pretty easy. But, conversely, a bad-sounding electric guitar hard to strum will leave you yearning for an instrument you have little interest in. So, as you choose your first electric guitar, choose wisely because you will remember it for the rest of your life.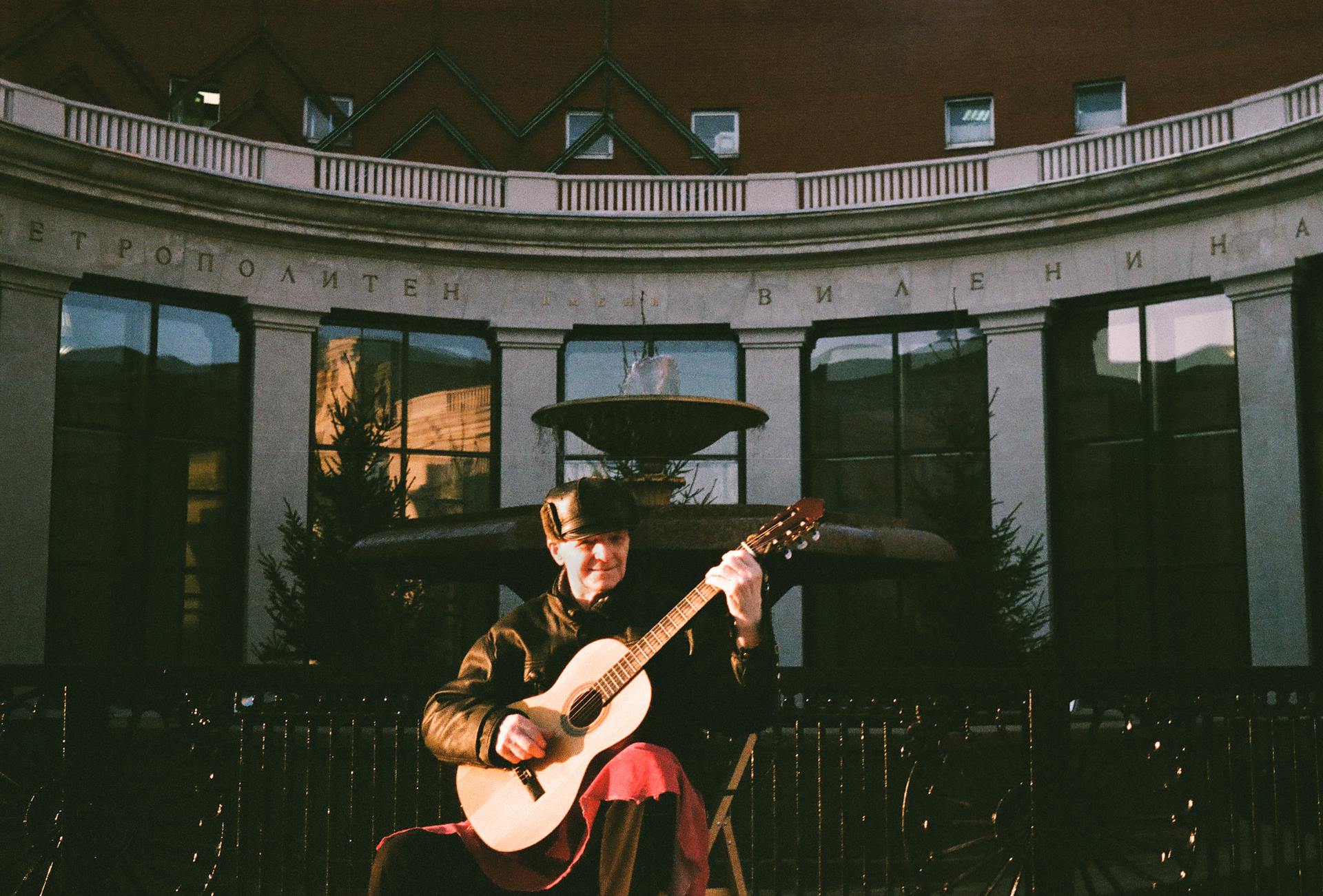 Your Budget
Deciding how much you want to spend on your first guitar is important and depends on your wallet. It also depends on how badly you want to learn the instrument and your dedication to it. 
You don't want to overspend, especially if you're not that dedicated, but you also want to purchase the best guitar. You don't need a 1000-dollar electric guitar as a beginner; $200 to $300 is good.
Electric guitars come in different shapes and sizes; beginners often think the shape doesn't matter, but it does. We recommend that you concentrate on learning and understanding the basics rather than looking like a rock star. However, we believe there's more satisfaction in choosing a guitar you love, which can motivate you to always practice.
Pickups in electric guitars are magnets wrapped in wire, creating a magnetic field, which gets disrupted when a string vibrates. So put: electric guitar pickups are what amplifies the instrument's sound. We recommend learning about the different types of pickups for electric guitars.
The guitar strings are anchored on a little wooden object on the guitar body called the "bridge." When shopping for electric guitars for beginners, you will encounter three basic bridge types: hardtail, tremolo, and double-locking tremolo bridges. While they serve the same function, one is easier to work with than the other. Therefore, we recommend the hardtail or tremolo bridges if you are a beginner guitarist.
This refers to the woods the guitar is made with; the only wood you'll find on an electric guitar is on the body and neck. So you may not need to worry much about what wood your guitar is made with as a beginner. 
However, you will find many kinds of woods mentioned when you're considering guitar specs, so it helps to have a good idea about them. For example, mahogany and basswood are good woods; they are rich and resonant with good wood quality.
How Can You Learn to Play the Guitar Like a Pro in Canada?
You can learn to play the guitar like a pro if you know the right way and with great tips to help. Let us briefly run through ways to learn how to play the guitar like a pro in Canada.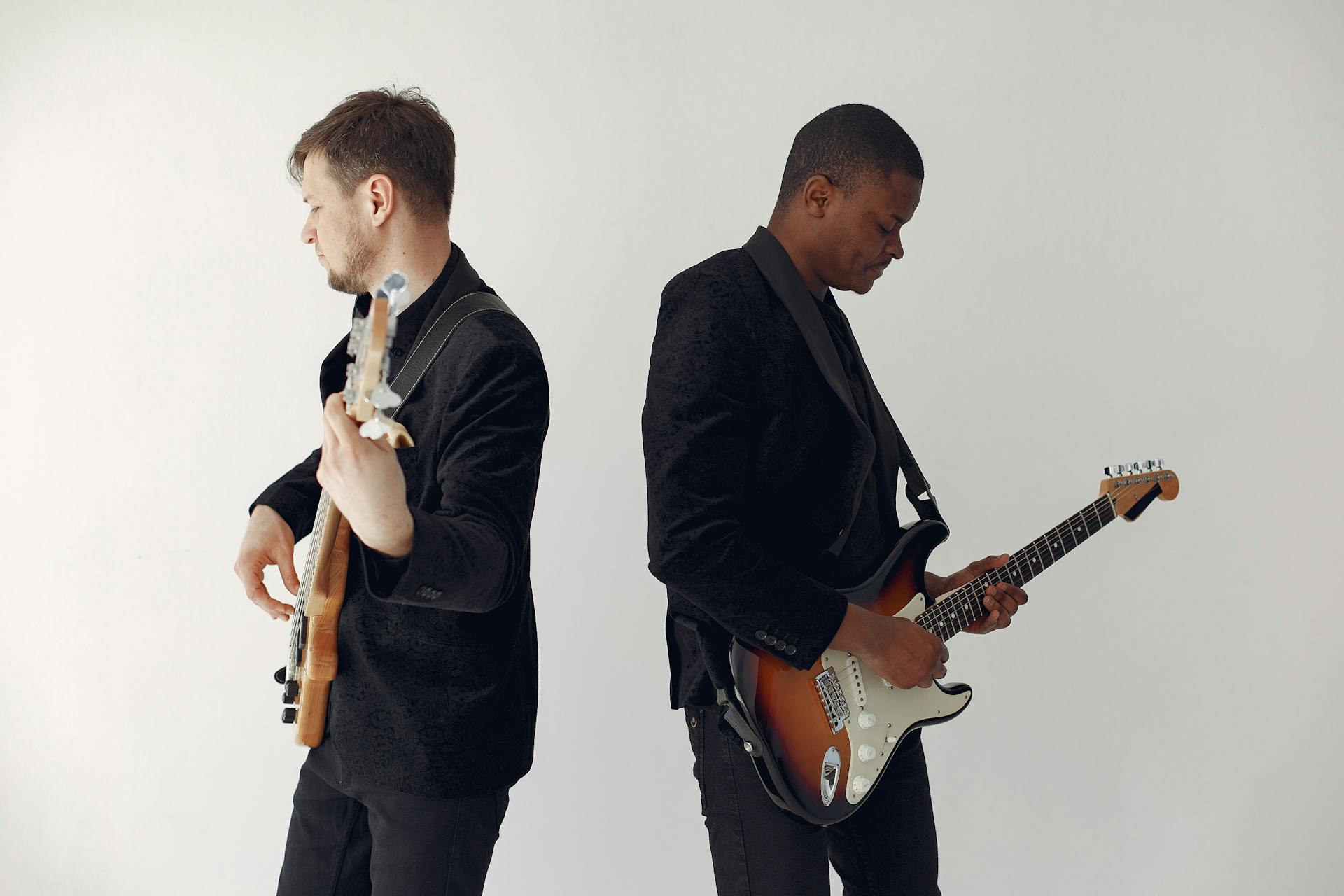 Learn a new guitar-related thing every day; find one thing you didn't know, learn it, and play. It can be anything,

from a riff to a chord

and an exercise to a complete song. Deliberately seeking out, playing, and internalizing your new guitar knowledge daily helps feed your subconscious musical instincts. 

You will have an exciting and anticipatory guitar-learning journey if you make this a part of your daily routine.

Learn and understand the

major scale structure

and intervals; major scales are building blocks of the many chords you will encounter along the way. When you understand the major scales, you can harmonize songs in different ways to form triads and extended chords.

Know many chords and run through them daily; you will get used to this in no time. If you keep this up daily, you'll be playing like a

pro guitarist

in no time. You will be forcing your fingers to go from one chord to several other chords that are not related.

Track how you're progressing in your learning experience; awareness of growth can further improve growth. You will be inspired to keep it up when you see that your daily practice and efforts are paying off. You will be more focused in

future practice sessions

, and you'll detect when your growth has stalled.
Can You Take Beginner Guitar Lessons on Superprof?
You can take a guitar lesson for beginners on Superprof with many brilliant and professional guitarists. In addition, you will gain access to a private guitar expert who will teach you how to play the guitar like a pro. Each guitar class will involve you practicing what you learned in the previous class to ascertain if there's any part you still find difficult. Feel free to ask questions, as many as you need; you are not bugging your tutor.
Besides, your Superprof tutor expects you to ask questions to show that you are learning something. So it would help if you kept a pen and a book close by to write any aspect of the guitar lessons you find difficult. You will get one or two corrections from your tutor during your guitar classes; we recommend implementing them immediately. 
Meanwhile, as we earlier mentioned, having your guitar is fundamental; you can discover things on your own about the guitar that you didn't with your tutor.
In conclusion, the guitar-learning process may be challenging, but it is worthwhile. Being a guitarist in Canada has its perks; you learn a lot from playing or teaching guitar and have fun playing. 
Learning guitar with some help from a Superprof tutor is beneficial; you don't just learn to play like a pro; you find your rhythm. Meanwhile, choose your first guitar wisely – this is also something your tutor can help you with.
The Professions That a Guitarist Can Exercise are Wide and Varied
There are finally more jobs accessible than you think when you know how to play the guitar!
Everything is about personality and personal motivation. Some will prefer the calm of a classroom to teach how to play the guitar, while others will access the larger auditoriums or play flamenco all night long.
There is also a little bit of string pulled and contact that comes into play, but with talent, you can do everything. Want to become a professional guitarist? So go ahead!
Now discover how science gets behind guitar playing to affirm why guitar playing is good!
The platform that connects tutors and students