The piano is a fantastic musical instrument which allows creative freedom to musicians who play the instrument. Even for students who learn the piano, it can be very motivating to know that you will be learning how to play your favorite songs. Simple piano songs for beginners such as mary had a little lamb, in lesson 1 are easy to understand. They won't inspire the student as much as teaching piano in a new way, with pop songs, Coldplay or even traditional classics such as Chopin, Beethoven and Mozart right from the start.
Whether you like blues piano, rock, pop, electronic, jazz, classical or even reggae music. Playing the piano allows you to express yourself in any style. While the more traditional techniques will have sheet music to accompany them other less conventional forms of music won't. In which case you will need to learn to improvise and learn to play by ear, you can also use online piano lessons to help you with popular songs. Often musicians will create their own video lessons or sheet music from popular songs to allow you to learn to play the songs faster.
With its 88 keys, long history, and numerous celebrity associations, the piano can be a daunting instrument. It is, however, an approachable one. Anybody of age can learn to play the piano and have lots of entertainment doing so. A comprehensive course will take you from never touching a piano before to playing your first chords and song. You'll also pick up some basic skills, healthy habits, and purchasing guidance.
You can quickly pick up other musical instruments if you know how to play the piano. Because playing the piano necessitates fine motor control, understanding of both the treble and bass clefs, and musicality. With the piano, you can obtain knowledge transferred to other instruments.
You don't need an accompaniment because pianos can control both melodic lines and harmony to sound "perfect." Other instruments, such as the violin or guitar, necessitate bands, backing tracks, or an auxiliary pianist. Interestingly, Canada offers a good musical atmosphere for everyone willing to learn the piano. All around, you will find schools and training centers that provide lessons for beginners, intermediates, and experts at playing the piano.
The best Piano tutors available
1st lesson is free!
1st lesson is free!
1st lesson is free!
1st lesson is free!
1st lesson is free!
1st lesson is free!
1st lesson is free!
1st lesson is free!
1st lesson is free!
1st lesson is free!
1st lesson is free!
1st lesson is free!
1st lesson is free!
1st lesson is free!
1st lesson is free!
1st lesson is free!
What Do You Need to Learn to Play Different Piano Styles?
The primary way to raise your proficiency in the Piano is to practice. With the piano, there is so much to learn and a wide variety of ways to learn it. On your journey to being a professional pianist, the key to your success will be your dedication to your instrument.
As all instruments have a different way to be played, each music style has its own rhythmic characteristics. As a beginner, playing the piano will require dedication and an understanding of music theory. While you can begin to learn to play the piano with your favourite song it is also important to remember that you should also be building a foundation in piano basics too. But once these basics are acquired, the most important thing to do will be to practice, practice, practice.
Regular piano practice is incredibly important whether it's on a keyboard (like a Yamaha keyboard or other electronic keyboard), a grand piano (like a Steinway) or an upright piano / Acoustic piano. To learn to play many styles on the piano, you need to understand how to adapt to any style. This means understanding the instrument and understanding the music that you want to modify.
Different Styles Of Music That You Can Learn To Play On The Piano
During your piano study, you will hopefully have a teacher that supports your learning with many piano styles. This will give you an introduction to the kind of music that you might want to play on the piano. But it will also support your learning about music and not just the piano. Having a good knowledge of the many different styles will help to prepare you to play any song well.
What Are Some Traditional Piano Styles?
Classical Music Style
The most well known and traditional piano style is that of classical music. As the oldest of all the musical styles (6th century AD), typically composed of instruments that can be found in an orchestra such as a piano, harp, flute. Classical music is often used as the musical foundation for most instruments and musical learning. Although this may be the most popular piano style It is also one of the most varied styles. Classical music is notoriously difficult to master and requires intense training. Not just to learn to play the notes but to learn how to communicate the emotive undercurrent that the music is so well known for. Some famous classical music composers are:
Beethoven was a German pianist and composer well known for Piano Concerto Number four in G Major.
Chopin was a Polish composer and pianist well known for Etude in E major.
Rossini was an Italian composer best known for his operas which contained many of his piano pieces. Chopin is said to compose his pieces like a genius.
Lizst was a Hungarian composer and pianist well known for his work Sonata. Hungarian Rhapsody No 6 among others.
Britten was an English pianist and composer known for Serenade for Tenor, Horn and Strings, Nocturne and Les Illuminations.
Start piano lessons Vancouver here on Superprof.
What Are Some Modern Piano Styles?
Jazz Music style
Jazz is a fairly modern style started around the 1920s, the piano was and remains an essential part of the music. Started in the USA, Jazz when played on the piano is a mix of technique and improvisation. While Piano notes are played with a steady melody with one hand the other hand Improvises a different tune altogether. Both hands do not work together traditionally in Jazz. Which makes this style challenging but also creatively exciting it is classical piano mixed with expressive rhythmic notes.  Right from the start, you would be unable to miss the uniqueness of the Jazz style. However, you may find it more challenging to learn to play than it may initially appear. Jazz is said to fuse Expression, classic technique, improvisation and memorization. Some famous Jazz music composers are:
Art Tatum considered to be the father of all Jazz piano musicians because of his exceptional technique and creativity (Wikipedia) Well known for his song get happy.
Miles Davis is said to be one of the most influential jazz musicians in the history of jazz (Wikipedia) while he is best known for the trumpet he also composed with other instruments including the piano and guitar. He is well known for his work Kind of blue.
Thelonius Monk stood out for his unique and distinctive style of improvisation and fingering of the keys. He is well known for his work Monks dream.
Bill Evans started out with Miles Davis and went on to win many awards in his own right. He is well known for his work Blue and Green.
Nat King Cole was a famous actor, jazz pianist and vocalist. He is very well known for his work in movies like afraid of the dark. As well as his piano music with songs such as unforgettable and the Christmas song which became a self-fulfilling prophecy as quite unforgettable since they are still played today.
Check out for more online piano lessons here on Superprof.
The best Piano tutors available
1st lesson is free!
1st lesson is free!
1st lesson is free!
1st lesson is free!
1st lesson is free!
1st lesson is free!
1st lesson is free!
1st lesson is free!
1st lesson is free!
1st lesson is free!
1st lesson is free!
1st lesson is free!
1st lesson is free!
1st lesson is free!
1st lesson is free!
1st lesson is free!
What Are Some Unusual Piano Styles?
Rhythm and blues or R&B as most of us know it today is based on jazz, blues and gospel styles fusion. The focus is on the rhythm of the song as the name describes, RnB is a very popular form of music but not very often do you see R&B connected with the grand piano. However, Legends like Stevie Wonder, Alicia Keys and John Legend and Sir Elton John have all played the piano while singing or performing many of their songs.
Some Famous Rnb Music Composers Are:
Stevie Wonder is a multi-award winning multi-instrumentalist (Among many instruments he was a piano player) singer who is well known for his happy birthday song along with many others. He is said to be one of the most critically and commercially successful musical performers of the late 20th century. (Wikipedia)
Alicia Keys is a classically trained pianist who rose to fame with her album Songs in A Minor.
John Legend Like Stevie Wonder he was a child prodigy playing the piano and music by age 5. Best known for his hit songs all of me and tonight.
Sir Elton John is an English singer and pianist who has sold more than 300 million records to date with his Candle in the Wind being the most popular of his songs.
Ray Charles pioneered soul music, which was heavily inspired by RnB. He was often called the genius in musical circles due to his pioneering compositions. He is well known for the song Georgia on my mind along with many other songs.
If you are learning how to play the piano, this list may be overwhelming but also exciting. Now you know that you have so many styles open to you, No matter what music you like or musical style that you would like to practice as a pianist you have people to guide you on the journey with acclaimed songs, albums and sheet music all readily available for you online.
If you are open to fusing your piano lessons with free piano lessons using youtube or other largest video repositories. You will be able to try a wide range of styles by following the piano tutorials on the free videos.  Also, you can request that your piano tutor incorporate famous musical compositions along with your music theory and classical lessons.
The essential skills that you need to be able to play all styles of music on the piano is an excellent foundational knowledge in the piano. This includes an understanding of piano chords (including chord progression and triads), piano scales, reading music (Including notes like Clefs and quarter notes), piano notes, piano keys  (including the black keys) and other piano basics. If you have taken piano lessons for beginners already, then you will have covered the most critical topics in your piano practice. Mastering these things will open up your ability to diversify your musical style on the piano.
Start piano lessons here on Superprof.
How Can Piano Learning for Beginners Be Simplified?
The piano is one of the few instruments suitable for absolute beginners. Learning to produce single notes takes weeks or even months on most other instruments, but making sound on the piano is surprisingly intuitive. You'll get a chord if you push multiple notes down simultaneously. Anyone can produce sound on a piano, but turning those sounds into music takes time and effort.
Piano learning can be simplified by applying a few of these activities to the learning curriculum: 
Construct a gateway to music theory
It's critical to put what you're learning on the piano into a music theory context before moving on to more advanced concepts. Many people who want to go into one form of music or the other are made to understand that learning an instrument is key and for some, the piano is always the most considered. You can construct scales and chord progressions on any instrument in music, including the piano, with knowledge of a few simple techniques and trends.
The piano is a hand instrument, and to excel at playing it; you have to understand how to move your hands. As simple as this may appear, some people do not know how to do other things while moving their hands. For example, it may not be easy to combine singing and playing the piano. As you are learning about musical scales and chords, you must also know how to move your hands through the black and white keys to produce quality sounds that aligns with the song.
Proper fingering is an important part of a good piano approach. It may be challenging at first to play the piano with the correct finger movements, but with practice, you'll find it easy and enjoyable.
Various patterns of chord structures in composition are highly popular in piano music. These numerous progressions give the melody of the piece a harmonic framework and are employed as you play the piano. As such, once you understand the primary ones, you can move through them quickly in your work.
The most popular chord progressions you will master are the patterns of 1, 4, and 5. This indicates that the scale's 1st, 4th, or 5th note will be the starting point for your chords.
Start piano lessons Winnipeg here on Superprof.
How Can you Master Piano Chords as a Beginner?
When learning piano chords, songs, and scales, you'll start noticing that the left hand is used to play the chords and the right hand for the melodic line. However, before you understand the fundamentals of piano chords for beginners, you will need to know some basic terms. A piano chord is played when two or more notes are played simultaneously.
When learning piano chords, you come across various piano chords, including reduced, augmented, major, and minor. However, it is important to only focus on the basics, for starters. Understanding minor and major chords are rather straightforward if you can skip numbers. To comprehend what "alternating" entails in playing the piano, you must first comprehend the distinction between full and half steps.
Start piano lessons Calgary here on Superprof.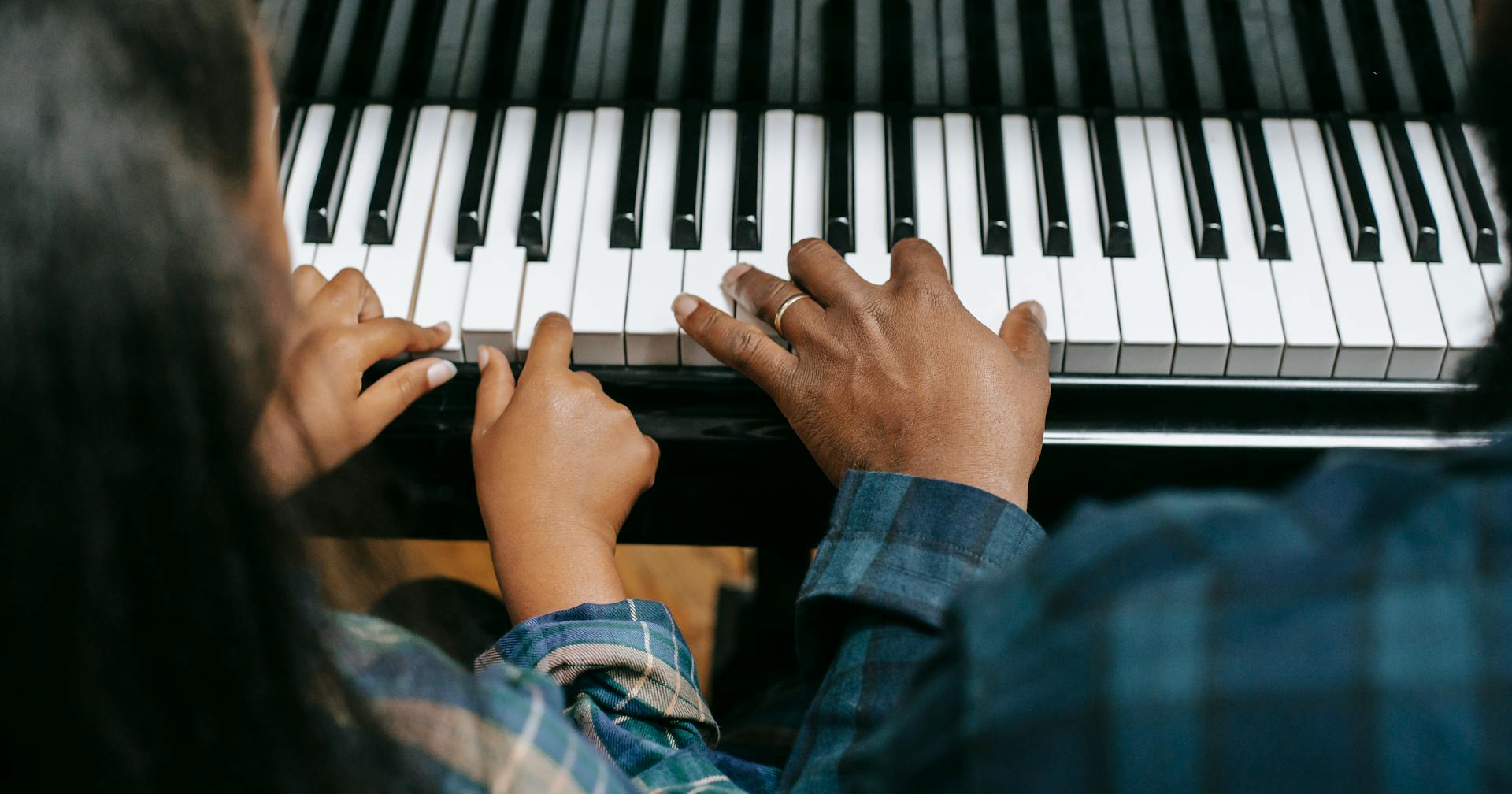 Can Hiring a Private Piano Tutor Aid Learning Piano for Beginners
Learning piano beginner adverts help many people have an interest in knowing more about taking "piano lessons near me." It also helps those unsure if they should do so themselves or pay a private teacher to help them. People can learn to play the piano by taking lessons from an instructor who teaches multiple pupils at once, but is this the best way for people who want to learn?
Hiring a private tutor has so many advantages as you will be given full attention, allowing you to learn faster and better.
There are various reasons why you should employ a private piano tutor to assist you when learning how to play the piano, and some of them include;
When beginners study with a private tutor, they learn not to compare themselves to other students their age who may be studying the same subjects. Some pupils are frequently dissatisfied with not making as much progress as other students. With the support of the private teacher, the learner can examine his performance and concentrate on developing it.
Students who study with a private piano teacher have a distinct edge in developing their musical identity. Students frequently imitate popular pianists' playing techniques, which is wonderful to start. However, to excel at playing the piano in the long term, you will have to discover and develop your musical identity. A piano tutor has to guide you as a beginner when identifying your musical identity.
Flexibility is the main advantage of taking personal piano lessons rather than large group lessons. As a student, you might ask your teacher to teach you a few songs, not on the regular curriculum. Like composing and transcribing, other music talents can be taught in private piano lessons.
To start a piano lesson in Canada today, you can easily Google "piano lessons near me," and you will find great tutors close to your location.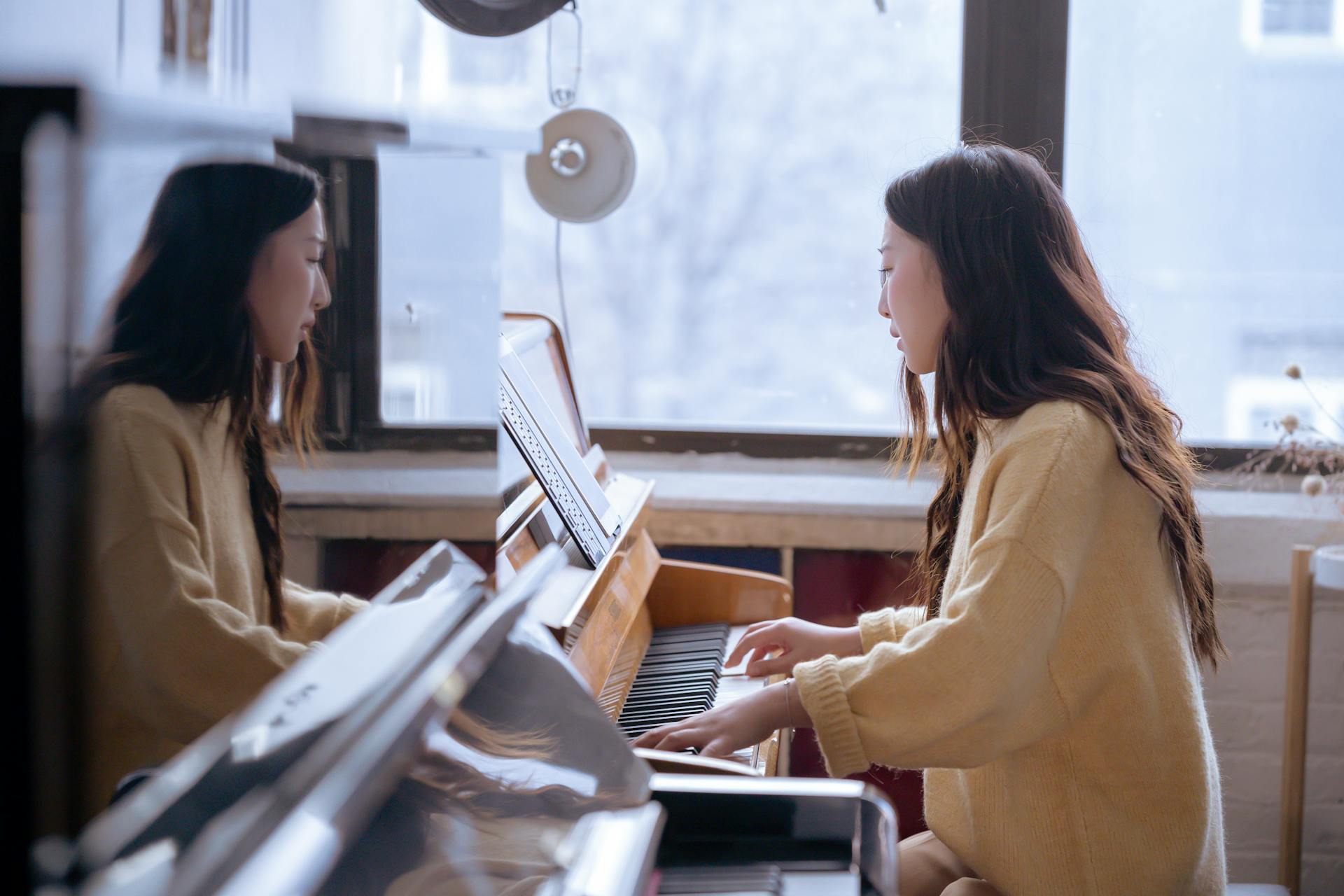 What Should I Note When Looking for the Best Piano Lesson Near Me?
It's critical to prepare yourself when you decide to learn piano. You must be willing to subject yourself to continuous learning and the development process.
It would help if you also recognized the importance of assistance. Your closest supporters (friends and family) will be important pillars in your artistic life, but the assistance of others will be equally important. When looking for a piano lesson or teacher, there are things you need to consider; below are a few:
Experience and competence of the piano tutor
Experience may be sufficient to make one a competent piano teacher. Tutors who have completely mastered the instrument and its obstacles can impart that knowledge to piano students. Even if you have the necessary understanding, conveying things to someone else is more crucial. This is the toughest obstacle to overcome. It also necessitates the presence of certain human features that aren't always present in everyone.
The ability to describe something clearly and then explain it again is competence. The ability to translate a difficult concept into simple terms is a product of experience.
The tutor's mode of teaching the piano
Quality teaching is an indication of a person's abilities. These varied competencies are designed to help an instructor pass on these skills more rapidly and accelerate a student's growth. The piano tutor should know how to adapt to the pace of the class and swiftly explain key concepts based on the rapport.
The structure of the piano lesson
The piano lesson must be well-structured to suit your learning needs based on your level. If you're a beginner, it should be such that you don't have to learn the complex terms an expert will be learning. The best piano lessons are those that move from simple to complex.
Learning how to play the piano will help you produce sounds that you enjoy. But don't be afraid to try something because you believe it'll be too difficult. Regardless of what you might have heard about the piano, you can master it with the right guide. With patience, one hand, and one measure at a time, you will get there. You advance to the next level by playing something somewhat too difficult. Interestingly, Canada is a great location with several prospects for individuals interested in learning the piano and those who are skilled at it.
From playing the piano at your leisure, playing on big stages, and at major events to teaching those who also want to learn, there is a lot you can do with piano knowledge. However, to get to that stage, hiring a quality piano tutor is essential, and that is what Superprof offers students in Canada. Whether you're in Montreal, Quebec, Ontario, or any other part, you can enjoy your first piano lessons for free if you hire a Superprof tutor.
Pick a song and go off and learn it, one note at a time, Just play and enjoy the journey!
Start piano lessons here on Superprof.
The platform that connects tutors and students