The checkered board and traditional pieces associated with the game of chess are what most of us think of when the board game is mentioned.
However, this doesn't have to be the way your child first perceives the game.
When it comes to learning a game like chess, you need the best resources possible - the best learning videos, tutors, chess sets, and more. Among the required learning resources, chess sets - virtual or physical, take utmost priority because it is almost impossible to learn chess without them. However, when teaching kids how to play chess or deciding the kind of chess set to buy, you will require more than a basic chess set.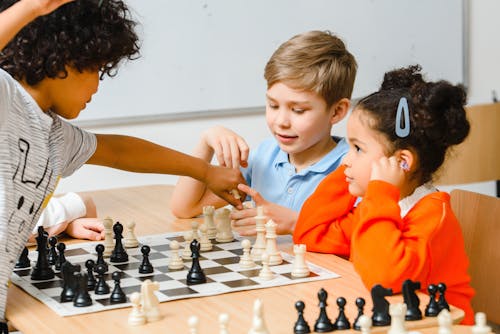 Deciding to get a suitable chess set for your kids is one thing, but finding the best one for them is another thing. And this is a significant concern. To aid learning and enhance interest in chess, you need a chess set that is colorful, attractive, and children-sensitive.
The varieties of kid's chess sets in the marketplace - online and physical stores in Canada, make it challenging to find the most suitable one for your kid. We understand this; that is why we have carefully listed out the factors to consider when choosing a chess set for your kids. This will help you make the best choice. Also, we have compiled a list of children's chess sets that some of our best tutors on Superprof have recommended.
If you're curious about how to first introduce your kid to the game in a way that makes it seem more fun and engaging, why not consider an alternative kids chess set to get the ball rolling?
The chances that a child will stick with chess, in the long run, will surely be increased if the set they play with gets them excited about the game.
Since a child's imagination is such a wondrous thing, why not indulge their creative side and invest in a colorful or characterful chess set that lets this sense of imagination run wild as they pit Batman against the Riddler or have SpongeBob face off against Squidward?
What's more, if you frame the introduction to chess for kids in the form of gifted chess set for your child that they have a say in, they're much more likely to want to stick with it and learn the rules so they can challenge friends and family on their unique set.
The best Chess tutors available
1st lesson is free!
1st lesson is free!
1st lesson is free!
1st lesson is free!
1st lesson is free!
1st lesson is free!
1st lesson is free!
1st lesson is free!
1st lesson is free!
1st lesson is free!
1st lesson is free!
1st lesson is free!
1st lesson is free!
1st lesson is free!
1st lesson is free!
1st lesson is free!
What Are Basic Factors to Consider When Choosing Chess Sets for Kids?
The game of chess is more than just a hobby or something to while away the time with. It is a lucrative game that positively influences growth and mental development while allowing the player to have maximum fun.
Given its multiple benefits, it is only logical that you make the best decision when deciding the kind of chess set to buy for your kids. So, how do you go about this? 
There are various factors you need to consider when choosing a suitable chess set for your kids. Here are a few.
Age
Age is a significant factor that determines your choice of chess set for your kids. This is because there are age-dependent chess sets made to suit the needs of every age group and all you need to do is find them. Also, your kid's age will influence every other factor necessary for choosing a chess set. 
For instance, if your child is a toddler, getting an adult chess set would be inappropriate. This is because adult chess sets are rarely aesthetically pleasing, and such chess sets will only reduce your kid's interest in the game. Also, children-specific chess sets are more likely to contain visual representations to aid the learning process, while adult chess sets are not.
The materials used to make these sets differ, too, depending on the age group for which it is produced. Chess sets for kids are usually made with indestructible materials, lightweight, and easy to carry around.
Do you have a preferred brand? Most companies that produce chess sets tend to make age-sensitive chess sets too. Be sure to enquire about your preferred brand before purchasing one.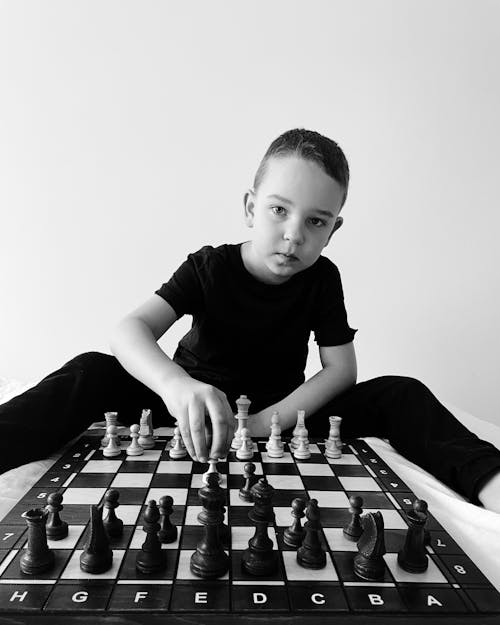 Skill level
Different skill levels require different needs. A kid who's an amateur chess player will likely use a different chess set from an intermediate player. As your kids continue to learn and become better at chess, their needs will keep changing.
For instance, amateur players may need visual representations on the game board to aid learning, while intermediate-level players may not. 
Some chess sets come with basic instructional books, videos, and tutorials for beginners, while some are more complicated for intermediate or expert players.
Determining your kid's chess skill level is key to maximizing the benefits and finding the best chess set for your kid.
Aesthetics 
Every human is naturally drawn to whatever they find visually pleasing - kids particularly. This is why significant effort is put into the aesthetics of kids' toys, clothes, and more.
When choosing the best chess sets for your kids, be sure to find something colorful, attractive, and aesthetically pleasing. By doing this, you can spur your kids' interest in the game and enhance their learning process.
For example, a Super Mario or Lego-themed chess set is more likely to pique your kids' interest than the conventional boring brown chess sets that most adult players have.
Portability and Durability
Let's face it; children can be pretty destructive sometimes. This is no news to parents who have at least one kid. It is also no surprise that kids like to play with their toys with friends. For these reasons, it is best you carefully consider durability and portability when buying toys or anything at all for your kids.
When buying, you must select a chess set that is lightweight, highly durable, and portable. This way, your kid can learn with friends and enjoy the benefits and fun of playing chess for a long time.
Budget
The price of chess sets is determined by the type of material used to make the pieces, the knight, the number of queens, and branding. 
While getting the best chess set for your kid is essential, affordability is critical. And affordability is relative, as it depends on your financial capacity. If you are working with a budget, it'd be best to consider options that tick all the boxes and are affordable.
Unlike most people, pricey things do not always have the best quality or the most features. You can always get an affordable chess set that meets all your expectations. What matters is that chess sets can last for a lifetime and be a source of good memories even as your kids grow. 
To find chess sets like this, you can contact any of our chess tutors on Superprof for guidance and recommendations.
A Selection of Chess Sets
To give you an idea of what's out there, we've compiled a list of some of the best chess sets you can buy, with the young learner in mind. After several chess lessons for kids or online chess for kids, your child will undoubtedly be keen to get their hands on their own unique set.
With each kid's chess set, there will either be a beginner-friendly setup that helps your child get familiar with the basics, or a visually appealing theme that will make them want to keep coming back for more.
As such, you'll need to make a judgment call as to what set is most likely to persuade your child to stick to a regular practice and heighten their enjoyment of the board game to give them a chance of staying with it in the long term.
If you don't have resources at your disposal, teaching your kid with a novel chess set is a fun alternative.
To learn chess for kids, it can help if your child has a kid-friendly set to keep motivation at a high.
Instructional Sets
The first type of chess set we'll cover is the instructional set.
In our eyes, an instructional set is a chess set that introduces a beginner to the basics of chess in an innovative way.
These types of sets are great if your child has no prior knowledge of chess, or if you yourself are a little fuzzy on the rules and need a helping hand to teach your kid.
There are several types on the market for every age group and skill level for chess sets. For beginners and kids, an exciting and helpful kind of chess set is the instructional chess set.
These chess sets are designed to teach the player through kid-friendly instructional books, visuals, tutorial videos, and more. Some examples of the instructional chess set include:
No Stress Chess
The first chess set we want to draw your attention to is called No Stress Chess.
The No Stress Chess Set is an excellent option for kids just starting their chess journey. It is suitable for kids aged seven years and above.
With the No Stress Chess Set, kids can quickly learn the basics of chess through the accompanying action cards that contain tips, strategies, and piece movement patterns. The chessboard also has visual illustrations that facilitate learning.
While this game isn't specifically designed for children, it is beginner-friendly as the name would suggest, so it provides a great way to ease into chess without diving straight into a competition-standard set.
This is a bonus for parents who aren't well-versed in the game of chess themselves, or who want to take a hands-on approach to teach their child to play chess. It's a great alternative to hiring a chess tutor, though both approaches have their merits.
What makes this chess set so great for beginners is the inclusion of cards to explain how every piece moves. With these cards, you can either read them aloud to your child or have them practice their reading skills, so there's potentially an extra learning element involved for them.
Each card displays the movement available to one particular piece on the chessboard, and the idea is that you pick up a card and then move the corresponding piece according to the illustration of how it can move. The idea behind this is that over time, your child will become more familiar with each individual piece and exactly how it can move.
As far as kids' chess games go, No Stress Chess is up there with the best.
Suitable for children from the ages of 7 and up, the set features 17 charcoal pieces, 17 ivory pieces, 56 action cards, a plastic card tray, and some written instructions.
Story Time Chess
Story Time Chess is a beloved instructional set that many kids and parents alike adore. It's so highly praised, in fact, that it was nominated and won the Toy of the Year Award from the Toy Association in 2021.
The Story Time Chess Set is the all-time choice for parents who want their 3-year-old + kids to learn chess most creatively. Given how fun and effective it was in teaching kids chess, the Toy Association nominated it for the 2021 Toy of the Year award. 
This award-winning chess set teaches kids how to play chess through colorful illustrations, funny stories, custom pieces, and Character cutouts. It also comes with mini-game tokens and mini-games to enhance learning while making room for maximum fun.
So what makes Story Time Chess such a hit with young chess learners and their parents?
Well, put simply, Story Time Chess creates a whole animated world around the game of chess, complete with an engaging story and cast of memorable characters.
All of the chess pieces come with cutouts of the various characters on the front, and the thorough instruction manual walks you through all of the different moves each of these pieces can make.
One of the best parts about this chess set is that it is one of the only sets that are suitable for children as young as 3 years old, so you can start your kid out on the game from an early age.
Framing the traditional game of chess as a story with its own cast and world is an excellent way of appealing to children's sense of imagination, and bringing the board and each individual piece to life.
Wall Chess
While Wall Chess isn't instructional per se, as it doesn't feature an entirely different set of pieces or populate the board with animated characters, it is still an excellent pick for young learners.
If your child is already familiar with the basics of chess, and they are looking to improve their game in a novel way, Wall Chess could be just what they need.
With Wall Chess, the pieces are replaced with blocks and the board is mounted up on the wall.
The main benefit of this is that you can leave the pieces in place, meaning you can pause and pick up your games whenever you want. This is ideal for the young learner who struggles to complete a whole game every time they sit down to play chess, or for someone who is looking to evolve their game by giving more thought to the moves available to them.
This could be a great way to boost your child's cerebral activity since you can hang it up on their bedroom rule to give them time to think through their next moves even when they aren't playing. If you've watched Netflix's The Queen's Gambit, you'll know all about the power of visualisation when it comes to chess.
Find chess courses here on Superprof.
TV and Film Sets
These sets are all intended to spark a child's imagination and cater to their creative side, as they can pit their favorite TV and Film characters against each other in epic chess battles.
Nothing could be more exciting than a themed party, game, or activity at all. They add excitement to the game, enhance interest, and improve learning by making chess more relatable for kids.
Batman
Batman is a classic DC Universe superhero and one that is admired by both kids and adults.
With the 32 piece Warner Brothers-licensed Batman chess set, you'll get a one-of-a-kind set that you will be able to appreciate as much as your child.
The quality of the figures is mindblowing, and each piece is completely different, so gone are the boring pawns and in their place are an all-star cast of superheroes and villains. The back row pieces are distinguished by their raised platforms, though, so there shouldn't be any confusion as to what is what.
If you want a chess set that your child will want to show off to all of their friends and play on all the time, this is a solid option.
Super Mario
Super Mario likely brings back memories of hours spent in the video game world when you were younger, and it's still an immensely popular franchise today. Even if your child isn't aware of the cartoon plumber and his all-star cast of friends and foes, the colorful and creative designs of the pieces should be enough to grab their attention.
This set is perfect for the video-game-loving child and adult, and if your child hasn't heard of the franchise, it's a great opportunity to educate them on the fun-filled world of Mario, Luigi, and all of the other unique characters.
For an even more exciting game experience, you can put the classic Super Mario soundtrack on as you play the game and reminisce on your old coin-collecting days and the nostalgia that the franchise brings up.
Harry Potter Final Challenge
Harry Potter is a franchise that's loved all around the world, and if your child has somehow not been exposed to it already, the Harry Potter Final Challenge chess set is an excellent way to introduce them to it.
Warner Brothers officially licensed the Harry Potter-themed chess set. This exciting chess set is more suitable for older kids and even adults who love Harry Potter and are interested in chess.
Interestingly, this chess set contains carefully crafted pieces to look like the wizard chess set seen in The Sorcerer's Stone and Harry Potter.
Either you and your child have already seen the infamous giant chess scene from the first movie, or you haven't and you need to go watch it now. This chess set is based upon that scene, with large looming figures perched on an ornate chessboard.
What's fun about this set is that your child can let their imagination run wild as each figure has a large weapon, heavy armor, and a unique pose. Taking the pieces of the opposition player will be pure joy, and the set as a whole is worthy of admiration.
Each of the 32 chess pieces has been crafted to the exact detail and measurements, and this authentic replica has been officially authorized by Warner Brothers so you know it's the real deal.
Star Wars-themed Chess Set
Thematic chess sets are made to unlock a whole new level of creation and fun while playing chess. And, the Star Wars-themed chess set does just that!
This chess set comes with a themed game board, 32-star war chess pieces, and chess figures, and it is suitable for children aged eight years and above.
Kids who are a part of the stardom get to choose between the light and dark side and play chess using their favorite characters as pieces.
Chess doesn't have to be as dull as people make it seem. You can make it as fun as you want for your kids with creative and exciting chess sets. Since there are numerous chess sets in the market, we have narrowed your search to a selected few. However, you can always search the Canadian marketplace - online and offline, to explore other options. When searching, be sure to consider the factors necessary to choose the best chess set for your kids.
Ensure that your final choice is age-friendly, portable, durable, and aesthetically pleasing.
If you do not know how to teach your kids chess, you can hire a professional chess tutor on Superprof. There are chess tutors all over Canada, so you don't have to worry about distance when seeking private lessons.
The platform that connects tutors and students