Math is a best-seller in the market for private tuition.
Children often talk about being 'stuck' when they are struggling to work out how to solve a problem. This can leave them feeling sub-standard or left behind and math skills can vary greatly among those in your class.
Some students struggle with fractions, others with percentages, rounding, algebra or calculation.
However, these children are not necessarily less intellectual than their classmates. In fact, they're often bright and good at problem-solving in their day-to-day lives, meaning they're perfectly capable of discovering their inner math scholar.
For instance, when a child has a mental block when playing a video game, they look for YouTube tutorials and forums to help them get past the challenge.
When they have to travel from their home to their school or college, they are able to organise themselves to get there on time by working out which buses to take.
If they take up a new hobby such as skateboarding, they know they have to try and try again, because practice makes perfect!
So what is it about math that students struggle with?
Young people have no problem proving their determination when it comes to their lives outside of the education system, but for some reason, mental blocks in math are too much and can even leave them with a fear of the subject.
Check out these different online mathematics courses.
The best Math tutors available
1st lesson is free!
1st lesson is free!
1st lesson is free!
1st lesson is free!
1st lesson is free!
1st lesson is free!
1st lesson is free!
1st lesson is free!
1st lesson is free!
1st lesson is free!
1st lesson is free!
1st lesson is free!
1st lesson is free!
1st lesson is free!
1st lesson is free!
1st lesson is free!
What Do I Need to Become Better in Math?
Math is an important subject for all students. At one point, it becomes one of the highest tasks on every student's list. And the goal is to become better.
While many study math to learn more about this subject, others have just one goal—to pass the next math exam. These two groups of people study math but do it differently.
Approaching this subject with the right mindset is highly necessary. Algebra, calculations, and critical solving may seem confusing, but you can always get better at it.
Whether you want to pass an exam or become a pro at math, knowing how to study effectively is a must. The following are tips to help you excel in math class:
Hire an experienced math tutor
No doubt, the presence of a math tutor is highly important. Students often get confused with their math curriculum not because they can't give a proper solution but because of external factors. Some encounter fear. Others are lazy towards the subject. Either way, without a tutor, the journey to success gets even fuzzier.
Get an online math tutor with years of teaching experience. While so many tutors promise to help with whatever problems students have, they aren't responsible for your lack of knowledge. To become good at math, you must also be willing to learn.
Adhere to all instructions
Math tutoring often comes with instructions, but a majority of us ignore this section. Reading instructions and adhering to them highly matters. Your tutor may pass on several problems with instructions at the top of the sheet. Ensure you read every detail before brainstorming. If anything seems unclear, reach out to your math tutor for help.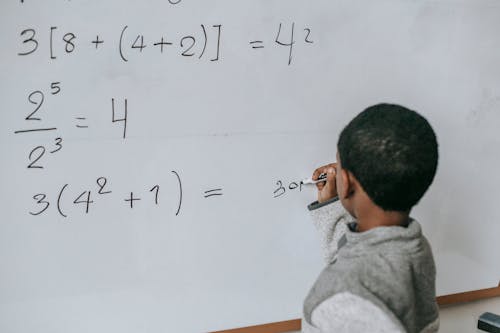 Seek advanced resources
What is expected of every math student? This is one fun subject that looks complicated on the surface. Every math problem has a solution. Learning advanced resources will help you understand the concept better.
Your tutor should know how essential resources are. Sometimes, you may have to seek homework help. Best of all, you can also find credible resources on the internet.
Be willing to learn math online
Before knowledge, fear existed. When it comes to math, students are shaky. Some have zero interest in this subject. How do you expect to understand when you've lost interest? This is where Superprof comes in.
On Superprof, you will find a tutor that easily understands your feelings. Aside teaching math effectively, these professionals will help overcome the barrier hindering you from success.
Why Younger Learners often Struggle with Math and Have Mental Blocks
When you think about it, mental blocks in math stem from many different places. Maybe the student doesn't understand the objective of a certain math concept, or they don't see math as anything but a way of assessing academic performance in school.
There are many theories and suggestions as to why this many be the case:
The Student feels Overwhelmed with Mathematical Vocabulary
A teacher or private math tutor will introduce children to the language of math, however, some of this involved redefining everyday words, which can be confusing. One such term is 'square root', which is different to the root of a tree, for example, or 'translation', which is usually used in the context of languages - not graphing.
Students are often surprised when asked, "what line are these points found on?" and the line is a parabola. In mathematics, a line is not always straight, which goes against the everyday idea of a line.
Since math teachers don't always realise these lexical ambiguities, they often forget to explain them, and so students can see mathematical vocabulary as a foreign language.
The Student has not Understood the Basics
Comprehensions issues with the basics of math such as how to use different symbols can have a negative effect down the line.
Building a firm foundation of knowledge is critical to succeed in a math education since all mathematical topics are linked and rely on each other to be explained.
So if a student is unsure of what is meant by 'integer', 'decimal' or 'real number', or the reason why you would replace a number with a letter (as in algebra and calculus), they get lost in confusion.
Some common misunderstandings include:
= means 'is equal to', whilst ≠ means 'is not equal to'
why you change the direction of an inequality if it is multiplied by -2, but not when multiplying by 2
why -x can be a positive value
why x(y+z)=xy+xz but x(y+z)≠xy+z
Being expected to know all of these math facts off the top of your head can be daunting and even cause anxiety related to math, which leads to a 'brain fog'.
The Student Doesn't Realize that Feeling Unsure is Completely Normal
For some, the dizzying frustration of forgetting something they thought they knew can demoralize students and make them want to move onto another topic.
There is also the fear of 'sounding silly' in front of classmates when asking their educator a question. However, making mistakes and asking for clarification is key to truly understanding a notion.
To feel able to do this, you need help feeling at ease in your learning environment, which is often difficult in a class of 30 of your peers.
Is it Normal to Struggle with Math?
Deep down, everyone struggles (or struggles) with math at one point. And when this happens, it becomes difficult to further their learning. In rare cases, only a math equation solver can introduce a solution.
Math is one subject that inputs negative feelings on a student if the proper approach isn't taken. This is the same reason why people drag their feet to math class.
If you find yourself struggling with math, keep calm. No need to call for an alarm. First, you must overcome negative thoughts. Whether laziness or procrastination, you must eradicate whatever is dragging you behind. With a platform like Superprof, you can rest assured you've paired with one of our tutors.
The big question: why do people struggle with math?
Below are some reasons for this:
Attention difficulties
Learning math online is quite different from other subjects. The concepts, solving, and processes are interconnected, which means they build upon each other.
As students, our learning capabilities are different. While some focus on the problem at hand, others struggle to grasp the concept applied. Attention span is one of the major challenges for struggling students. Not to worry; the tutors on Superprof have that covered, as the platform pairs struggling students with a reliable math tutor or problem solver.
Math is built on previous concepts
Studying basic math requires utmost attention and constant follow-up on the concepts. This subject uses a step-by-step principle to solve problems of all kinds. Once you miss (or skip) a lesson, excelling becomes difficult.
Imagine you had to solve a problem on factorization. If you don't know how to collect like terms, finding a solution might seem impossible. But for someone who knows just how to collect like-terms, the process becomes quick and easy. Can you see why you can't afford to skip a concept?
Lack of practice
You have to understand how this works. In math, some sections may seem simple. Others take more time to understand. That's just how it works. In some cases, students may understand what the tutor is trying to say. But it's time to solve problems on their own, and everything seems confusing.
Find online algebra courses here on Superprof.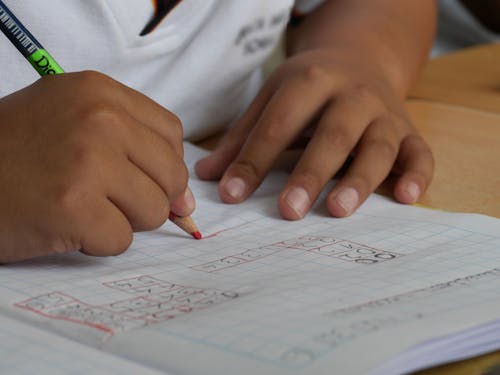 Learning math requires patience and lots of practice. If you're stuck with a concept, take your time to understand what it entails.
The best Math tutors available
1st lesson is free!
1st lesson is free!
1st lesson is free!
1st lesson is free!
1st lesson is free!
1st lesson is free!
1st lesson is free!
1st lesson is free!
1st lesson is free!
1st lesson is free!
1st lesson is free!
1st lesson is free!
1st lesson is free!
1st lesson is free!
1st lesson is free!
1st lesson is free!
How Do I Get the Best Math Help Services?
Now that you know how important it is to get help, what steps are you taking? Getting math help services is worth the expenses if you're willing to utilize every penny. The best math help services vary and the internet have that covered. But there are loopholes to avoid.
The internet is full of resources. Lots of educational platforms offer help to students in need. Parents enroll their kids in some online institutions. You have tons of options to choose from. However, you must pick the right choice, and you must do that carefully.
Online math tutoring is quite different from physical teaching, but it is super effective. Your tutor uses fun methods to teach math. The best part is, you will enjoy studying in a comfortable pace. Take these steps below if you need help with math lessons.
Find educational platforms online
Sign up for some useful information. Information is power. You never can tell how useful the internet is until it becomes a tool in your hands. The internet has tons of educational platforms offering math tutoring. Still, you must be selective. To save you the stress, the customer representatives at Superprof can help assign a tutor right away.
Find a study partner
Learn math with a study partner. Joint reading has proven its efficiency among students. Knowledge is shared. This method is quick and effective, as students merge ideas for the different concepts in math.
Most platforms offer an interactive session among students. After lessons, you can discuss more on the subject at hand. If you're picking a study partner, ensure you opt for someone as hardworking as you. You don't want to waste your study hours doing unproductive tasks.
Find waterloo math courses here on Superprof.
What Are Some Math-related Opportunities?
Studying math comes with tons of benefits. Aside from helping the brain to think critically, it also brings some physical benefits. Mathematicians worldwide are doing great in their various fields. And as mathematics major, you can work in almost any sector.
Math is useful in almost every area of our life. Its concepts are applied in industries, banks, institutions, and other commercial dwellings. Today, math is a powerful resource for mining cryptocurrency. It is, without a doubt, a healthy subject. The following are job opportunities for a math major:
Data Analyst
Data Analysts merge computational skills with their knowledge of databases to create data reports. These reports usually take the form of a question or search string. Data analysts must have a clear knowledge of math. Even so, their communication skill must be up to standard.
Actuary
Actuaries work out analysis like the above profession but channel it into insurance companies to reduce the risk of exposure. These people undergo intense training and must acquire knowledge on financial modeling, pricing, and financial analysis. An actuary will merge skills gotten from data acquisition, analysis, and application to manage risks.
Software Engineer
Software engineers partner with programmers to make a program beneficial for the end-user. These people work hand in hand with coders, and they must develop their skills in code writing, task plotting, and document testing.
Are There Fun Ways to Study Math?
Two types of students study math: the ones with zero interest and the exciting sitters. Those who enjoy solving math problems find their amusement outweighing the challenges encountered. The more difficult the process is, the more thrilling it gets.
Students with no interest in math often have their dear stemmed from math anxiety, which develops very early. Math anxiety affects students worldwide. Hence, schools, tutors, and students must adopt interesting ways to study math. Below are some study techniques that drive up the muse:
Math application in real life
Applying math problems in real life helps students to view the situation from a different angle. It impinges an increased focus level, thereby helping them to process a solution. This method is super effective for kids and people with math anxiety. It shows that solving math problems isn't magic.
Gaining knowledge through art
Art is creative. It can as well impact the brain positively. Using art to teach math is helpful for acute retention. Kids are often drawn to pictures and drawings of mathematical concepts.
Looking for interesting ways to learn math? Superprof is offering you a one-on-one lesson with highly-qualified math tutors. Learn math with a smile on your face and a feeling of satisfaction.
How An Individualized Approach with a Math Tutor Helps Self-Esteem
Supplemental instruction with the help of a one on one math tutor can rebuild a student's confidence in their abilities by taking the strengths and weaknesses of the learner into account to create a tailored study plan.
The role of a private home mathematics tutor Toronto goes beyond teaching. Before becoming a tutor, educators must understand that one on one tutoring jobs involve mentoring and coaching as well as teaching the subject they are passionate about.
This means helping students prove their preconceptions about their abilities wrong before providing math homework help and assisting with trigonometry and geometry or advising for A level qualifications preparation or GCSE math revision.
The best tutors make sure that their students are well equipped with personalised study skills that suit their pupils' way of thinking.
Self-confidence and a positive mindset are crucial to making substantial progress in math, both in private home tutoring and in school math.
Find algebra 2 tutoring here on Superprof.
Private tutors provide a calm learning environment which is free from distractions but has plenty of math resources (such as math games and math worksheets) and an encouraging attitude, so the tutee feels able to discuss course content and ask plenty of questions.
Feeling free to make mistakes and try again without judgement is key to helping the pupil prove their abilities to themselves.
The way lessons are delivered in schools is not always suitable for the various study strategies of each student. Teachers may move too quickly or go too slow - so one to one math tutoring services can be invaluable to students who need a bit of a boost to fit into the school system.
Using Math Games to Overcome Mind Blocks
A common and effective method to help children overcome mental blocks in math is to approach problems from a completely different angle by playing fun math games!
Detaching math from the realm of worksheets, test preparation and exams and using it in a playful context allows students to realise that math is fun and can, therefore, motivate them to persevere in their studies.
There are hundreds of math games on the market and online, each one helping players to get to grips with a particular math concept.
Anti-Virus
The 'bio-logical game', Anti-Virus is a 1-player reasoning challenge where players must move the pieces in such a way that will get rid of the 'virus' piece. After arranging the pieces on the board according to one of the 60 game cards, the aim is to clear a path for the red virus.
Anti-Virus improves reasoning skills. Just like in math problems, there is an objective to achieve and rules to follow.
To 'win' the game, you have to unblock the path by moving other pieces out of the way. So there is a sort of 'sub-objective' which is removing the obstacles before achieving the 'real aim' of removing the virus. This is similar to many aspects of math, where you have to factorize a quadratic equation before solving for x, for example.
Depending on the level of difficulty you choose, you'll have a different number of 'sub-objectives'. This way of problem-solving can improve patience and persistence.
Students can develop their own learning strategies with games like this, as they can memorize a certain type of obstacle and remember how to overcome it, and apply these skills to math problems.
Anti-Virus is all about using trial and error to develop academic skills that can be applied to math and improve chances of academic success.
You can find a mathematics tutor here.
Set: The Family Game of Visual Perception
Set is a card game where the picture on each card has a color, shape, shading and number of shapes. Each card is unique but shares features with other cards in the pack.
Out of 12 cards laid in front of them, players must identify sets of 3 cards having one quality in common, or a set of 3 cards sharing absolutely no qualities.
The first player to identify a 'set' wins the round and the game starts again.
This game develops association abilities (which is useful for coming up with solutions in maths). Set is also about quick-thinking abilities and fast reactions, which is useful for linking types of mathematical expressions.
24 Game: Single Digit/Double Digits
The aim of the 24 game is to use addition, subtraction, multiplication and division to make the number 24 from all four numbers given on a game card, but using each number only once.
For example, if a card has the numbers 1,2,3 and 4, you can do:
4 x 3 = 12
12 x 2 = 24
24 x 1 = 24
The number of dots on each card indicate difficulty levels, with 1 dot being an easy math problem and a 3 dot being the most difficult.
This is obviously a brilliant game to get children thinking about how they can manipulate number to reach a solution.
Seeing the playful side of math can help students overcome their Fears
Each of these three games is entertaining and helps develop the useful problem-solving skills which are used in math.
Reintroducing disengaged students to math through games like these can save their academic career and inspire them to study it as a higher level.
Learning through alternative methods such as this one can help students discover their skills and encourage them to use them in the context of their education.
Course content can be adapted to the individual learning style of the child, and the learner feels free to invent their own methods or 'games' to get around problems - rather than giving up.
The platform that connects tutors and students