When you begin piano lessons, most of the time the goal is of the course is to progress as quickly and as well as possible.
You want to acquire the strongest bases, to then go on playing the pieces that you like.
And let's be clear, most pianists are looking to play the songs they've heard and would like to remake, or just a legendary melody, to do just like the best pianists.
But the pianist has an ego and pride. To prove he is worthy, he will also go for difficult pieces, even very difficult. They don't necessarily fit his personal tastes. But they will give a status, a rank, to the one who plays them. What's on your repertoire?
These difficult pieces can be categorized in different ways in the world of the piano. In order to give a sympathetic side to this article, we will go through classic pieces, and varieties, known or unknown.
And you'll see that afterwards, you will inevitably go to your keyboard to learn one, or even all.
By reading this article, you will understand better how to become a piano virtuoso!
Join the discussion: who do you think are the best pianists in the world?
The best Piano tutors available
1st lesson is free!
1st lesson is free!
1st lesson is free!
1st lesson is free!
1st lesson is free!
1st lesson is free!
1st lesson is free!
1st lesson is free!
1st lesson is free!
1st lesson is free!
1st lesson is free!
1st lesson is free!
1st lesson is free!
1st lesson is free!
1st lesson is free!
1st lesson is free!
Classical music and its virtuoso pieces
There is often a tendency to say that the classical music pieces composed by the best pianists in the world are the most difficult to play. Fortunately, many classical pieces are also used for learning the piano.
But of course, some justify this reputation.
Symphony No. 5 by Beethoven (1804-1808)
A legendary piece, composed by a genius musician. You have probably already heard these notes in the films The Longest Day or Saturday Night Fever.
Composed of four movements (Allegro con Brio, Andante con moto, Scherzo, and the Finale), and lasting approximately forty minutes, the fifth symphony of Beethoven is one of the Austrian's masterpieces.
For the anecdote, the music was composed during the Napoleonic wars, while Austria was invaded by France.
As for Beethoven, then in his thirties, he is more and more affected by deafness.
A few years later, this symphony was designated as a reference work, and one of the most popular of classical music.
Piano Sonata No. 18 in D major (W.A Mozart)
There is no need to introduce Mozart, considered by many to be the greatest virtuoso in the history of the piano.
Because of his precocity, and also because of the difficulty and complexity of his compositions. (who doesn't recognize his famous enchanted flute, opera of more than two hours long).
Mozart's piano sonatas are among the most difficult to play.
And the n°18 offers an impressive technical panel. Variations of rhythms, changes of fingering and speed.
One can clearly say that he is a pianist with great capacities when he masters the Mozart sonatas, and more particularly the n°18.
Discover the long history of the piano...
The Bolero by Maurice Ravel (1928)
Undoubtedly one of the most beautiful ballets of the XXth Century. Again, you probably heard this music from the AGF Insurance ad in the early 2000s. A beautiful and catchy melody, lasting about 15 minutes.
The melody repeats itself regularly during the piece, but variations in crescendo and orchestration give this singular work an original, even unique aspect.
So unique that it is to this day the most played ballet piece in the world's great operas since the 1930s, and even at events such as the 1998 World Cup or the closing ceremony of the Sochi Olympics in 2014.
The Toccata in D Minor by J.S Bach (1703-1707)
Everyone has already heard this music, the reference music written for the organs by Bach. Built in three episodes, it took four years to be written. Controversies ran around it at the beginning, the sulfurous composer Ringck and then Kelliner claiming its origin, but it is ultimately attributed to Bach when he was young.
Very quickly returned to popular culture, the XXth gives a timeless aspect to this piece. He is taken to the cinema in Fantasia, Twenty Thousands Leagues under the Sea, The Godfather or even Aviator and Pirates of the Caribbean.
The first notes entered history, and a melody as beautiful as that is difficult with accelerations and piano adaptation.
Pop music and how difficulty serves success
Pop songs are part of musical culture. And contrarily to what one can sometimes think, commercial music can be very difficult and can serve as a basis for piano lessons online.
And require technical aptitudes essential to pianist.
Diego, by Michel Berger (1983)
In France, Michel Berger is a reference in piano and musical creation. We owe him a very large number of great hits. He wrote songs for himself, but also for the other musicians.
And if we had to come out with a song that represents the composer's genius, Diego is the perfect example.
A perfectly lapped melody, with the chords linked with fluidity. A difficult song not technically, but in the management of the rhythms and emotions. A real complete piece for playing or learning to play the piano, which is very difficult to make as beautiful as the original piece played by Michel Berger.
Find out how, through piano lessons online, Superprof tutors can help you master the depth of emotion the instrument can reflect.
Life on Mars by David Bowie (1971)
What about this song, which took a new path with the death of David Bowie in 2016. One of his greatest successes is built on a simple piano melody, but of rare intensity.
Although it can be considered repetitive, this music (much like that of Michel Berger) is based on intensity, on raising the crescendo intensity.
Which gives in the end a cult melody, of which it is difficult to transcribe the emotion. A certain time of practice of the piano is necessary since this music is difficult to play.
Check out for more piano teacher here on Superprof.
Georgia On My Mind by Ray Charles (1960)
Pianists who are interested in the musical culture around their instrument know that jazz is a genre apart. It's not given to everybody to be able to play it. And Ray Charles is probably the greatest virtuoso in this field.
And not just because he was blind. His music is complete, timeless, and also very difficult to transcribe.
This is one of Ray Charles's most outstanding romantic pieces. The difficulty in this piece lies not in the rhythm, but in the melody itself.
Check out for more piano lessons Calgary here on Superprof.
To play this piece, you must feel it, understand it. And to be well aware of the meaning and the words. At Ray Charles, the two are related. That is the difficulty.
Great and difficult movie music
While they have taken on a new dimension in recent years, counting just as much as the movies in which they pass, movie scores must, of course, be on this list.
They are technically of a very high level and require considerable pianistic capacities. This is not suitable for early piano lessons.
People get very excited about playing the piano when listening to these songs, so the goal is to work on learning the piano to get to play these pieces as quickly as possible.
Find the best tutorials for learning the piano!
Comptine d'un autre été (Yann Tiersen)
No one has forgotten this piano-accordion melody of one of the most popular french films of the early 2000s : Amélie.
And this melody composed by one of the best pianists of the world Yann Tiersen is very difficult for a particular reason: it is a piece for a left-handed person.
And since 75% of pianists are right-handed, this piece takes on a new dimension. It requires a particular fingering training to be able to adapt to this piece. The difficulty of playing a piece for left-handed and the speed of this piece make it doubly difficult.
For a piece that remains beautiful, and that I advise.
Fly (Untouchable, by Ludovico Einaudi)
We all shed our little tears while listening to this sublime music. A relatively fast and very rhythmic melody. This piece requires considerable dexterity and a relatively soft feel. It is obviously not given to everyone.
It is a music based on speed, arpeggios and chords. But all in the emotion and sweetness of a very loud piece, and that will remain like a great moment of cinema music.
 Music plays a lot on the success of a movie. Untouchables proves it.
Interstellar soundstrack (Hans Zimmer)
Ah, the master Hans Zimmer. Worthy successor to John Williams, this German is THE reference in movie music.
And the least that can be said is that with the soundtrack of Interstellar, he gave it all he had. A lengthly song, with rhythmic and melodic accelerations.
It is an all-powerful and all-crescendo piece.
As in a lot of music by Hans Zimmer, the song's basis is not technically very hard. It is the rhythmic changes and variations of sound that make this piece a model of movie scores.
The piano is a prestigious instrument so honor it!
Tackle the harder pieces to learn the piano
Playing the piano with challenging pieces helps you to learn your musical limits. And above all, it is the opportunity to progress quickly by playing the piano.
Here, no music school or music theory, nor arpeggio! It is your motivation that will be your greatest source of progress in order to learn to play the piano and become a real performer. You will have to persevere in your piano classes, find the sheet piano sheet music and learn how to play the pieces you love.
So take both your hands, choose a piano, play make your most beautiful treble clef and bass clef, find a piano teacher, go on practising, do what you need to become the piano player you dream to be. The solfeggio, chords and piano classics will then have no secrets for you.
Discover all there is to know about the piano...
Find piano lessons all over the UK on Superprof.
Piano lessons London
Piano lessons Edinburgh
Piano lessons Glasgow
Piano lessons Leeds
Piano lessons Birmingham
The best Piano tutors available
1st lesson is free!
1st lesson is free!
1st lesson is free!
1st lesson is free!
1st lesson is free!
1st lesson is free!
1st lesson is free!
1st lesson is free!
1st lesson is free!
1st lesson is free!
1st lesson is free!
1st lesson is free!
1st lesson is free!
1st lesson is free!
1st lesson is free!
1st lesson is free!
Why is Learning Piano Songs from a Piano Teacher Important?
Technology today has made life very easy. With online materials, YouTube videos, and whatnot, it is easy to learn and become a pro at any skill of choice. However, despite the various skills that can be easily learned online, some require the guidance of a pro. A good example of such a skill is learning the piano.
Due to the much information available online as it pertains to learning piano, employing the services of a piano teacher is usually necessary. This is so, especially for a beginner. There are many advantages of having a piano tutor who can effectively make sense of the diverse information available on the internet. A teacher will guide against unnecessary information overload, sifting through the trash to get to the real deal. Here are five main reasons why you need a piano teacher when learning piano;
We are all guilty of making a promise to do something and then not keeping it. Sometimes, we might even start to do that but then stop halfway. As it relates to learning piano, having a piano teacher will most likely keep you alert. Knowing that someone is constantly checking on your progress will keep you on your toes and prevent slacking. Employing a piano tutor gives you a sense of accountability. Unfortunately, it prevents you from slacking or lazing about.
No matter how revolutionary the idea of being a self-taught musician might seem, it is usually not the best idea. Most people who buy the idea of being a self-taught pianist usually end up giving up in the face of a fairly challenging piece. This is because learning a musical instrument as complex as the piano can be very tasking both physically and psychologically, especially without the aid of a piano teacher.
To be a Beethoven, you would need a good grasp of rhythms, scales, and all other juicy terms involved in learning piano. Learning all these without the help of an expert may prove tasking, especially for a beginner. Rather than wasting precious time trying to decipher complex music notes, why not simply employ the services of a piano teacher?
We have all had days when we have felt under the weather. Long days that seem to drag on without any end in sight. On those days, having a piano tutor comes in handy. Your piano tutor will be able to motivate you on your down-days and keep you focused on achieving your goal.
Start piano lessons Toronto here on Superprof.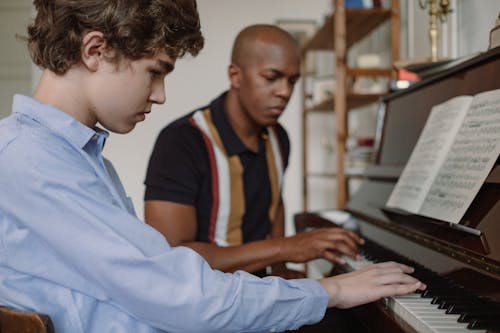 Having a mentor in a field of choice makes it easy to replicate what that mentor has achieved. For example, with a mentor, you have access to someone who can walk you through the nitty-gritty of the piano lesson. There is also the advantage of getting the necessary push when you need it. Just like a personal trainer, your piano teacher gives you the necessary motivation to keep at your goal.
Specific answers to questions
Got a question? Employing a personal piano tutor affords you the opportunity of asking your tutor specific questions. Rather than being at the mercy of Google, a piano tutor will likely furnish your questions with more suitable answers.
How Do Learning Songs Make a Piano Lesson Fun?
Learning a piano song can prove to be a tasking and frustrating exercise, more so if you picked a difficult song. However, there are various ways you can learn piano songs in an effective and fun manner. They include:
First, make sure you choose the right song
It is important to consider your level of expertise in doing this - are you a beginner, intermediate, or expert? For example, if you are a beginner pianist, it would not be right to try playing a difficult piece; it would only leave you feeling frustrated. Instead, there are songs suitable for beginner pianists and some suitable for experts. Usually, your piano teacher will properly guide you on the right song suitable for your level.
Slice it into smaller chunks
Try slicing it into smaller pieces rather than learning the full song at once. Learning piano songs can be likened to eating a meal. If you rush your meal, the chances are that you will get a stomach upset and end up sick. So also is the case with learning piano. Attempting to learn the full song at once may prove to be a frustrating and unyielding task. Therefore, it is advised to divide the music into smaller sections.
Enjoy each stage and do not detest repetition
No matter how long you seem to be stuck at a particular stage, enjoy it. Do not be too hard on yourself. Rather try to enjoy the peculiarity of each stage of your learning. Replaying songs already learned and revisiting your previous piano lesson will help you master your knowledge and build your playing fluency.
When practicing, aim to master how to play each hand separately before playing with both hands. Learning piano is a brain-tasking exercise; the brain usually requires time to comprehend the hand movements. It is usually advised that beginner pianists start learning to play each hand's parts first. Learning this first makes it easy to coordinate both hands while playing.
Start piano lessons Winnipeg here on Superprof.
What are the Top Hardest Songs You'd Encounter in Your Piano Lesson?
There are many easy songs to learn piano, but there are also hard ones. The following are some of the hardest songs you might encounter while taking piano lessons.
Beethoven's Hammerklavier Sonata. This sonata is among Beethoven's late works and has been regarded by many as being unplayable.

La Campanella – Listz

Opus clavicembalisticum – Sorabji

Étude – Chopin

Etudes – Ligeti

Reminiscences de Don Juan – Mozart/Listz

Sonata No. 5 - Scriabin

Trois mouvements de Petrouchka - Stravinsky
What are Easy Songs to Learn Piano?
For beginner pianists looking for how to learn piano effectively, using easy songs to learn piano is the best option. It is usually best to start with easy piano songs for this set of people who are just stepping into the piano world. Unfortunately, these songs typically do not require them to excessively move their fingers around the piano keys. 
Here are some easy songs to learn with the piano:
Twinkle star. The famous poem "

Twinkle Twinkle Little Star

" is one of the easiest plays. Its key is all located around the same area, except its highest key.

Happy Birthday, Song - The happy birthday song is another famously easy piece a beginner pianist can learn to play. 

Alphabet song

Fur Elise

Jingle Bell
These are some easy songs beginner pianists can use to learn piano effectively. Although these songs are easier than most piano songs, knowing how to play them well may require some time. This is because having a good grasp of them is vital in building a solid foundation in piano.
Canada is a good place to learn the piano regardless of your level, and learning with a Superprof tutor can make all the difference. You don't have to worry about learning with other students who may not have the same learning level as you. Our tutors can offer personalized learning tailored to your specific piano needs.
Interestingly, if you're hiring a Superprof for the first time, the chances are that you will get the first hour of your first piano lessons free, and that applies to all our tutors.
With tutoring services like Superprof providing the opportunity, it is easy to learn how to play the piano. Type these words "piano teacher near me" on the Superprof website, and you will be connected with various expert piano teachers. With Superprof, you have the opportunity of employing a tutor of choice based on your budget, preference, location, and onsite or online tutoring.
Start piano lessons Vancouver here on Superprof.
The platform that connects tutors and students