To see the birth of the great grandfather of the piano as we know it today we need to go back to the dawn of the 18th century.
Born in Italy the piano was remodeled several times in Germany, industrialized in the United States and now present in all music styles from all over the world. It has a rich history and many functionalities.
Formerly reserved for the elite and upper bourgeoisie, this instrument became popular during the second half of the 20th century.
Today, even the middle class can learn to play the piano, buy their own instrument - electronic, synthesizer or upright piano - and take piano lessons near me. Music sheets are available not only in music books from specialized bookshops but also in downloadable versions online. Rare are the piano songs for which you can't find one or even several versions of piano scores.
Anyone wanting to start the piano should also try and take interest in the history of his instrument.
To play the piano well, it's interesting to know its culture.
The piano was invented in the early 18th century by Bartolomeo Cristofori, an Italian professional instrumental maker. This acoustic keyboard was created for two reasons - to create a keyboard that could create soft and loud sound to sustain notes. Surprisingly, this grand instrument can do both of these functions with just a set of keys.
Originally, people started using the piano back in 1780, and music has never been the same ever since then. This sweet, elegant instrument is perfect for various occasions. Do you know that most pop stars you see on television have invested time and effort into learning to play the instrument? A melodic piano tune shows up in most of the songs you love to listen to today.
Piano learning doesn't only have music benefits but also has some health benefits attached to it. For example, you should invest in learning piano chords and transforming into an expert.
Here is a general presentation of everything you need to know about the world of pianos.
The best Piano tutors available
1st lesson is free!
1st lesson is free!
1st lesson is free!
1st lesson is free!
1st lesson is free!
1st lesson is free!
1st lesson is free!
1st lesson is free!
1st lesson is free!
1st lesson is free!
1st lesson is free!
1st lesson is free!
1st lesson is free!
1st lesson is free!
1st lesson is free!
1st lesson is free!
A step back to the history of a prestigious musical instrument: the piano
It is Bartolomeo CRISTOFORI, a Florentine, who invented the first version of the keyboard instrument: the Clavicorde, named Gravecembalo piano e forte.
The piano emerged from the evolution of the clavichord and the cymbalum, two stringed instruments.
B. Cristofori (1655-1731) develops the idea that pressing on keys could actuate hammers that would strike strings.
Progressively, the process evolves, and an Alsatian family of German origin improves the plans and the hammer strike: the Silbermann family.
Around 1770, the piano forte was born. It is the flagship instrument of the classical period in music from J.S. Bach (1685-1750) to W. A. ​​Mozart (1756-1791) to F. Schubert (1797-1828).
The end of the 19th century saw the rise of the industrial revolution, and in its wake, marked improvements for the piano forte:
Evolution of the sound, improvement of the accuracy
Flexibility of keys, keyboard flexibility
Work on the strength of steel ropes
For industrial firms in the years 1850-1870, the piano became an economic outlet, a thriving market to exploit.
The first major industrial manufacturer of pianos is German, and is called Blüthner. The pianos become more aesthetic, more robust, more powerful.
The brand helps to rise the piano to the rank of a prestigious instrument and to be make its way in musical history.
It was not until about 1880-1890 that the piano as we know it will be built.
At that time, there were 20 firms producing "modern pianos" in 1885, including Blüthner, Broadwood, Pleyel, Erard and Stein, which alone accounted for 70% of the world production of pianos.
The Industrial Revolution and the scientific works on acoustic and mechanical problems disrupt the workers, who can't apply the great machining processes in their work.
In order to develop their image and position themselves in this new competitive market, firms seek the image of the great pianists of their times to gain in competitiveness.
Beethoven, Schubert and Chopin thus lent their names to the great pianos factories.
The piano becomes an instrument that is coveted for the beauty of its music, and a piece of furniture of prestige desired for the finesse of its frame made of cast iron.
At the dawn of the 20th century, the leather wrapping the heads of hammers is replaced by sheep's wool, still embellishing the sound of the piano keys.
The piano is internationalized in America (Steinway is still a pioneer in the field of piano) and in Asia (including the famous Yamaha in Japan, created in the Meiji era).
Playing the piano becomes a worldwide pleasure. Thanks to research on excellence and quality of play, the piano industry is still flourishing today.
The era of digital and web 2.0 does not contradict the life of this "noble" instrument: today, the electronic piano offers the same sounds as a straight piano but is mobile, lightweight, compact and removable.
The development of the electronic piano allowed the middle class to discover the instrument and to find piano teachers to learn how to play this instrument. Songbooks developed and piano became a common accompaniment to popular songs.
Since the flagship years of jazz (1940-1950), the golden age of tango (1930-1950), the rise of rock since the 1960s and the development of our consumption driven society (from the "Trente Glorieuses" ), we now find pianos everywhere:
Cinema, television, radio, music festivals, SNCF stations, music schools, college music courses, and many households.
What is there to learn about this instrument's rich history? Take piano lessons Montreal to find out now.
How Important Is Piano Learning to Make Waves in the Piano World?
People often think that if you're going to learn the piano, you will study and memorize many musical notes. But, no, you need to put that thought behind you. No doubt, you're going to study many musical notes, but it will come a long way with the constant practice you put into it. At the right time, you would make a good impression and be sought out by various composers.
As a learning piano beginner, there are various things you must prepare yourself to do. One of them is to get familiar with the piano notes. They may seem strange now, but you would understand them better with practice. The basic thing about piano learning is to master the chords of the instrument.
Learning about the five-finger scale is very important for becoming a pro in piano playing. A beginner would also have to master the infamous tune from the sound of music - the Do-Re-Mi-Fa-So-La-Ti-do. Learning this infamous sound will master your keys better and implore you to learn song composing. Do not rush; take your time. Instead, let your fingers rest on the black and white chords and get familiar with each of them.
Learn about the keyboard geography and get familiar with the 88 keys. If it helps, you should label each key, and that way, you would get familiar with all of them faster.
They say that practice makes perfect, and that's the only way to become a professional for a beginner. In learning piano, you can be sure that your constant practice will pay one day, and you will become an expert. You don't become very good at something naturally; it takes a lot of time and effort.
Some say that it takes about seven years to be very good at playing the piano. It could be less or more for you based on the amount of time and effort you put into it. The piano is easy to play, and there is no physical pain attached to it. Instead, it provides you with better cognitive abilities. Piano learning attracts various benefits to a player - physically, mentally, and emotionally.
Take time to learn the piano as a beginner and be surprised at your skills, healthy growth, and development in a few years. Who knows, you might start composing for big-time artists?
Start piano lessons Toronto here on Superprof.
The best Piano tutors available
1st lesson is free!
1st lesson is free!
1st lesson is free!
1st lesson is free!
1st lesson is free!
1st lesson is free!
1st lesson is free!
1st lesson is free!
1st lesson is free!
1st lesson is free!
1st lesson is free!
1st lesson is free!
1st lesson is free!
1st lesson is free!
1st lesson is free!
1st lesson is free!
Can We Learn the Piano from the Tutorials on the Internet?
Taking piano lessons online is a good way to learn how to play the piano. Internet offers great possibilities to benefit from a method adapted to the level of each and everyone. Some piano teachers will prefer using the more reliable music sheets for songbooks. But if you want to go for online courses, this is mostly what is on offer:
Any Internet user of any age and level can watch these tutorials on sites such as Youtube or Dailymotion.
The tutorial is a short video of ten or fifteen minutes associated with a small article detailing each step of learning an activity.
So watching piano tutorials is a way to learn how to play your piano pieces, without having to put to price into costly music lessons, but be careful: you have to be wary of certain sites because anyone can record and offer these "tutorials to learn the piano". What you need to look for is more than a good musician, it's a good pedagogue.
Watching a tutorial to play a piano piece has several advantages:
Usually, it's a good way to get free sheet music
The self-taught or beginner pianist can dissect the piece into small bits and pieces
Normally, one can see the fingers of the internet user on the piano's keyboard at the same time as we hear the music
We work on our musical ear
We deal with sometimes simplified arrangements
We avoid having to read the score, and thus accelerate the learning
The piano chords are decomposed
We can tackle a piece more difficult than our current level normally allows
Find out more about where you can take piano lessons online.
Here is an example of a tutorial on YouTube to learn how to play the song Mistral Winner of Renaud:
The tutorial can be a good learning method for the piano, but if you use it in addition to private lessons by a professional musician.
A tutorial will not sound off the alarm when bad fingering interferes.
A video will show you how to play a song but it doesn't push you towards the right methods and behaviors.
The pitfall of the tutorial is that the student has a mimetic behavior, without an understanding of music or of the instrument.
The tutorial is good, but it is recommended to watch tutorials when you have already acquired a certain level.
Before switching to online videos, opt for traditional piano lessons, adapted to your level, with a competent teacher.
The video tutorials make it possible to assimilate a piece more quickly in addition to the course with its piano teacher. You may be able to play the toughest pieces this way.
What are the most difficult piano pieces to play?
Learning how to play a difficult piece on the piano will require a lot of willpower because you will have heavy challenges.
Check for piano lessons Ottawa here.
You will have to repeat your piano scores again, and again, and again. But if you start all the same, for taste of challenge, here are some of the most difficult piano pieces or very very difficult to play:
Classical piano
Beethoven's Symphony No. 5, written between 1804 and 1808
Sonata in the moonlight, 3rd movement, Beethoven
The Piano Sonata No. 18 in D major by W.A Mozart
The bolero of M. Ravel, composed in 1928
The toccata in D minor by J. S. Bach (1703-1707)
Swan Lake, op 20 by Tchaikovsky (1875-76)
Jazz
Libertango, of A. Piazolla (1921-1992)
Yesterdays, by Art Tatum (1909-1956)
Caravan, by Mr. Petrucciani (1962-1999)
Take the A train, D. Ellington (1899-1974)
Pieces that are difficult to play on the piano, but less so
Another summer's rhyme, Y. Tiersen
Fly, soundtrack of the film Intouchables, by L. Einaudi
Son Bleu, by singer Renaud
The Stroll of Johnny Jane, by S. Gainsbourg
Have you all played them, even those of the greatest jazzmen above? You are a virtuoso!
Who are the greatest pianists in the world?
A virtuoso pianist who goes into the cultural history and the piano annals is an artist who is capable, with his fingertips, of putting millions of spectators in turmoil and making them shiver at the first note.
Start piano lessons here on Superprof.
It's impossible to list to them all.
And if music has represented a medium of expression of the people, there are also great piano geniuses that have died unknown.
But let us make every effort to quote some of the greatest pianists in the world.
Composers of music for movies
Hans Zimmer
John Williams
Yann Tiersen
Great international pianists
Martha Argerich
Yundi Li
Lang Lang
Ievgeni Kissin
Radu Lupu
David Kadouch
All these pianists, alive or dead, were not known in the same musical stream. But they all have one thing in common: to be piano performers.
With the exception of the great jazz pianists, it's almost impossible to get back into their tracks, you can always have fun reinterpreting Yann Tiersen, Jacques Brel or Renaud, or learn to play Hans Zimmer's soundtracks.
Start piano lessons Calgary here on Superprof.
How Can I Find a Piano Lesson Near Me?
If you have decided to learn piano, you might be worried about which option would be better? Learning from the internet or in a group or with a private tutor? Learning from the internet can be tedious because you have to pause and play each moment as you learn a song.
Learning in a group class is not ideal for a piano beginner. You might need to ask many questions, and there might not be enough time allocated to answer all of them. However, it can be overwhelming to learn about the scales and keys.
Confused about the appropriate way of learning piano as a beginner, you might think, "How can I find the right piano lessons near me?''
The best recommendation is to get a professional piano tutor who is always available to teach you. Taking on a tutor would allow you to gain more progress, improve on your weaknesses, and build on your strengths.
Superprof is an online learning platform with experts on different topics, including playing the piano. Various teachers with different ratings and locations can assist you on the Superprof platform. Piano tutors can be accessible to you everywhere in Canada, in person or online, and no matter what, they will deliver quality services.
Having a private piano tutor will help the lesson become more effective because they know every aspect of the piano and have experience teaching beginners like you. They will also help you out in other areas like composing and transcribing.
Having a personal piano tutor would also enable you to develop a good personal relationship and make your piano learning experience enjoyable.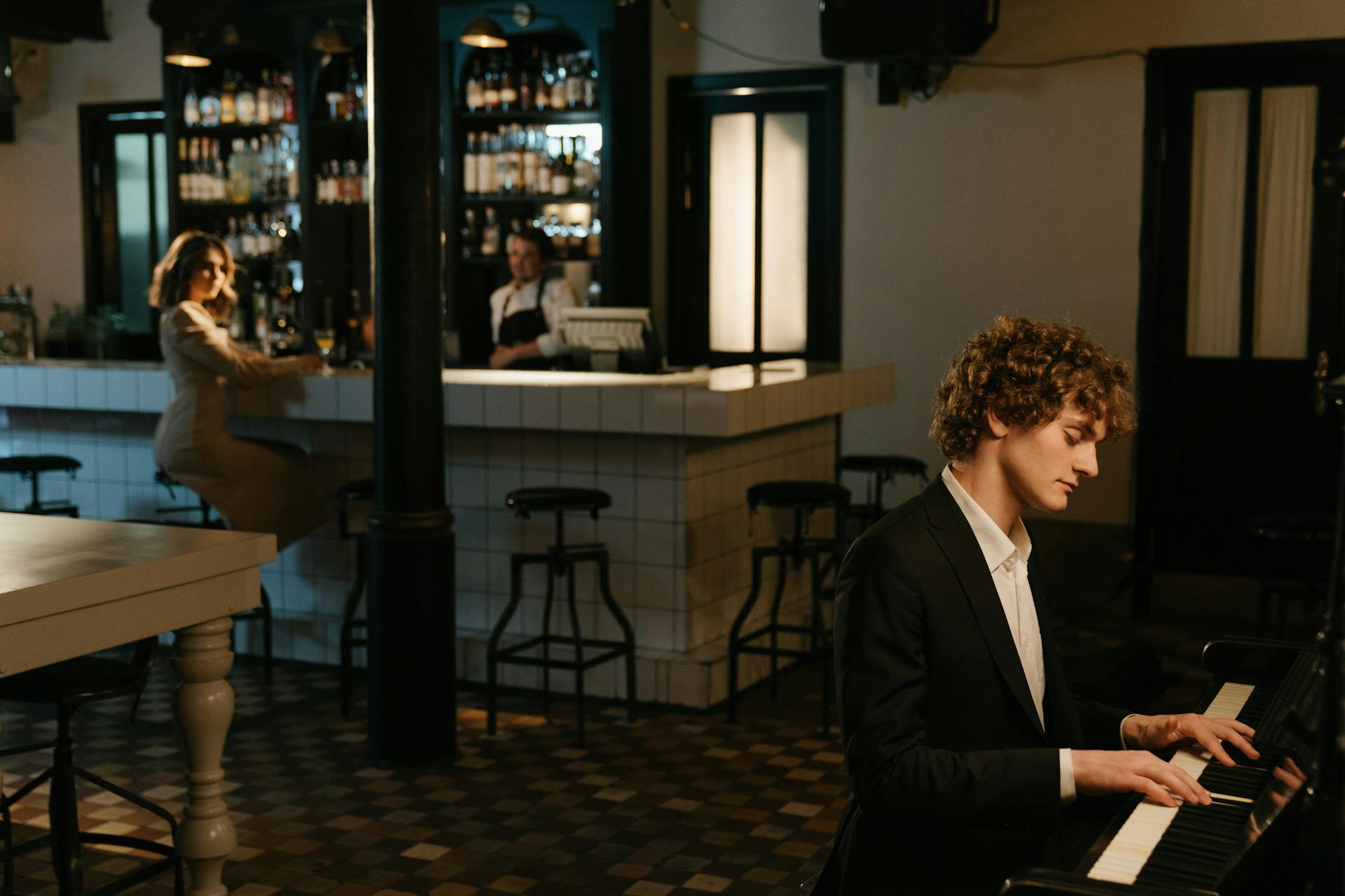 What Are 5 Benefits of Learning Piano Chords with a Superprof Tutor?
Songwriters and composers do not take the piano for granted. Countless musicians started their careers by playing instruments, and the piano is one of the most common instruments out there. Parents often make their children take piano lessons because of the various benefits in their academic, health, and social life.
Superprof tutors will, no doubt, assist you in learning your piano chords and mastering song composing too. With taking on a Superprof tutor, you would learn the following things;
More and new musical ideas
While learning with a Superprof teacher, you would be exposed to different styles of music. They will teach you new ideas about music and the piano. You can learn these things online, but the internet cannot always answer all your questions. The piano teachers at Superprof are very experienced and can plug you into all the recent trends in the music world that will set you for success.
A better understanding of music theory
A tutor makes learning how to build and understand chords, scales, and intervals easier. A student will be overwhelmed learning the various and complex music theories independently. A Superprof tutor will assist you by taking it step by step.
Better creativity and more progress
With a Superprof tutor, you can discuss how they could further teach you other things relating to the piano. They will work with your strengths and enable you to master new concepts. Flexibility is also guaranteed as you can choose the particular time and place suitable for you.
Better organization and time management
Playing the piano and other instruments, you would need a certain coordination and time management level. A Superprof tutor will make it his responsibility to make sure you learn everything at a good pace and not overwhelm you with so much information.
With a Superprof tutor, you can check the box of accountability. They would check in with you every week and be responsible for your growth and experience. They will help you stay on track and will observe your progress. If you practice by yourself, you might not notice your strengths and weaknesses, but your tutor will help you out by making sure you work on each of them.
There are other reasons apart from the ones discussed above. First, when you work personally with a Superprof tutor on learning piano chords, you will be content with your learning ability. You will not compare yourself with others and be worried about your pace of learning.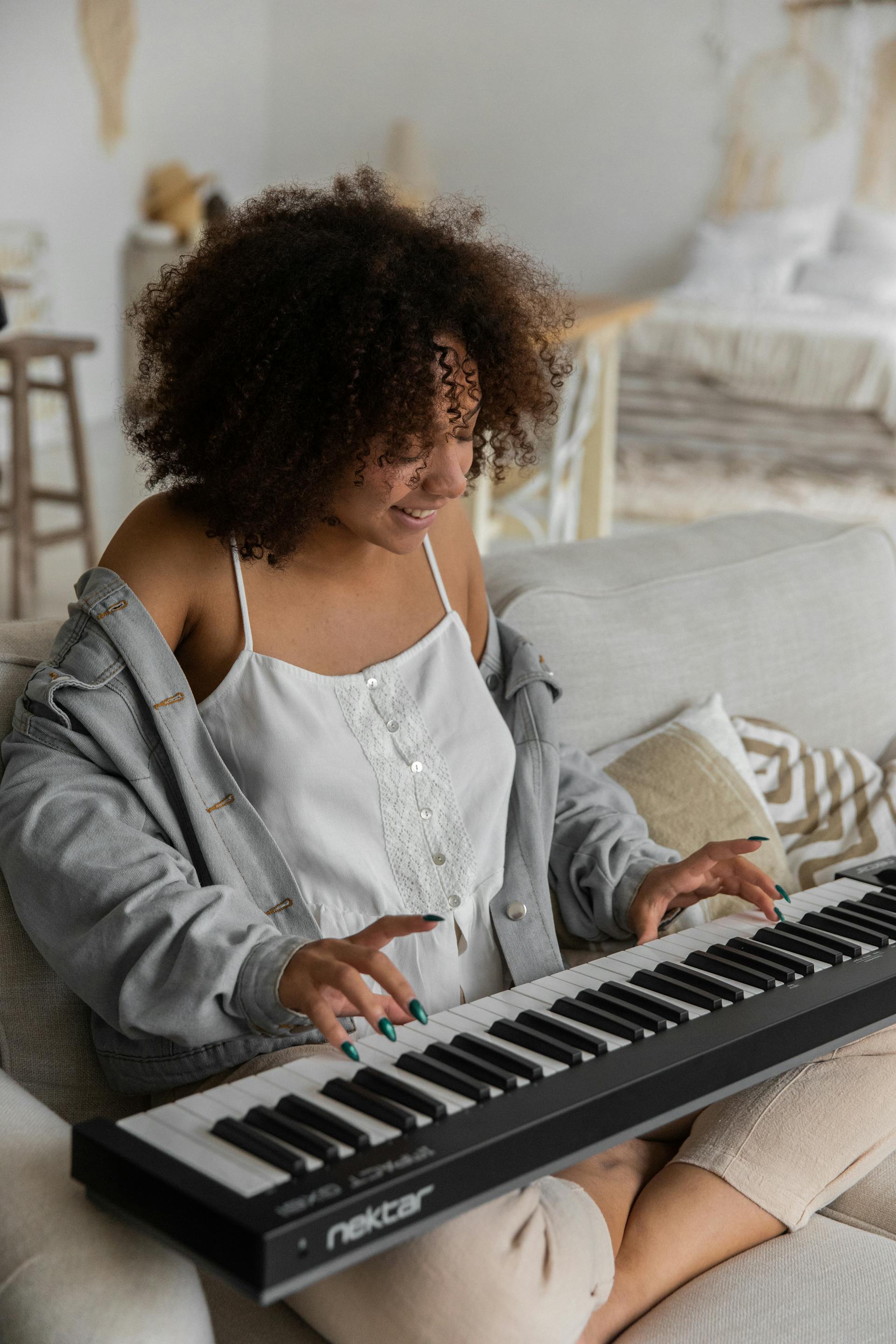 What Are the Perks of Learning Piano as a Beginner?
Learning piano as a beginner can be hard and time-consuming, but the benefits are numerous, making the efforts worth it in the end. Most people don't know that learning piano could help them gain better cognitive abilities. Piano learning requires concentration and balance. As a beginner, you would need academic skills, discipline, and self-esteem. Some essential things to note about learning the piano and moving from a beginner to an expert include;
You are improving your brain when learning piano! It helps in making you smarter and

more responsive

to different areas.

It prevents memory and hearing loss because our body goes older as we grow.

People who learn how to play the piano can testify that it has helped reverse the decline of brain processing and inner-ear hearing loss.

It provides an improvement in math skills.

You may be wondering,

'what does math have to do with this?'

It's very simple; you know that you're practicing mathematics too when you count on your scale.

It boosts self-esteem;

the more of the piano you know, the more confident you are playing. Piano learning is a powerful way to increase confidence. When you practice more and more, you will feel good about your abilities.
You can also develop better social skills with your peers.
If you want to go into music, you should learn one instrument; it will give you an edge in the Canadian industry. It is best to go for the piano of the many instruments available at your disposal. If the piano is your choice, the next step is to figure out how to learn. In Canada, you have the option of either taking online piano lessons or hiring a private tutor from Superprof.
Good luck !
The platform that connects tutors and students