We all know that learning a language, especially English is never an easy ride! You'll always be faced with some bumps along the way, whether it's learning the correct pronunciation for "the" or differentiating between "their, there and they're".
You'll be happy to know that there are so many ways to improve your understanding of the English language, for example by getting an English tutor or by subscribing to Babbel.
However, you should always be looking for different ways of engaging with the English language, and listening to podcasts is a great method! 
Why? Well, listening to podcasts to learn Shakespeare's language is extremely beneficial in many ways:
They're expressive: by listening to podcasts on a daily or weekly basis, you'll come to terms with the real English pronunciation, whilst improving your listening and comprehension of the language enormously.
They're transportable: you can listen to an English podcast anywhere and everywhere; whilst you're waiting for the bus or just before bed. All you need is a Smart Phone or a tablet and you're all set! Discover the best apps for learning English on your phone or tablet.
Most of them are free: we can all agree we saved the best benefit until last! Listening to an English podcast on YouTube or on the BBC is absolutely free, all you need is an internet connection. There is no need to subscribe or to commit yourself to a costly price every month.
Research has shown that learning the English language by hearing it daily using podcasts is a great way to improve your English language grammar and enhance your vocabulary. Many people want to learn English as a second language in Canada, but they hate looking at textbooks. If this describes you, then, English podcast can do the magic you crave.
If you use podcasts smartly, you could watch your English grammar skills develop drastically over a short while. In this guide, Superprof will teach you how to use podcasts to learn English if nothing but being helpful. So read to the end to see the secrets of using podcasts to learn English like a boss.
The best ESL tutors available
1st lesson is free!
1st lesson is free!
1st lesson is free!
1st lesson is free!
1st lesson is free!
1st lesson is free!
1st lesson is free!
1st lesson is free!
1st lesson is free!
1st lesson is free!
1st lesson is free!
1st lesson is free!
1st lesson is free!
1st lesson is free!
1st lesson is free!
1st lesson is free!
Why Learn English Language Skills Using Podcasts?
Podcasts are entertaining. And for many, they are a great way to learn while passing away time during leisure or work. You can listen to them anytime and anywhere. It could be on your couch while you sit on your patio watching the sunset, during a break at work, or bedtime while waiting to fall asleep. The beauty of this language learning method is that it utilizes both active and passive listening modes.
This means that you could listen to it attentively (actively) while you jot down important points using a pen and paper. More so, you could also listen to podcasts passively. This means you aren't paying rapt attention, but you are still listening to it and learning a few things. Such passive learning is usually practiced when you listen to podcasts while driving, cooking, washing or walking down the street.
Another unique fact about podcasts and a great reason to learn using them is that they usually have a written version. This means you could either listen to them while reading the transcripts alongside. Or read after listening to the audio to deepen your understanding. Either ways, the goal is to help you understand English grammar faster than you imagined.
How to Use Podcasts the Perfectly
You already know the significance of using podcasts to learn English. Now, let's see how you can make the most of podcasts and use them to achieve your primary learning goal. If you plan to use podcasts the intelligently, there are many techniques you can employ. Here are some of them.
Listen to podcasts passively
We recommend you listen to podcasts as white noise first. White noise refers to noise in the background while you listen. This could be noise from your activities or that of someone else in the room with you. You could listen to it while cleaning the floor, driving or cooking. Although it is not a great way to learn, it is excellent for the first attempt because it will help you get used to the language psychologically.
When you listen to the podcast the second time, try and pay full attention to it to understand the language terms and the meaning of words used. Then, read the transcript, if any is available. If you feel the speaker is too fast for your level, you can reduce the audio speed to your preferred volume.
At this stage, you are grasping knowledge through two channels, your ears and eyes. This will help your brain to comprehend faster, and you will eventually remember things more.
Once you have comprehended to a certain level, you may proceed to read aloud. Do it as if no one is watching. Repeat the word in the podcast as you remember. If you forget a line, go back to the podcast and listen again. Then, pause it and read what you heard aloud. Do this regularly until you improve your pronunciation skills and get them right.
The English We Speak
Every week, the BBC looks at an everyday English phrase or a saying through a podcast. It offers you a short snippet of useful English slang you can use on a trip to an Anglophone country!
These podcasts help with grammar, listening, and pronunciation. Each podcast lasts around 3-4 minutes, allowing you to familiarise yourself with English jargon, from BBC's very own English native speakers.
Each video is short and interactive, the perfect way to learn English idioms if you don't have too much time on your hands.
In this podcast, you will hear the kind of English spoken by native speakers. The English spoken in this podcast is at a slightly slower speed than others. This is to make comprehension easier for the listener. The podcast uses a format that involves two presenters conversing. The podcast's goal is to help you master everyday slang and words used in English by native speakers.
And, it's absolutely free! 
All Ears English
All Ears English have adopted a fun way to master the English language.
Three girls from the USA, Lindsay, Michelle, and Jessica believe "in connection, not perfection". They say that the best way of learning English is by throwing away your English dictionaries and grammar books!
I bet you like the sound of this! 
They give you an insight into great English conversation starters. For example, "How to connect to people in the LGBT community", "How to stay calm when the cashier asks you quick questions in English", or "What's it like to be single in New York City". 
This series is not exactly educational, but you'll still be improving your understanding of the English language and your pronunciation and it's great if you're looking to visit an Anglophone country!
The podcasts aren't all free. But All Ears English does offer great deals you can opt to pay for to maximise your understanding of the English language.
English Class 101
Are you a beginner or advanced English speaker? Well, don't worry because EnglishClass101 lets you choose from four levels to match your requirements. The podcasts are acted out by English native speakers and they speak at different speeds according to your level, so you will not feel pressurised.
You'll also learn about English culture in a fun and intriguing way. EnglishClass101 also concentrates on English vocabulary and key phrases. After each podcast, you'll learn a little about English grammar, but don't worry, not in a boring way! 
In this podcast, the presenters act on a different scene, repeated at a slower rate to aid quick understanding. Before focusing on phrases and vocabularies, the podcast focuses on unveiling some culturally related information. Then, it concludes with some significant grammar points you should master.
EnglishClass101 is not entirely free, but you do get a free trial to see if you enjoy the podcasts and are improving in English. If so, you can choose to subscribe to anything ranging from a 1-month membership to a 24-month membership.
Find ESL lessons here on Superprof.
British Council Podcasts
The British Council's podcasts are quite different to the ones we have seen earlier on. The English lessons are rather lengthy, which is unusual for a podcast, they last 25 minutes! But, they are extremely helpful and you are not obliged to listen to them in one go, you can pause it and go back to it later on.
The hosts in the podcasts act out everyday situations which you may experience in an Anglophone country. They include a large variety of topics and offer different lessons for children and adults.
The British Council have been teaching English for over 75 years. They're experts at this! 
The British Council offer a variety of different topics, such as "how to speak English in the professional world?" and "how to speak English at University?"
The lessons are extremely interactive, fun, enjoyable and stimulating and they're free!  
The best ESL tutors available
1st lesson is free!
1st lesson is free!
1st lesson is free!
1st lesson is free!
1st lesson is free!
1st lesson is free!
1st lesson is free!
1st lesson is free!
1st lesson is free!
1st lesson is free!
1st lesson is free!
1st lesson is free!
1st lesson is free!
1st lesson is free!
1st lesson is free!
1st lesson is free!
Splendid Speaking
Splendid Speaking have designed their podcasts for those who already have a good knowledge of the English language. Each podcast features an English native speaker having a conversation with a non-native English speaker. The podcasts are accompanied by feedback from the English native speaker on how the English learner did.
This is an extremely interesting way to learn, because the non-native speaker may make the same errors you make, so you can learn to avoid them! It is also extremely fun and interesting to see how others who are in the same boat as you cope with the English language.
If you think you can speak reasonable English, then this exciting podcast may be all you need to take your English grammar skills to a higher level. The podcast is a fun way to learn English and master popular vocabulary. It helps you to see how others (non-native speakers) are coping with learning the language. And you could spot the mistake they make during the podcast.
Find ESL classes Toronto here on Superprof.
Better at English
Better at English offer podcasts that feature real life conversations with English native speakers. There are a variety of topics, ranging from silly and laid back podcasts to quite serious ones. You'll be listening to real English conversations, the pronunciation will be extremely natural.
As well as podcasts featuring English native speakers, you'll have the option of viewing short English lessons online on all things to do with English, such as grammar, pronunciation, or spelling, which will be accompanied by listening quizzes and language learning tips!
You will familiarise yourself with the pace of the English language as well as English phrases and idioms. The podcasts are accompanied by subtitles so you can read as you listen, improving your English listening as well as your English spelling. 
At the end of each podcast, you are given a list of vocabulary to consolidate what you learned in the podcast. So, introduce Better at English into your life to jazz up your daily routine! 
And, it's free! 
Voice of America Learning English
Do you want to learn English using podcasts and still want to be spoilt with many choices? Then this podcast is an excellent choice for you. Voice of America is an information service and language news channel that provides different interesting English language programs.
The audio section features a science documentary section, a news program and a recap of America's history, dream and popular idioms. The words are spoken with reduced speed to enable slow learners to gain more understanding.
The audio is mixed with sweet and melodious music in the background to make listening pleasurable and fun. Little wonder why many people learning English as a second language will not give it a second thought before adding this podcast to their collection.
Find English lessons here on Superprof.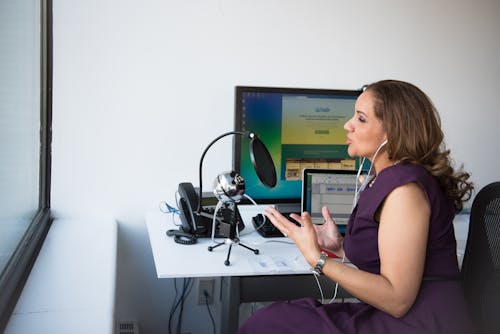 Culips ESL Podcast
The Culips ESL Podcast is known for using several creative styles in its podcast arrangement. Generally, the podcast focuses on slang, idioms and different creative expressions to teach people how to speak English like a native speaker.
Most students find them practical and well organized. The unique side is that they are a great way to learn English irrespective of your level. So whether you are a beginner and could barely utter a word in English or are already familiarizing yourself with the language, you will find the podcast series in Clips ESL Podcast very helpful.
Luke's English Podcast
Luke is a comedian and a certified English teacher who teaches English grammar skills using a series of fascinating podcast series. He intends to promote fun learning, and you will find many reasons to burst out in laughter as you listen to his podcasts.
For the majority of the podcast sessions, Luke is the only person narrating stories and teaching. However, there are some two-person conversions in most of the series.
The Past and the Curious
It consists of a series of the podcast that references the film 'The Fast & Furious.' It focuses on interestingly teaching kids' history. It includes interesting lyrics of popular songs and entertainment for the entire family.
If you have an average understanding of the English language and wish to break out from the intermediate plateau, then this podcast may be all you need. It is incredibly perfect for kids who are learning English as a second language.
What If World
It might come as a surprise to know that this podcast was created for kids. But when you take a deep dive into its content, you will be amazed at the quality of its audio content. What If World is known for its highly addictive series of podcasts.
The podcast uses a creative and fun style to teach grammar skills to kids. It does this by answering popular questions asked by kids about the universe. The entire concept is not just fascinating but highly addictive.
Dramas from BBC Learning English
Do you want to learn English while listening to exciting tales of dramas narrated in a fun and interesting manner that makes you learn subconsciously? If yes, then this podcast is a perfect match for you. The podcast has a short length that is mostly 15 minutes max.
The podcast series is perfect for all English language learners because the lengths are short and the speed is slow. That way, even beginners could learn basic grammar easily. You will find the transcripts under the text. This makes it easy to listen and read at the same time.
As you can see, English podcasts are the perfect way to improve your level in English quickly, in a fun and interactive way. You can pause the podcast when you feel like it and pick up from where you left off later on.
Listening to podcasts featuring English native speakers give you an insight into what to expect in an Anglophone country. 
You can listen to these anywhere and everywhere, there is no pressure and you can learn English at your own pace, with no homework! 
Now you've covered podcasts, see which websites are great for learning English.
So, devote yourself to making learning English a hobby and not a chore, whilst enhancing your listening skills and accuracy in the language. Learn which translation tools are best for learning English here.
The platform that connects tutors and students